Sixty years of Sino-Kenya relations: Unleashing the power of culture and arts
By Eliud Kibii | chinadaily.com.cn | Updated: 2023-06-05 16:05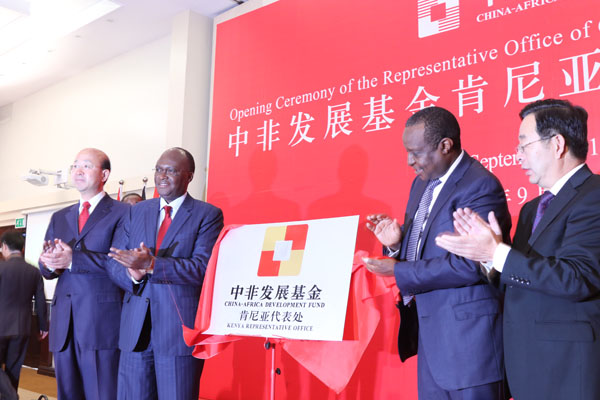 A recent international symposium on "Comparative Study of Chinese and African Civilizations" that brought together over 100 scholars and diplomats from Africa and China concluded that, despite wide engagements between China and Africa on economic development, not much attention has been given to arts and culture in the 60 years of diplomatic relations.
The meeting, convened by the China-Africa Institute and the Chinese Academy of History, noted that a number of institutional frameworks have emerged in promoting the activities in culture and arts between Kenya and China. These include the Forum on China Africa Cooperation (FOCAC) as a policy forum, the Belt and Road Initiative as a connectivity framework and the China Africa Institute as the intellectual base.
Straddling various fields of cooperation, including social issues and culture, FOCAC was established in 2000 as a multilateral platform for exchange and cooperation between China and African countries that have formal diplomatic relationships with China.
The FOCAC Beijing Action Plan (2019-2021) took note of the China-Africa cultural and people-to-people cooperation plan and Beijing's support for Africa in upgrading its cultural and art facilities, implementing the satellite TV project and providing government scholarships.
Through it, China also committed to promoting exchanges and cooperation in culture and arts through the media and among academia, think tanks, social organizations, youth and women, and consolidating the social foundation for China-Africa cooperation.
According to the Action Plan, China will continue to support Africa in carrying forward its traditional culture and enhance the mutual understanding and amity between the people.
Equally critical to the socio-cultural relations is the Confucius Institute funded by China and established at the University of Nairobi to promote cultural exchanges and integration.
Through the institute, the University of Nairobi and Tianjin Normal University have established a collaborative link that includes a student and lecturer exchange program. Chinese lecturers teach the Chinese language at the University of Nairobi, whose lecturers in turn teach the Kiswahili language at Tianjin Normal University.
According to the institute's website, since 2006, over 200 students from the Confucius Institute have studied in China on scholarship. Mandarin is increasingly becoming a popular subject of study at several Kenyan universities and institutions. It has become so popular that another institute was launched at Kenyatta University in December 2008. Over 1,526 students have thus far completed various Chinese certificate courses at the Institute.
Due to the popularity of prolific Chinese actors Jackie Chan and Bruce Lee among the Kenyan households, China, through the Confucius Institute, has organized film festivals. Kenyan students in China also participate in various cultural events hosted by various universities.
A number of Kenyan students have benefited from Chinese government scholarships to study in Chinese universities in other courses other than language. For instance, through a partnership of Kenya Railways Corporation and the China Road and Bridge Corporation (CRBC), over 50 Kenyans are being trained at the Jiutong University on Railway Engineering and Management.
This is besides the knowledge transfer that has been achieved from Chinese to Kenyan professionals during the execution of projects such as the SGR and the Nairobi Expressway. The China Foreign Affairs University in Beijing is also hosting Kenyan students studying diplomacy at Bachelors' and Masters' levels.
The skill sets learnt by Kenyans studying in various fields in China will be extremely crucial in the running and management of some of these key state assets, namely the Standard Gauge Railway, Lamu Port, Kipevu Oil Refinery and the Nairobi Expressway. Already, a number of these Kenyans have completed their tours of study and returned home to be absorbed in the technical jobs available.
At the grassroots level, China is promoting and supporting sports that are associated with China, such as Kungfu. On May 6 of this year, the second edition of the Kenya Kungfu Championship was held in Kiambu County. The event was hosted by Kenya Kungfu Federation and supported by the Chinese Embassy. Some 13 clubs and 70 competitors took part in the tournament, with the youngest contestant being only four years old.
According to Ngaruiya Njonge, chairman of Kenya Kungfu Federation, an estimated 3,000 Kenyans now actively participate in the sport. Kungfu has thus become a bridge of cultural exchange between Kenya and China. Already some Kenyan acrobats are performing in different parts of China. There certainly are more opportunities on both ends.
More opportunities that need to be exploited by both states still abound in culture and arts to not only enhance people-to-people relations but also create more employment opportunities.
During his meeting with China Ambassador to Kenya Zhou Pingjian on June 2, 2023, Foreign Affairs Principal Secretary Korir Sing'oei said the two countries "shall continue to nurture Kenya and China economic and socio-cultural relations for the mutual benefit of our peoples", indicating commitment to enhancing ties on this front.
While the West has increasingly framed the ascendancy of China as an existential threat to the world as we know it, the aforementioned symposium advanced a new paradigm for Sino-African relations that recognize all global citizens as a community with a shared destiny and thus the need for mutual understanding and collective action.
Humanity falls or succeeds as one, on collective action or lack thereof, regardless of culture or civilization.
The author is a contributing editor and a master's degree student at the China Foreign Affairs University
The opinions expressed here are those of the writer and do not necessarily represent the views of China Daily and China Daily website.
If you have a specific expertise, or would like to share your thought about our stories, then send us your writings at opinion@chinadaily.com.cn, and comment@chinadaily.com.cn.