French protests show signs of fatigue
By JULIAN SHEA in London | China Daily Global | Updated: 2023-06-07 09:04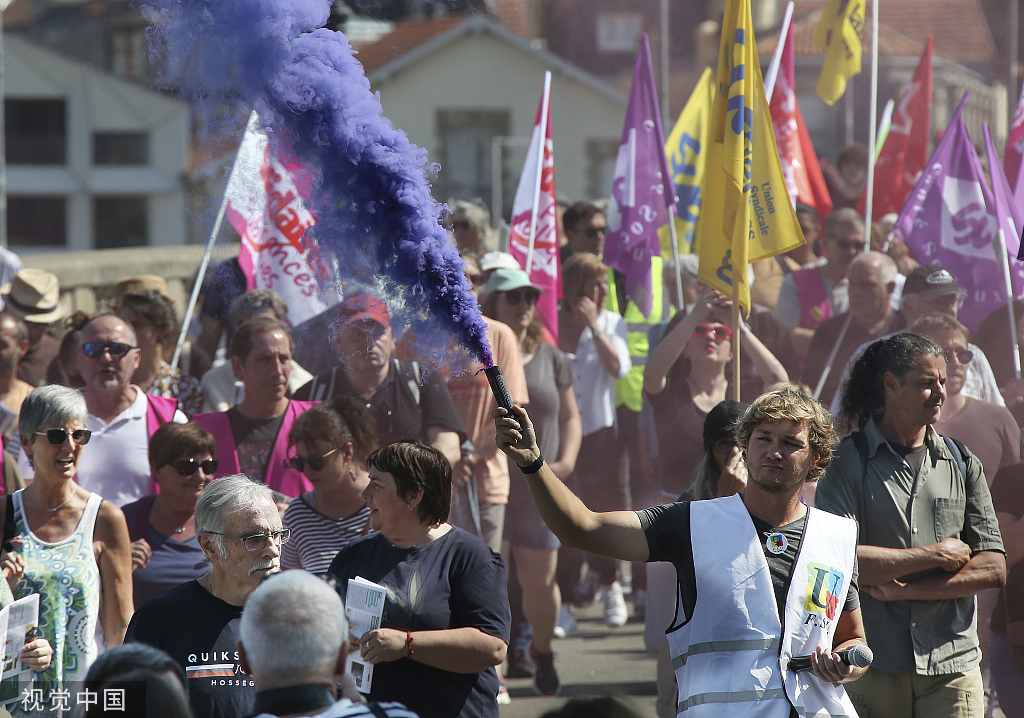 France witnessed another day of nationwide protests on Tuesday in the latest show of dissent against President Emmanuel Macron's pension reforms. Despite still pulling large crowds, estimated numbers were expected to be less than half the total who took to the streets as recently as March.
The latest protest was the 14th day of action this year against the reforms of the welfare system that will see many people having to work up until the age of 64, not 62, as is the case now.
In March, the government used a special constitutional tool to pass the reforms without the need for a vote in Parliament, which angered many people, a feeling that has not gone away, but the smaller number of protesters than before suggests that the protest movement may be running out of steam.
"Protests have been going on for six months, it's unprecedented," Sophie Binet, leader of the hard-line CGT union, told 24-hour news television channel BFM TV. But, she added "there's a lot of anger but also fatigue".
'The last days'
Laurent Berger, leader of the more moderate CFDT union, conceded to radio station Europe 1 that "this is likely to be one of the last days of protests against the reform", and that instead, unions must translate their anger into what he called a "show of strength" in future talks with the government.
A bloc of left-wing parties in the National Assembly had called for a ruling to be made on whether Parliament could vote to overrule the decision, and had pleaded with the nominally neutral speaker of the house Yael Braun-pivet, a member of Macron's ruling party, to allow it, but the move looked unlikely to succeed.
"For our fellow citizens, a new denial of democracy will only lead to increased disaffection for our institutions, which is already manifesting itself in the form of growing abstentionism, and even an increase in anger and violence," said an opinion piece written by leading left-wing figures, published in Le Monde newspaper.
Although some schools were closed by strike action, and one-third of flights out of Paris-Orly airport were canceled, national railway operator SNCF said it hoped to run 9 out of 10 services, and the metro system was not likely to suffer significant disruption.
Macron, who was reelected president just over a year ago, but whose party did not see his personal success repeated in the subsequent parliamentary elections, has been the target of much public anger during the dispute, but has insisted that reform of the system is necessary for the long-term economic health of the country.
He now seems to have weathered the political storm, with his opinion poll ratings, while still not being particularly high, having risen, something he hopes will be bolstered by an improvement of the country's inflationary situation.