Policy Digest: June 7
By Wang Qingyun | China Daily | Updated: 2023-06-07 09:08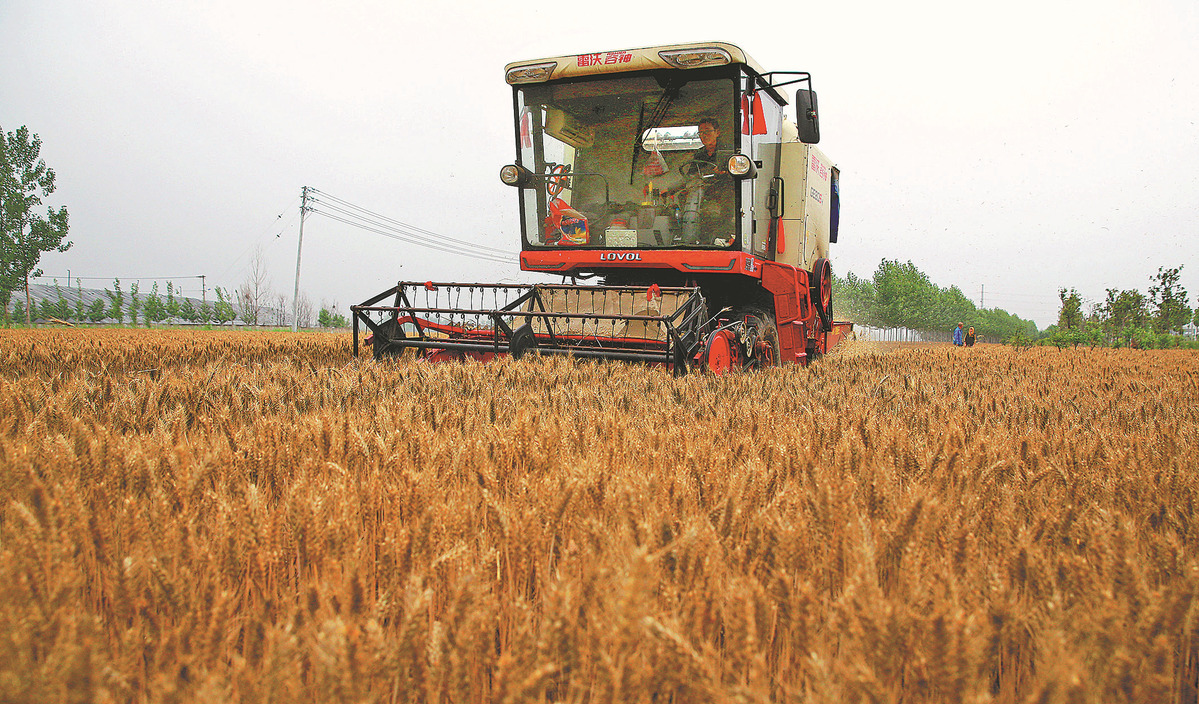 Farm machines mobilized as winter wheat ripening
With the wheat harvest in full swing, some 600,000 combine harvesters are expected to be in use this season, the Ministry of Agriculture and Rural Affairs said.
Around 75 million mu (5 million hectares) of winter wheat has already been harvested, accounting for more than 20 percent of winter wheat planted in the country, the ministry noted in an online statement, adding that agricultural authorities are working with transport and meteorological authorities and oil companies to guarantee the smooth movement and operation of harvesters.
Continuous rainfall has been affecting Huanghuai, a major wheat producing area between the Yellow River and the Huai River, since late May, just as winter wheat crops were beginning to ripen.
In some places, humidity has resulted in mildew and caused the wheat to sprout, and wet soil has made it difficult for harvesters to operate.
Affected areas have been speeding up harvests by dispatching more farm machines, draining farmland, extending the working hours for harvesters and running grain drying facilities at full capacity, the ministry said.
It added that it is instructing local authorities to take advantage of the intervals between rain to speed up harvesting.
Screening for cervical, breast cancer is enhanced
Some 180 million tests for cervical cancer and 100 million tests for breast cancer have been conducted free of charge since the launch of a national program to promote screening for the two cancers in 2009, according to an official at the National Health Commission.
Screening has taken place in 2,600 counties, districts and cities across the country, said Song Li, head of the commission's Department of Maternal and Child Health at a news conference on May 31.
A tertiary prevention strategy will be enacted to further lower the threat of cervical and breast cancer, according to Song, and the country will push ahead with inoculations against HPV, and implement health education campaigns to increase women's awareness of the importance of self care in preventing cervical and breast cancer.
More regions will be encouraged to provide early screening, and efforts will be made to improve the abilities of medical workers, especially at the grassroots level, so that more patients are diagnosed and treated at an early stage, and so recover as quickly as possible.
New national standards for civilian drones released
The State Administration for Market Regulation has issued mandatory national safety standards for civilian drones, which will take effect on June 1, 2024.
The standards will serve as a guide for developing, testing and using civilian drones, the administration said in a statement issued on Friday.
Civilian drones, which are used extensively in a number of fields, including agriculture, forestry and meteorology, are easily converted for use in unlicensed or illegal flights, posing a potential risk to national and public security, according to the administration.
It added that some products developed by a small number of companies are poorly designed, potentially posing a risk to lives and property.