Test-takers get extra support
By Li Hongyang | China Daily | Updated: 2023-06-08 08:58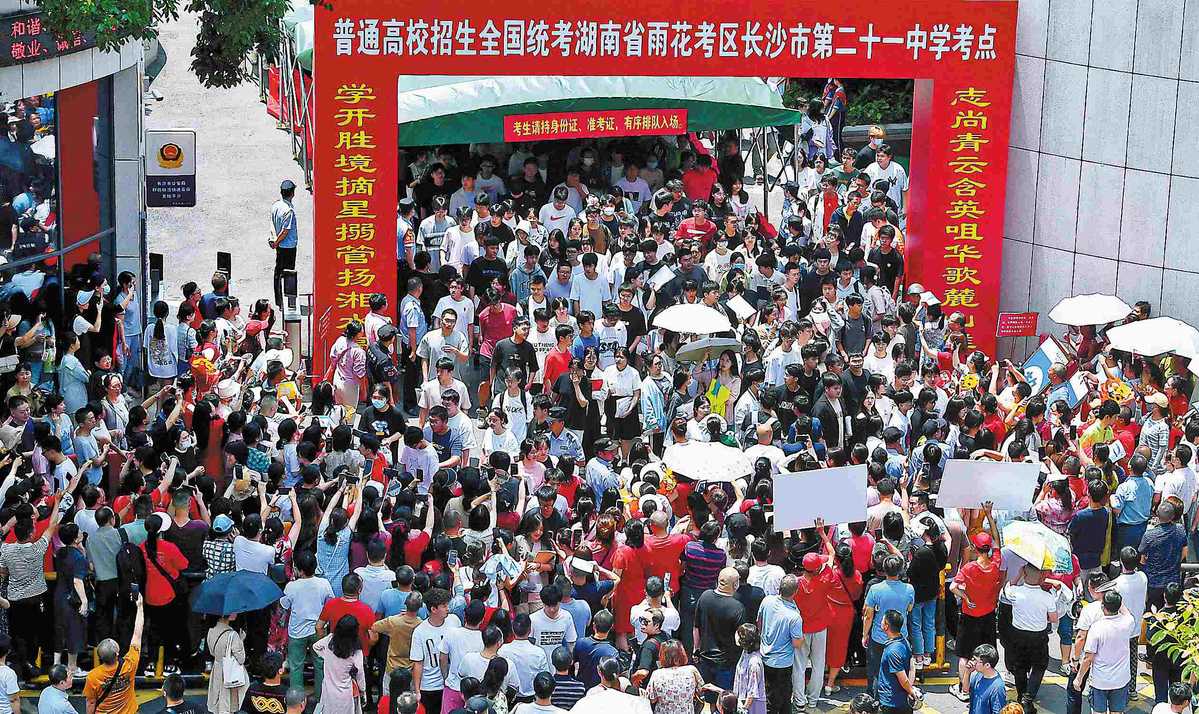 Parents, teachers make all-out efforts in improving environment for event
As millions of students nationwide went through one of the most important exams in their lives on Wednesday, parents, other family members and teachers who crowded outside examination centers, have tried all methods to provide positive psychological support to the test-takers.
In Jinan, Shandong province, mothers and teachers wore qipao, traditional Chinese dress. In Mandarin, qi resembles the sound of a flag, which stands for victory, Jinan Daily reported.
In Chengdu, Sichuan province, groups of teachers and parents wore red clothing because red is a color of courage and brings good luck to the students, newssc.org reported.
"Beyond expectations, purple underpants" in Northeast China became a hot item and trended online, as wearing purple pants, zidingxing in Chinese, means "designated success".
The gaokao is a crucial moment for Chinese students, as the high-stakes exam often determines their future academic and career opportunities.
The exact number of applicants for this year is 12.91 million, an increase of 980,000 from last year, according to the Ministry of Education. Their exams began on Wednesday and will last from two to four days, depending on their choice of subjects, Xinhua reported.
During the countdown to the 2023 National College Entrance Examination, hotels near the examination centers experienced a surge in bookings.
Some parents even booked hotel rooms with the numbers "985" and"211", names of projects under which the country aims at building prestigious universities.
Meanwhile, a bus in Zhengzhou, Henan province was transformed into a mobile cheering station with its doors designed to resemble the entrances of Tsinghua and Peking universities, China News Service reported.
In Zibo, Shandong province, a recent hot destination for barbecue lovers, the local barbecue association issued an open letter to all barbecue business owners and urged them to temporarily suspend operations from the evening of June 6 to the evening of June 9.
The suspension was to create a quiet and comfortable environment for studying, taking exams and resting for the candidates participating in the gaokao.
To alleviate traffic congestion and create a conducive examination environment, several regions nationwide had announced adjustments to the working hours of government institutions and State-owned enterprises. In Shenyang, Liaoning province, working hours for government institutions and State-owned enterprises were delayed by one hour.
In Beijing, Tianjin, Shanghai, and Liaoning and Hubei provinces, traffic control measures have been taken on the roads around examination centers during the college entrance examination period.
During this time, except for examination-related vehicles, police cars, fire trucks, ambulances and other emergency vehicles and personnel, all types of motor vehicles and individuals unrelated to the examination are prohibited from restricted areas.