Education needed to prepare students for employment
By Ian Crichton | chinadaily.com.cn | Updated: 2023-06-09 07:05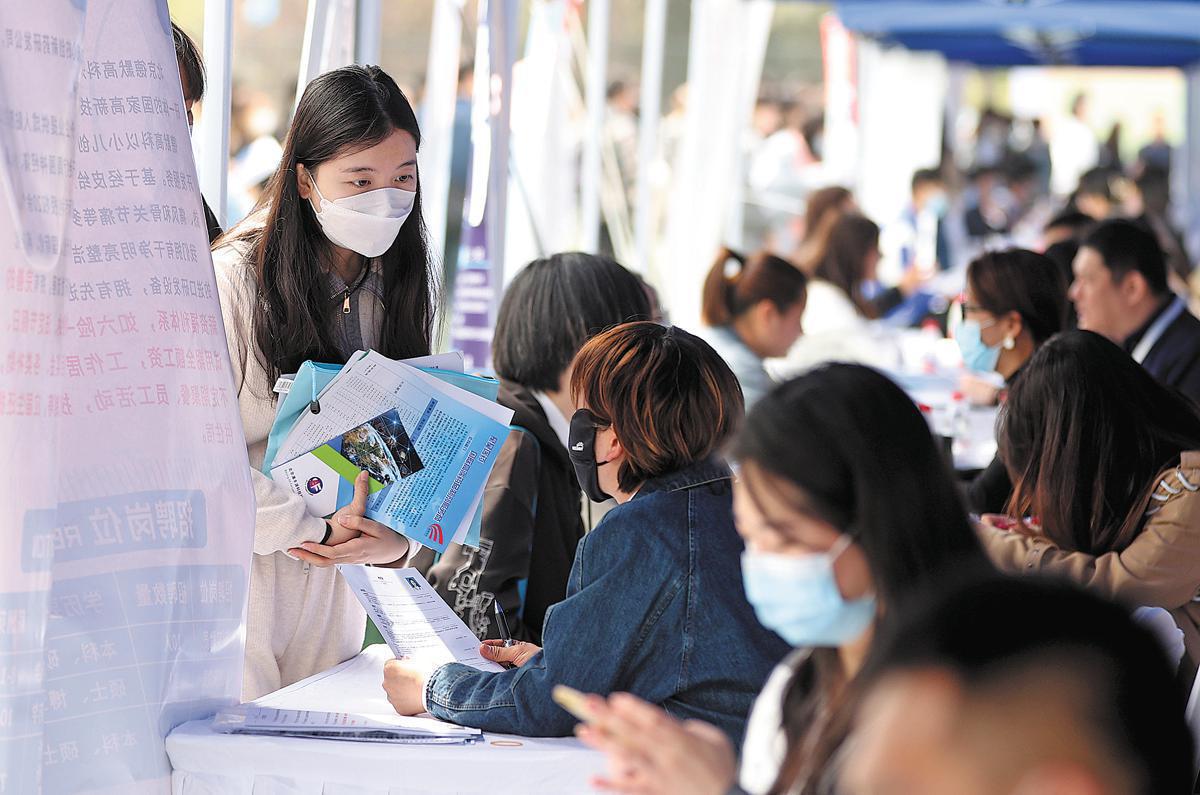 For Chinese students and their families preparing to make choices about where to study, the future can be daunting. How will decisions made now affect opportunity for employment success in the future?

Competition for roles is certainly fierce after the economic impact of the pandemic, with a ratio between market demand and job applicants of 0.57. The competition for graduate roles is tougher still for college graduates according to the Development Research Centre of the State Council, with the contraction of some parts of the tech sector impacting the young.

So how do young people and families avoid this outcome and ensure that they are fully prepared to succeed in such a challenging context?

China is rightly taking the situation seriously. In my discussions with education colleagues at the Chinese embassy in London, it is apparent to me just how committed the country is to ensure qualifications and work experience match the needs of society and the economy. At home, central and local governments are implementing state-funded employment programmes and incentivising state-owned enterprises to hire new graduates.

China has publicly committed to creating 12 million urban jobs and making finding employment a priority as it expands graduate programmes and civil service openings, especially in developing regions.

But there are other opportunities for discerning students too.

China doesn't only need traditional academic qualifications, its changing economy is hungry for industrial experience and the kind of international professional experience of working in global teams that are vital to the country's future. As Professor Yue Changjun from Peking University explains, "In an era of economic globalisation and digitalisation, which is driven by innovation," university graduates need to prepare for employment by strengthening skills such as "entrepreneurship, computer and digital literacy, foreign language ability, and an international mindset, which are demanded by the market."

Advanced manufacturing including future industries such as green energy, smart materials and intelligent design are growing and hiring new graduates with the right mix of skills. These industries have bucked the trend and seen 20 percent recruitment growth and salaries. The electric vehicle manufacturer, BYD Co. Ltd., expanded its investment and factory scale in 2022 with government support and is looking for more than 30,000 college graduates across China.

This is where British degrees of all kinds are changing to meet the future needs of employers in nations such as China, where graduates with global experience are at a particular advantage. Traditionally respected professional qualifications from high-ranked universities in areas such as medicine and engineering, business and law continue to lead to successful careers.

But there are other options too. Although degrees at institutions such as Aberdeen, Durham, Cardiff, Leeds, Sussex and Sheffield are rightly highly-prized as a passport to successful careers, Chinese students are also making the most of study options in the UK's more modern university sector, focusing on professional training, often with close links to multinationals.

These are options Chinese students keen to secure employment in the new economy would do well to carefully explore. Institutions such as Surrey, Strathclyde and Royal Holloway University of London work with world-leading companies to produce highly-employable graduates with expertise in communications, semiconductors, optics and law. Universities like Liverpool John Moores, Kingston, Teesside and Huddersfield offer a superb mix of affordability - as these degrees often cost less than their older counterparts - with tremendous teaching and preparation for the world of work in high-tech engineering, business and allied health professions.

For those keen to take their place in China's advanced manufacturing future, vocational engineering with an industry component is a powerful mix. On a recent visit to the proud manufacturing north of England, for example, I learned from the inspirational Vice-Chancellor of The University of Huddersfield Professor Bob Cryan how international students directly benefit from collaboration with partners such as IBM, Siemens, Jaguar Land Rover, PWC and Santander, then proceed to take their mix of degree and work experience into their careers as graduates. An engineer himself from a modest background, Professor Cryan is determined that every one of his students who come to the university from across the world has the opportunity to thrive and succeed, which means they go straight on into quality employment to do meaningful work.

The same is also true of much-needed experience in allied healthcare professions where there are known skills shortages. One of Huddersfield University's top ten partners is the British National Health Service. Students make the most of an opportunity to work and learn, most following their degrees with a life-changing experience of post-study work in the UK which later gives them a global perspective which accelerates their careers when they return home.

Understanding the range of opportunities open to Chinese students keen to take advantage of a British education offers a pathway to success. Families considering study abroad options would be wise to open their eyes to the widest possible range of possibilities that will meet the needs of their own sons and daughters, and of a city in need of all the graduate talent and experience they have to offer.

Ian Crichton is the CEO of Study Group, a global international education provider.
The opinions expressed here are those of the writer and do not necessarily represent the views of China Daily and China Daily website.
If you have a specific expertise, or would like to share your thought about our stories, then send us your writings at opinion@chinadaily.com.cn, and comment@chinadaily.com.cn.