Decarbonization pacts of steel firms to bolster green transition drive
By ZHENG XIN | China Daily | Updated: 2023-06-14 09:03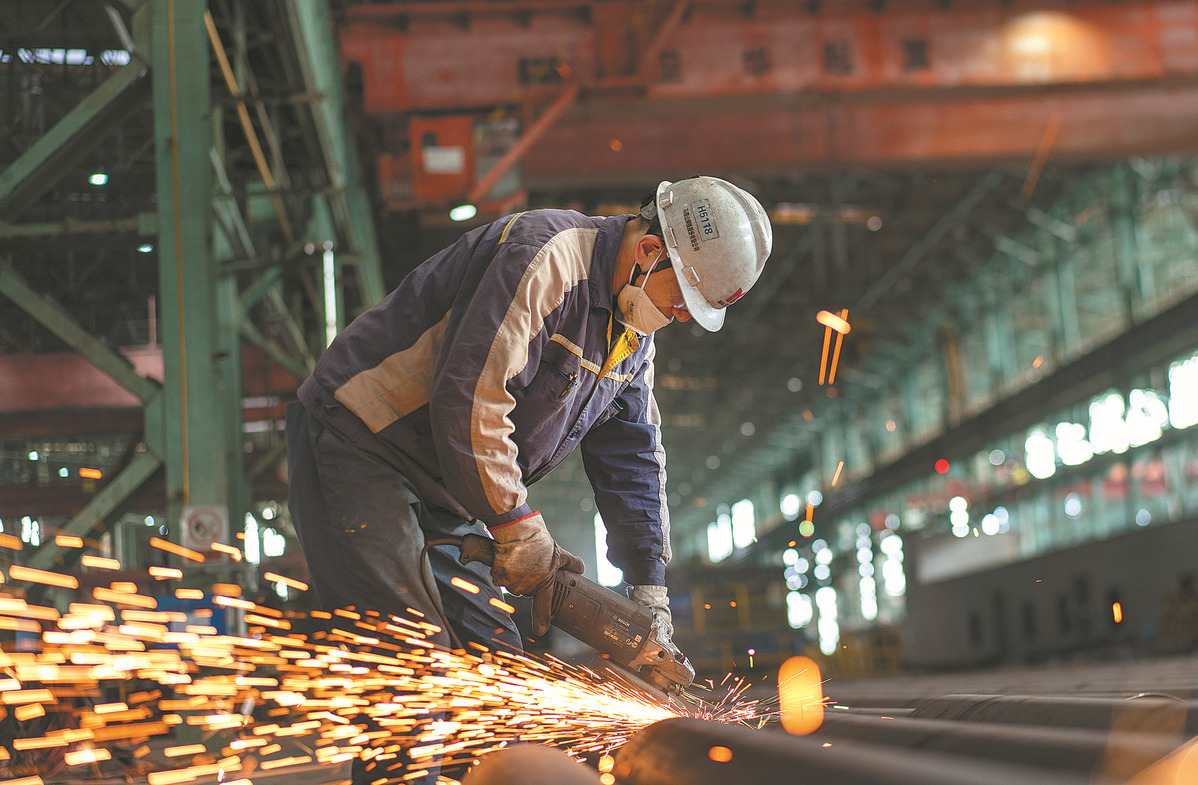 China's steel industry, which has significant potential for decarbonization due to its large scale, presents massive opportunities for multinational corporations in mining, and the process will also further accelerate the global green transition, said industry experts.
In industry parlance, decarbonization refers to reduction or elimination of carbon dioxide emissions from processes like manufacturing or energy production.
As one of the largest producers and consumers of steel in the world, China has been actively exploring various strategies and technologies in decarbonization of the steel value chain, including improving energy efficiency and increasing the use of renewable energy sources, said Zhu Yi, a senior analyst at Bloomberg Intelligence, a market monitor.
"Multinational mining companies like Rio Tinto, BHP and Vale can play crucial roles in supporting China's transition to a low-carbon steel industry, as China's steel mills rely on overseas suppliers for more than 70 percent of their iron ore needs," she said.
In recent years, mining companies have been stepping up investment and local cooperation in China for more green opportunities.
Rio Tinto, the world's largest iron ore producer, signed an agreement on Monday with State-owned China Baowu Steel Group, the world's top steelmaker, to explore a range of industry-leading projects in China and Australia to help decarbonize the steel value chain.
Under the agreement, the two companies plan to jointly advance specific decarbonization projects, including a pilot electric smelter at one of Baowu's steel mills in China, optimization of pelletization technology for Australian ore as a feedstock for low-carbon shaft furnace-based direct reduction and expanded development of China Baowu's HyCROF technology. In addition, study opportunities for producing low-carbon iron in Western Australia will be explored.
In March, BHP signed an agreement with China's HBIS Group Co, one of the world's largest steelmakers, to pilot the carbon capture and utilization technology. In April, Brazilian mining company Vale announced seven agreements with different Chinese partners to strengthen its relationship with China.
Alf Barrios, Rio Tinto's chief commercial officer, told China Daily: "The company sees great potential for further collaboration with Chinese partners and is willing to contribute to the industry's low-carbon transformation in the country.
"The decarbonization of iron and steel production will drive the biggest industrial transformation that has been witnessed in many decades.
"China's commitment to curbing emissions and promoting high-quality green development is strongly aligned with our own position where climate change and the low-carbon transition are at the heart of our strategy."
Barrios further said Rio Tinto's agreement on Monday aims to address one of the biggest challenges faced by the industry — developing a low-carbon pathway for low-to-medium grade iron ores that account for much of the global iron ore supply.
According to Bloomberg analyst Zhu, collaboration with mining MNCs could also enable Chinese steel mills to take into consideration the better-quality iron ore supply when designing their path to carbon emission cuts.
Zero-carbon steel production could be costly due to the higher operational, research and development and capital expenditures needed to replace existing facilities. Collaboration of domestic steel producers with mining MNCs will accelerate the decarbonization process of the steel industry, she said.
Lin Boqiang, head of the China Institute for Studies in Energy Policy at Xiamen University, said by providing sustainably sourced raw materials and collaborating on R&D of innovative technologies, mining MNCs can help China's steel industry reduce its carbon footprint.
This collaboration can lead to new business opportunities and partnerships, as well as contribute to global sustainability goals, he said.