Deepened economic Nepal-China ties under BRI
By Ashok Poudel | chinadaily.com.cn | Updated: 2023-06-27 10:49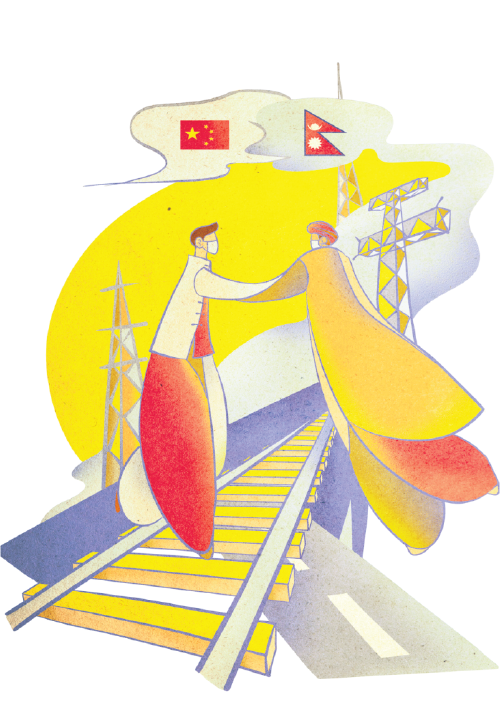 Since Nepal's participation in China's Belt and Road Initiative (BRI) seven years ago, the bilateral ties between the two countries have evolved in multifaceted ways.
Under the framework of the BRI, China's investment in major infrastructure, energy projects and industries in Nepal has grown remarkably. Just recently, Nepal inaugurated its third international airport in Pokhara, built with China's assistance. There are also talks of a cross-border railway, which, if materialized, could be a railway link traversing through some of the most spectacular Himalayan landscapes in the world.
In March 2016, Nepal and China signed a milestone Transit and Transport Agreement, which gives Nepal, otherwise reliant on Indian for third-country trade, access to four Chinese seaports and three land ports for third-country trade.
Similarly, before the Covid-19 pandemic, Nepal received the highest number of Chinese tourists it had ever seen – in 2019 a record 169,543 Chinese tourists visited Nepal. Likewise, more and more Nepalese are traveling to China for a variety of purposes, further deepening people-to-people relations.
Indeed, the growing engagement with China has positively impacted Nepal's development in a variety of ways. However, Nepal should do more to deepen and leverage its ties with China, the world's second-largest economy, for its economic development. During his Nepal visit in 2019, President Xi underlined that the two sides should consolidate the political foundation of bilateral ties, and set the building of a community with a shared future as a long-term goal for the development of China-Nepal relations.
As one of the least developed countries in the world, Nepal faces the daunting task of economic development. It desperately needs to address its severe problem of youth unemployment. Each year, Nepalese youth leave the country in hordes in search of employment abroad.
In its recent forecast issued by the World Bank in April, it predicted slower economic growth for Nepal this year, citing the impacts of import restrictions, monetary policy tightening, high inflation and shrinking government expenditure.
If Nepal is to elevate itself from the least developed country to a developing country by 2026, it should singularly focus on its economic development and proactively seek everything that will help it grow economically.
Engagement with China under the BRI should be one of Nepal's major economic development strategies. Drawing lessons from China's experience of economic development, Nepal should take necessary measures to make itself an attractive destination for foreign investors.
This week, National Assembly Chairman Ganesh Prasad Timilsina visited China and met with China's top leaders including Zhao Leji, chairman of the Standing Committee of the National People's Congress, China's top legislature, and Wang Huning, chairman of the National Committee of the Chinese People's Political Consultative Conference.
His visit, the highest-level visit from Nepal to China since then President Bidya Bhandari attended the opening ceremony of the Beijing Winter Olympics in May 2022, has revitalized Nepal-China bilateral relations in the post-pandemic landscape, fostering strengthened mutual trust between the two nations.
In the near future, Nepali Prime Minister Pushpa Kamal Dahal is expected to embark on his first official visit to China since assuming office for a third time. He should seize the opportunity brought by the BRI to further deepen its economic ties with China and pave the way towards sustainable economic growth, enhanced bilateral relations and a brighter future for both nations and the entire South Asian region.
Nepal should work together with China in earnest to develop robust cross-border infrastructures, including highways and railways, in order to facilitate seamless year-round trade. This will unlock numerous opportunities in cross-border trade and beyond. Nepal could emerge as a pivotal gateway for China into the South Asian region.
China could potentially play a significant role in assisting with the modernization of Nepal's agriculture sector. Chinese farmers have effectively utilized modern tools and technologies in cultivation, and Nepalese farmers can benefit from adopting similar practices. To facilitate this, it is crucial for the Nepal government to reform its policies, making it easier for Nepali farmers to import agricultural tools and equipment from China. Furthermore, Nepal has the opportunity to draw valuable lessons from China's agricultural advancements in order to enhance its own agricultural development.
China is also a technological powerhouse. With digital technologies taking precedence over our lives around the world, Nepal can and should take advantage of China's technological prowess in adopting the latest technologies and training its manpower for the future.
The opportunities for cooperation are diverse and immense, and it is crucial for Nepal to demonstrate eagerness and a strong commitment to fostering collaboration with China.
The author is a former Nepali journalist and a doctoral student at Shenzhen University.
The opinions expressed here are those of the writer and do not necessarily represent the views of China Daily and China Daily website.
If you have a specific expertise, or would like to share your thought about our stories, then send us your writings at opinion@chinadaily.com.cn, and comment@chinadaily.com.cn.