Police shooting in Paris sparks anger
By JULIAN SHEA in London | CHINA DAILY | Updated: 2023-06-30 07:01
Officer faces investigation as Macron calls death of teenager 'unforgivable'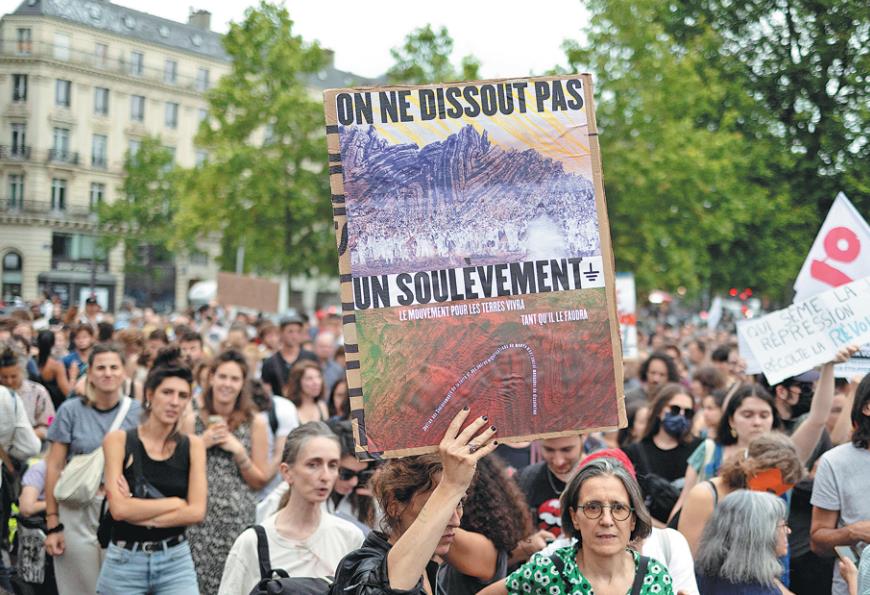 French President Emmanuel Macron held crisis talks on Thursday after a second night of violence across the country following the fatal shooting by police of a 17-year-old male in Paris.
The victim, Nahel M., was shot in the chest at point-blank range after his car was stopped by police. Initially, the authorities said the officer shot Nahel because he was driving at him, but video shared on social media and authenticated by the Agence France-Presse news agency shows two officers standing on either side of a stationary vehicle, with a gun being pointed at the driver, who is then shot as the vehicle drives off. A 38-year-old police officer is now in custody and under investigation for voluntary manslaughter.
Macron called the killing "inexplicable and unforgivable … nothing can justify the death of a young person", adding the incident had "moved the entire nation", but after the crisis talks, criticized the violent response.
"Clearly the emotion that comes with the death of a young man calls for contemplation and calm, and it's what the government has constantly called for," he said.
"The last hours have been marked by violent scenes against police stations but also schools and town halls, and basically against institutions and the Republic. It's absolutely unjustifiable."
Government official Olivier Veran also condemned the violence and told news channel BFMTV: "When you decide to burn down a school, you're not doing justice to Nahel.
"This morning, some children won't be able to go to school because a school has been burned down and some families won't be able to go to their town hall to get help or documents."
Prime Minister Elisabeth Borne said: "The shocking images (of the shooting) show an intervention that clearly appears as not complying with the rules of engagement of our police forces."
Interior Minister Gerald Darmanin, who has backed the police in similar incidents before, told parliament the video was "extremely shocking", and said the officer would be suspended "if the charges against him are upheld".
Marine Tondelier, leader of the Green Party, said the footage showed "the execution by police of a 17-year-old kid, in France, in 2023, in broad daylight", adding that "it seems like we are heading toward an Americanization of the police", while far-left politician Jean-Luc Melenchon called for "a complete redesign of the police force".
Murder charges sought
A lawyer for the victim's family, Yassine Bouzrou, told The Associated Press news agency that they want the incident to be investigated by non-local officers as they do not trust local police to be impartial, and they would also like to see the officer charged with murder instead of manslaughter.
Some 40,000 police officers will be deployed overnight to quell the violence that engulfed cities and towns in the wake of the shooting, AP reported.
Nanterre prosecutor Pascal Prache said he had requested that the officer be held in custody. That decision is to be made by another magistrate.
Based on an initial investigation, Prache said, he concluded that "the conditions for the legal use of the weapon were not met".
French soccer star Kylian Mbappe, who grew up in the Paris suburb of Bondy, was among many shocked by what happened. "I hurt for my France," he tweeted.
Nahel's surname has not been released by authorities or by his family.
In a separate case, a police officer who fatally shot a 19-year-old Guinean man in western France earlier this month was handed preliminary charges of voluntary homicide, according to a statement by the local prosecutor on Wednesday. The man was shot by an officer as he allegedly tried to escape a traffic stop. The investigation is still ongoing.
Scenes of violence in France's suburban areas echo 2005, when the deaths of 15-year-old Bouna Traore and 17-year-old Zyed Benna led to three weeks of nationwide riots, exposing anger and resentment in suburban housing projects.
This latest fatality comes after 13 deaths at police traffic checks in 2022, following a law change in 2017 that increased officers' ability to use their weapons, which is now under scrutiny.
Police made 150 arrests during a second night of unrest, Reuters reported, as public anger spilled onto the streets in towns and cities across the country.
Around 2,000 riot police were deployed in Paris and its suburbs on Wednesday night, as long-standing anger toward police treatment of ethnic minorities in the city's poorer regions erupted into violent protest, spreading out to other cities, including Lyon and Toulouse.
In Essonne, around 50 kilometers south of Paris, a bus was hijacked and set alight, with a tram being torched in the suburb of Clamart. There were further arson attacks on vehicles, and missiles thrown at the emergency services, in other cities.
Agencies contributed to this story.