Foreigners' perspective broadens my view of China's digital economy
By Wu Kunling | chinadaily.com.cn | Updated: 2023-07-04 10:04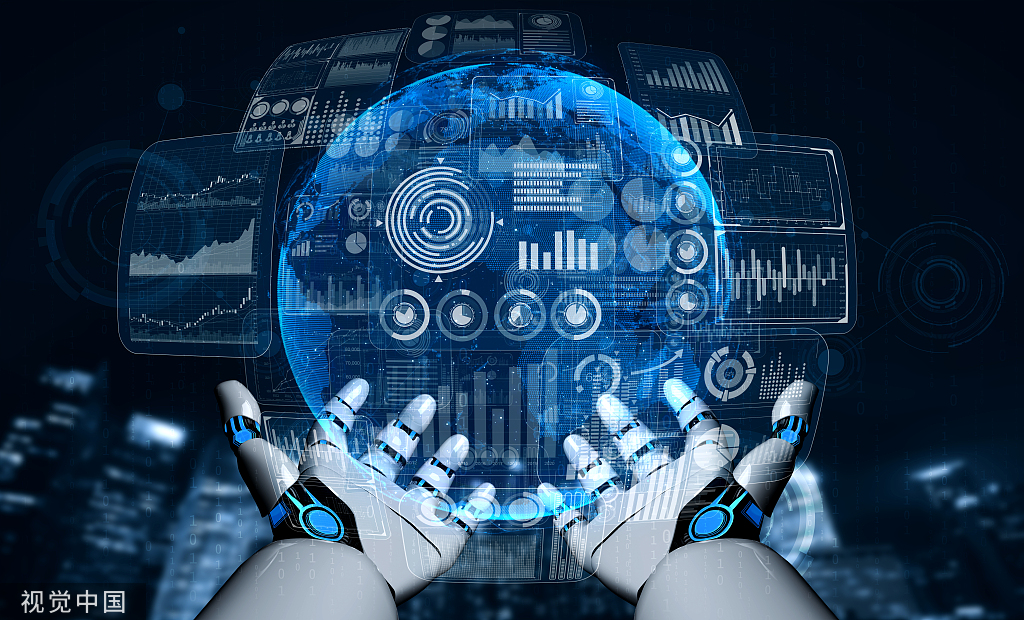 As a young Chinese person having worked at some of the country's largest technology companies and now studying in Hong Kong, I have for years taken for granted the many perks and conveniences of China's digital economy. However, a recent experience has cast new light on my digital lifestyle and generated deeper thinking on its meaning and implications on a much broader, international scale.
In late June, I had the opportunity to participate in a digital economy forum held in Shenzhen and Beijing, together with dozens of young peers from all over the world. Co-hosted by China International Communications Group and Tencent, the event focused on China's booming digital economy, inviting young international delegates to workshops at top companies such as Tencent, Honor, and Ping An in Shenzhen and experience various digital economic products in China.
Throughout the journey, my biggest impression was that many things I have thought of as commonplace in my everyday life are quite fresh and unexpected in the eyes of young friends from around the world. Through their amazement and excitement, as well as their concerns and worries, I came to realize how significant China's digital economic achievement has been, and how it could potentially impact the lives of millions of young people around the world.
My first big surprise was when I helped conduct a survey of my foreign fellows, most of whom are well-educated young professionals, on their key impressions of today's China.
The 16 fellows, from 14 different countries including China, the United States, the United Kingdom, Spain, Brazil, South Africa, and Pakistan, were selected to participate in the forum in person through a rigorous application and selection process by the event coordinators. A staggering 80 percent of them held either a master's or doctoral degree, and the majority were born after 1990.
When asked about the items that represent their vision of China, a surprisingly high number of them named QR code payment (49 percent) and e-commerce (38 percent) as their top picks, along with the Great Wall (over 60 percent) and high-speed trains (40 percent).
This was the first time I realized that China's digital economy development has become a key brand image internationally, especially among the younger generations of the world.
What's more, the survey also shows 83 percent of participants believe that the e-commerce best represents the development of China's digital economy, with short video and 5G tied second with 43 percent of the votes.
One of the participants, Filipe Porto, a researcher, and international relations scholar at the Federal University of ABC in Brazil, was quite keen on e-commerce development. Filipe told me that the potential of the Brazilian market led Alibaba to open a physical office in Brazil and increase international shipping routes to reduce waiting times. And Brazilian consumers used to wait up to three months to receive their goods, but now that time is expected to be reduced to less than a month.
Jibran Ali Khan, CEO of JAK Education and Innovation Consultancy and Media Brick from Pakistan, said that having 52.1 percent senior citizen buying online is a great success, adding he hopes that Pakistan, too, will be able to achieve this.
In 2022, the size of China's digital economy ranked second in the world, accounting for 41.5 percent of the country's GDP. E-commerce grew in 2022 with online retail sales reaching 13.79 trillion yuan, up 4 percent year-on-year. Cross-border e-commerce imports and exports also increased, up 4.9 percent and 11.7 percent year-on-year, respectively.
These e-commerce savvy fellows also have had surprisingly high exposure to top Chinese e-commerce platforms and digital payment services. Taobao and Amazon are their most frequently used online shopping platforms, while WeChat Pay, Alipay, and Apple Pay are their top picks for mobile payment methods. WeChat, with its payment function inbuilt, is considered the digital product best represents China's digital economy, chosen by nearly 80 percent of respondents, followed by Alipay and TikTok.
After leaving Shenzhen and arriving in Beijing, we used Tencent's step-donation to do public welfare activities together, and experienced different digital economic activities such as mobile payment shopping, QR code riding public transportation, shared bicycles and so on. Basically, we spent a day without cash.
I cannot remember the last time I used cash in the Chinese mainland. But the cashless lifestyle of ordinary Chinese people still comes as an eye-opening experience to many of my foreign fellows. Vu Hong Trang, co-founder of STEP Forward Education from Vietnam, told me that she was shocked to see almost every economic activity being conducted digitally, almost completely nullifying the use of cash.
Regarding e-payment, my conversation with Zhu Yuting is still fresh in my memory. Zhu, like me, is from the Chinese mainland and now works as an assistant professor of marketing at the National University of Singapore. She told me that e-payment is not uncommon in many countries, including the United States and several developed European and Asian nations. However, she noted that the most significant difference between e-payment in China and other countries lies in the adoption side rather than the payment side. In addition to making payments, people in China can also receive money using mobile payments, thereby expanding the potential application scenarios. This feature sets China's mobile payment system apart from those in other countries.
Some young fellows from developing nations were quite keen on how digital economy has helped to protect the environment and conserve natural resources — dots that I hadn't previously connected myself. Chintana Kitmee, a journalist with Thailand's Matichon newspaper, noted how paperless business activities and transactions could save millions of trees and reduce carbon footprint; Filipe Porto of Brazil was particularly impressed to find that China has used advanced information and communication technologies to greatly expand the scope of sales of agricultural products in remote areas.
My own experience in the past year of pursuing graduate studies at the University of Hong Kong has also given me extra perspective on how a small developed economy has quickly adapted to the latest digital technologies and trends.
First comes the increasingly convenient mobile payment. For example, the city's homegrown Octopus contactless smartcard payment system that has proven extremely popular in the last 30 years has held its ground astonishingly well even in the face of giant challengers such as Wechat Pay and Alipay.
Mobile payment aside, I've also noticed that the digital economy sectors of the mainland and Hong Kong are starting to connect, and internet companies in the mainland have digitized some daily services in Hong Kong. For example, more and more mainland shopping apps provide official delivery services to Hong Kong. And you can even buy bus tickets to and from the mainland via a WeChat mini program.
As one of the most important sectors of the digital economy, Hong Kong's local e-commerce market is also developing rapidly. According to data from Census and Statistics Department released in June 1, online sales, estimated at $2.2 billion in April 2023, accounted for 6.4 percent of the total retail sales value. This proportion is still relatively small, but the Thematic Household Survey Report No.77 in May 2023 shows that for persons aged 15 to 44, the rates of having made online purchases for personal matters during the 12 months before enumeration were ranging from 60.0 percent to 80.0 percent. Online shopping has become popular among young and middle-aged people.
On the other hand, compared with the mainland, where the digital economy took off earlier, although Hong Kong is an international metropolis, there are some aspects of digital life that I still cannot adapt to. For example, the high delivery fee and premium makes ordering food the last choice for me, and also most of the time I still need to use cash when taking a taxi, etc.
But, in fact, the Hong Kong government has started actively promoting the development of the digital economy long ago, such as launching the "Hong Kong Smart City Blueprint" in December 2017, which aims to build Hong Kong into a world-class smart city. And with the huge events like Hong Kong Web3 Festival 2023 opening in Hong Kong, I can feel Hong Kong's emphasis on the development of a virtual currency and NFT, and I believe that the supporting digital economic services will soon be significantly optimized.
Of course, when communicating with fellows from all over the world, they also mentioned some suggestions for the development of China's digital economy. One of the suggestions was to strengthen international cooperation and exchanges in the field of digital economy.
From a specific perspective, it is to improve the internationalization of our digital products. Jibran, my fellow from Pakistan, shared with me his feelings when he first arrived in China. He said he could find technology everywhere, but as a foreigner who couldn't speak Chinese, he thinks the digital economy should provide temporary visitors with a more seamless experience and cater to foreign travelers in a positive manner. For example, by adding more languages, or at least English, to the digital services and not requiring temporary visitors go through the routine identity verification process and requiring them to have a Chinese bank account, which they cannot get, so that they can also enjoy the payment features.
From a bigger picture perspective, Donatien Niyonzima, editorial consultant with ChinaAfrica, said China's expertise in areas such as e-commerce, mobile payment systems, and smart city development can provide valuable insights for Rwanda's own digital economy. Niyonzima sees a lot of opportunities that can accelerate Rwanda's digital transformation.
Zhu also expressed her views on strengthening international exchanges. Zhu feels that because of COVID-19, China kind of lost the communication channels with talents overseas and we should reconnect to communicate and hear each other's opinions.
Even though the international fellows were quick to note the many benefits of China's digital economy and couldn't wait for their own countries to adopt many of the same technologies and mechanisms, they were equally forthcoming with concerns over security and privacy issues.
For example, over 70 percent of them expressed concerns about data security with China's digital economy, with more than 75 percent worried about the inadequate protection of personal information and privacy. Addressing these challenges is crucial for the better development of the digital economy, with nearly 60 percent of them emphasizing the importance of protecting data security and personal privacy.
Building trust and maintaining the integrity of the digital ecosystem require the protection of personal information and clear guidelines. Brett Lyndall Singh, director of African Financial Group in South Africa and a medical doctor, recognized the convenience and rise of digital health platforms and mobile applications, but emphasized the need to ensure the protection of personal health information. He suggested establishing clear guidelines for data collection, storage, and use.
The past few days really got me thinking. China's digital economy is booming, and more and more young people around the world have perceived its power, calling for cooperation and win-win results. But at the same time, many of them still have concerns about the protection of data security and personal privacy.
In addition to their high levels of education, I learned that 95 percent of them have visited China before and nearly 63 percent of them had lived in China for more than one year. Most of the respondents have a relatively long time of actual experience with China's digital economy and were familiar with the digital economy in terms of their professional fields. In a word, their views on the digital economy largely represent the views of young people around the world. Among them are practitioners of the digital economy, and there is no doubt that they are and will be the representatives of the most influential consumers in the future.
So, for China's digital economy to break through national borders and go global, it is necessary to consider their suggestions and listen to their concerns. As the digital economy continues to grow, it is important to address concerns about data security and personal privacy to build trust and maintain the integrity of the digital ecosystem. By doing so, we can ensure that the digital economy continues to bring positive changes to people's lives and promotes global cooperation and development.
The author, Wu Kunling, is a graduate student of Journalism, University of Hong Kong.
The opinions expressed here are those of the writer and do not necessarily represent the views of China Daily and China Daily website.
If you have a specific expertise, or would like to share your thought about our stories, then send us your writings at opinion@chinadaily.com.cn, and comment@chinadaily.com.cn.