'Facekini' sales sizzle as nation's temperatures soar
By Liang Shuang | chinadaily.com.cn | Updated: 2023-07-06 01:10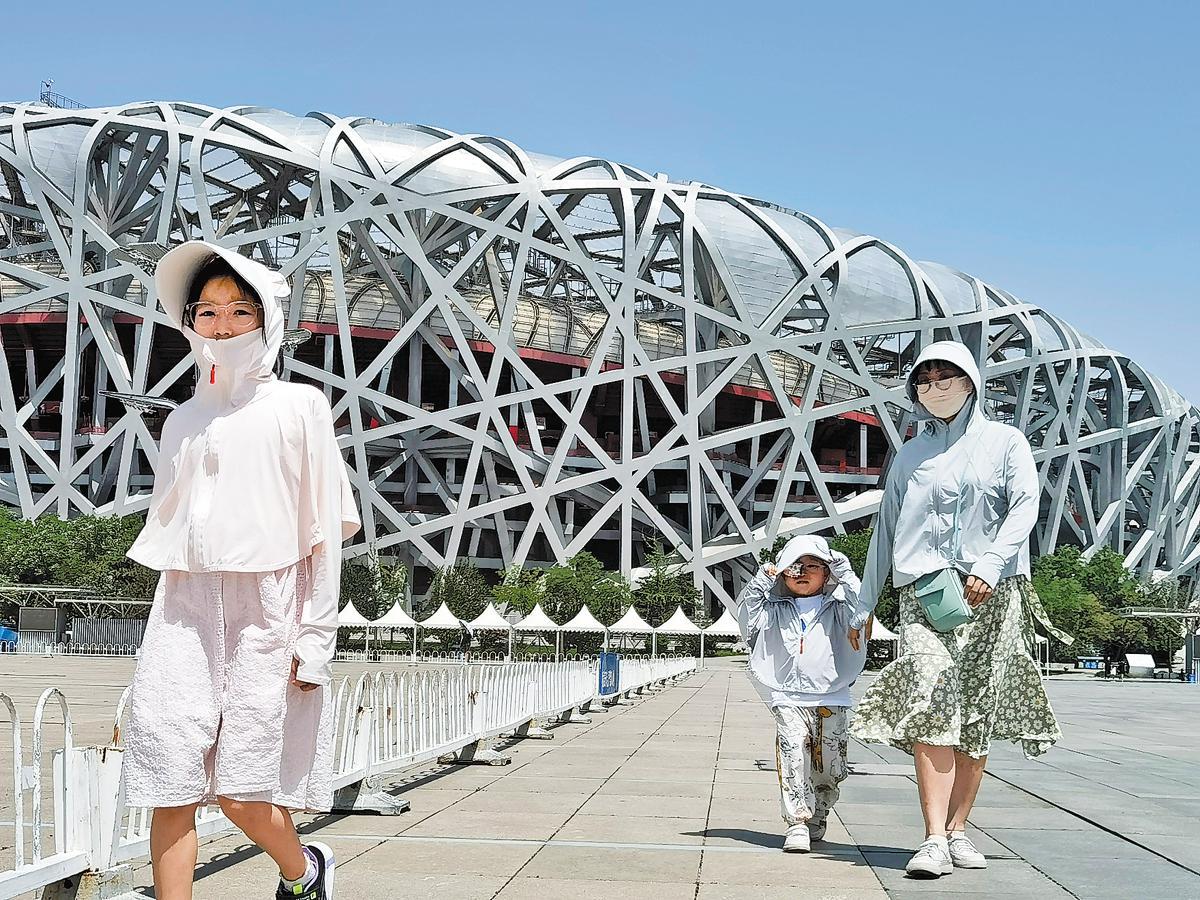 Sunproof: Demand for other products also booming
With vast areas of China sweltering recently under heat waves, manufacturers are exploring new products that not only shield people from the fierce sun, but are also eye-catching fashion accessories.
According to a report by China Central Television, an updated version of the "facekini" has become a hit with consumers. The term was coined several years ago to describe a swimming cap that is extended to cover almost the entire head, with openings for the nose, eyes and mouth.
The new-generation facekini, made from common synthetic fabrics such as nylon and polyester, covers the entire face except for the eyes. More complicated designs feature a section of cloth that shields the chin and the neck, or a brim above the eyes to block unwanted sunlight.
Like the original facekini, the new product is being marketed as a way to protect wearers from damaging sunlight and ultraviolet rays.
"This product sells well because it covers the canthus, or the corner of the eye, where freckles may grow easily," said Dong Wei, a merchant at Yiwu International Trade Market, a major market for gadgets and merchandise in Zhejiang province. She told CCTV that sales of the facekini have grown more than 30 percent year-on-year at her store.
In addition to the facekini, products like sunproof gloves, face masks, light jackets and cooling sleeves are also being snapped up by consumers.
According to the report, by mid-June consumers had spent 50 percent more on sunproof clothes on e-commerce platform JD, compared with the previous two weeks. Beijing as well as Guangdong and Jiangsu provinces saw the biggest increase in spending.
Even men, traditionally not purchasers of sunproof products, are buying such goods in greater numbers. Sales on e-commerce platforms of new men's sunproof items, such as fishing hats and jackets, doubled year-on-year in June, the report said.
As the heat waves coincided with e-commerce promotions in June, sales of air conditioners and fans are also booming. Industry data analysis company All View Cloud said that sales of air conditioners during the promotion period reached nearly 12 million, a 36 percent year-on-year increase.
According to the National Climate Centre, China has seen a record number of days with high temperatures in the first half of this year, the highest amount since official monitoring began in 1961.
Weather forecasts indicate that North China, which recently experienced a brief respite from the heat waves, would likely see more high-temperature days in early July.
For example, the temperature in Beijing hit 40 C on Wednesday, the fourth such reading this year. From 1951 to last year, Beijing had only six days when the mercury hit 40 C, with all of them recorded in separate years.
Against the backdrop of climate change, a moderate El Nino — a periodic weather event that involves warming currents in the Pacific Ocean — is expected to occur this fall and may lead to more frequent, widespread and extreme weather events in China, Guangming Daily reported.