German executives say no to 'decoupling'
By ZHONG NAN | China Daily | Updated: 2023-07-13 08:58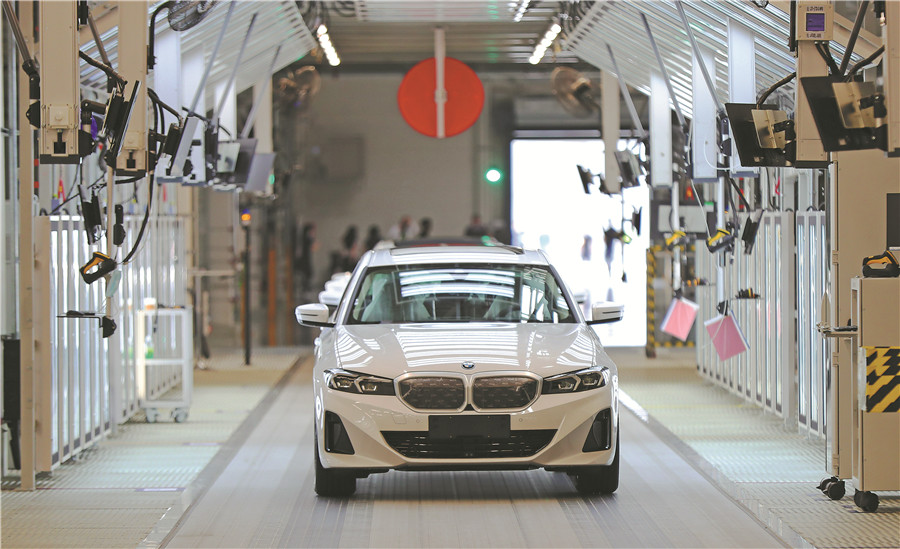 The Chinese path to modernization will provide broader growth opportunities for German companies and the idea of "de-risking" should not be politicized or ideologized, said China's top commerce official.
During his meeting with Karl Haeusgen, president of German Mechanical Engineering Industry Association (VDMA) and Christian Klein, CEO of German software and cloud company SAP SE in Beijing on Tuesday, Chinese Commerce Minister Wang Wentao said the idea of "de-risking "should not lead to "decoupling "and "de-Sinicization".
"De-risking" is a term put forward by European Commission President Ursula von der Leyen, who in March called for reducing dependency on Chinese raw materials and technologies.
Wang reiterated that companies are market players, and they know best how to de-risk. The government should return this right to businesses as arbitrary intervention will only bring greater risks.
As mechanical equipment manufacturing is a key industry for China-German economic and trade cooperation, Wang urged businesses on both sides to further consolidate the existing cooperation foundation and tap cooperation potential in new fields such as green low-carbon, digital economy and sustainable development.
Highlighting that "decoupling" is not in the interest of German companies, Haeusgen said the move of "de-risking "should be evaluated and decided independently by businesses.
He said VDMA's member companies support the governments of China and Germany to strengthen communication and dialogue, and create favorable conditions for cooperation between their companies.
Similar views were expressed by Klein.
"SAP opposes 'decoupling' and other related activities. The company will actively participate in building a more resilient global supply chain, call for strengthening international cooperation and formulating unified global data security rules," he said.
In addition to increasing its investment in research and development in China, the German executive said that SAP will continue to provide better products and services for its business partners in the country.
The German Chamber of Commerce in China said more than half of the 288 businesses that participated in a survey in May said they plan to invest more in China over the next two years. The study was published in early June and reflects the business outlook of German companies in China.
Jens Hildebrandt, executive director and board member of the German Chamber of Commerce in China, said that geopolitics has a profound effect on companies on the ground, prompting them to drive forward localization and diversification strategies as risk management measures. German companies will sustain investments in the Chinese market as a means of maintaining a competitive edge and harnessing their full potential.
German investment in China reached $2.57 billion in 2022, soaring 52.8 percent year-on-year, said China's Ministry of Commerce.
After it ordered a rethink on how Germany interacts with China last year, the German government will pass its long-promised China strategy on Thursday, Reuters reported.
German Chancellor Olaf Scholz has repeatedly emphasized "de-risking" Germany's relationship with China, reducing dependency on the country gradually rather than decoupling from the Chinese market.