Doctors in England launch unprecedented 5-day strike
By JONATHAN POWELL in London | China Daily Global | Updated: 2023-07-14 07:41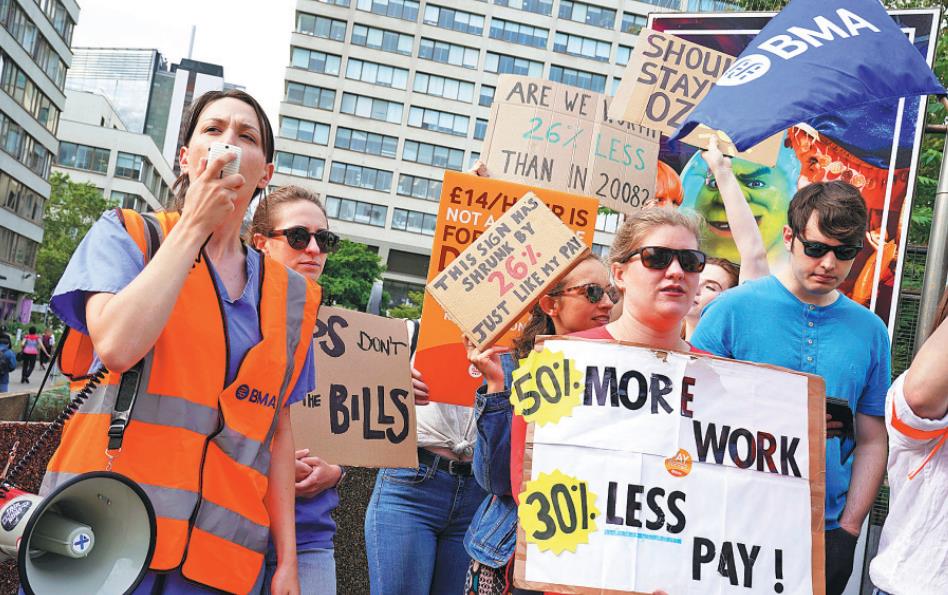 Junior doctors in England started a five-day strike on Thursday, marking what is being reported as the longest walkout of its kind in the history of the National Health Service.
Amid continuing protests over health service pay, NHS chiefs have warned of significant disruption, as thousands of planned appointments will be postponed while senior doctors step in to provide emergency care before joining the strike themselves next week on Thursday and Friday.
Young medical practitioners under the British Medical Association, or BMA — a professional body and trade union representing 75,000 doctors in the United Kingdom — are advocating for a pay rise of about 35 percent.
The union is pressing for this significant hike as it seeks to realign junior doctors' salaries to 2008 levels, claiming that subsequent raises have been undermined by inflation over the years, reported Sky News.
Following several months of pay disputes between unions, the NHS, and the government, the five-day strike has been initiated in the wake of a 5-percent pay rise offer, BBC said.
A government decision about how much of a pay rise workers in the public sector, including junior doctors, will get this year was expected to be made later on Thursday.
The Guardian reported the government may be considering pay review bodies' recommendations for pay rises between 6 and 6.5 percent.
Health Secretary Steve Barclay asserted that the junior doctors' decision to stage action essentially "collapsed" current negotiations, adding that a 35 percent pay demand was "unreasonable" and that the strike would put patient safety at risk.
Surgeries canceled
BMA leaders implored the government to reopen negotiations to settle the dispute, which has already resulted in multiple strikes and thousands of canceled surgeries.
The union said the government's refusal to talk was out of keeping with the norms of industrial action, and discussions should continue up to the last minute, as in Scotland where a 12.4 percent deal was agreed.
BMA leaders Robert Laurenson and Vivek Trivedi said: "We can call this strike off today if the UK government will simply follow the example of the government in Scotland and drop their nonsensical precondition of not talking whilst strikes are announced and produce an offer which is credible to the doctors they are speaking with."