Europe faces nature's wrath
By JONATHAN POWELL in London | China Daily Global | Updated: 2023-07-27 09:36
Climate change concerns mount as heat, storms batter region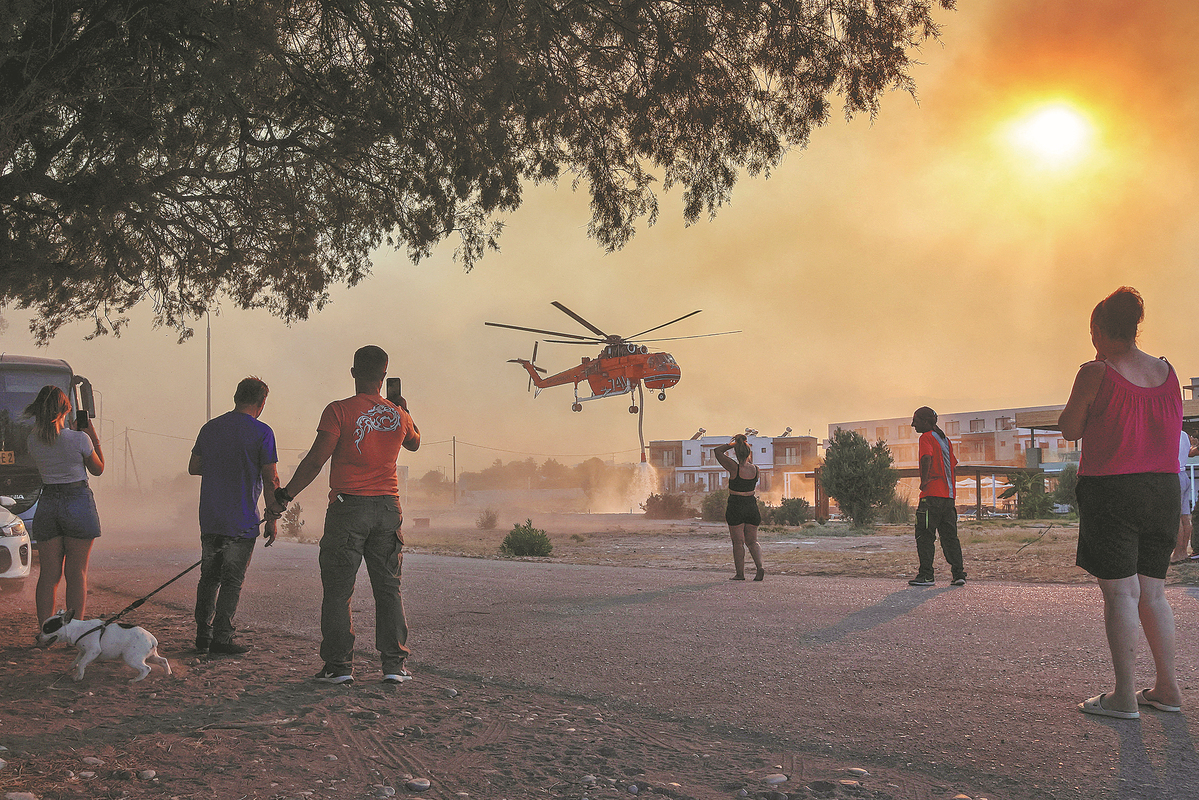 The fingerprints of climate change are all over the intense heat waves gripping the globe this month, a new study on Tuesday finds.
Researchers say the deadly hot spells in areas, including Europe, could not have happened without the continuing buildup of warming gases in the air.
Researchers at World Weather Attribution find that the unusually strong heat waves are becoming more common.
A stagnant atmosphere, warmed by carbon dioxide and other gases, made the European heat wave 2.5 C hotter, the study found.
Thousands of people have been evacuated from the Greek islands of Rhodes and Corfu as wildfires wreak havoc across the country, while a blaze in Sicily, Italy, forced the closure of its Palermo airport.
Europe recorded its hottest day so far this year on Monday, with 48 C measured in Sicily.
While southern Italy struggled under the oppressive heat, most of the northern area was hit by thunderstorms and oversized hail.
Media reports said the emergency services in Milan had responded to more than 200 requests for help related to flooding, fallen trees, and damage to cars and homes since a severe storm hit the city late on Monday.
Elsewhere in Lombardy, a 16-year-old girl was killed when storms toppled a tree that fell on the tent where she was sleeping during a camping trip.
On Monday, an aircraft that took off from Milan for New York was seriously damaged by hail, and had to be rerouted to Rome for an emergency landing.
Other parts of the north, including the regions of Trentino-Alto Adige, Friuli Venezia Giulia, Piedmont, and Veneto, were also hit hard by storms.
Temperatures in Greece have exceeded 40 C this month, with fires burning for nearly a week in some areas.
British travel companies canceled flights to Rhodes this week as wildfires continued to rage for the seventh day on the Greek island.
Concerns are also mounting that escalating winds and high temperatures could intensify the fires across the nation, reported The Times newspaper. It said authorities remain on alert, with more than 270 firefighters reported to be trying to contain 82 wildfires across Greece, 64 of which started on Sunday.
Agence France-Presse reported that around 2,500 people were also being evacuated from the island of Corfu, some 1,027 kilometers away, while the island of Crete is also now reported to be at "extreme risk" of wildfires.
Raging wildfires in Greece turned deadly on Tuesday when a firefighting plane crashed, killing two pilots. A third person was found dead as relentless heat waves fueled flames.
Thousands of vacationers have arrived back in the United Kingdom from Rhodes, and returned on repatriation flights, with an estimated 10,000 Britons still believed to be on the island, as of early Tuesday.
The BBC reported that travel companies, including Jet2, Thomas Cook, EasyJet and Tui, have suspended outbound package holidays to Rhodes.