Tourists overwhelm historic islet in northern France
By EARLE GALE in London | China Daily | Updated: 2023-08-03 07:12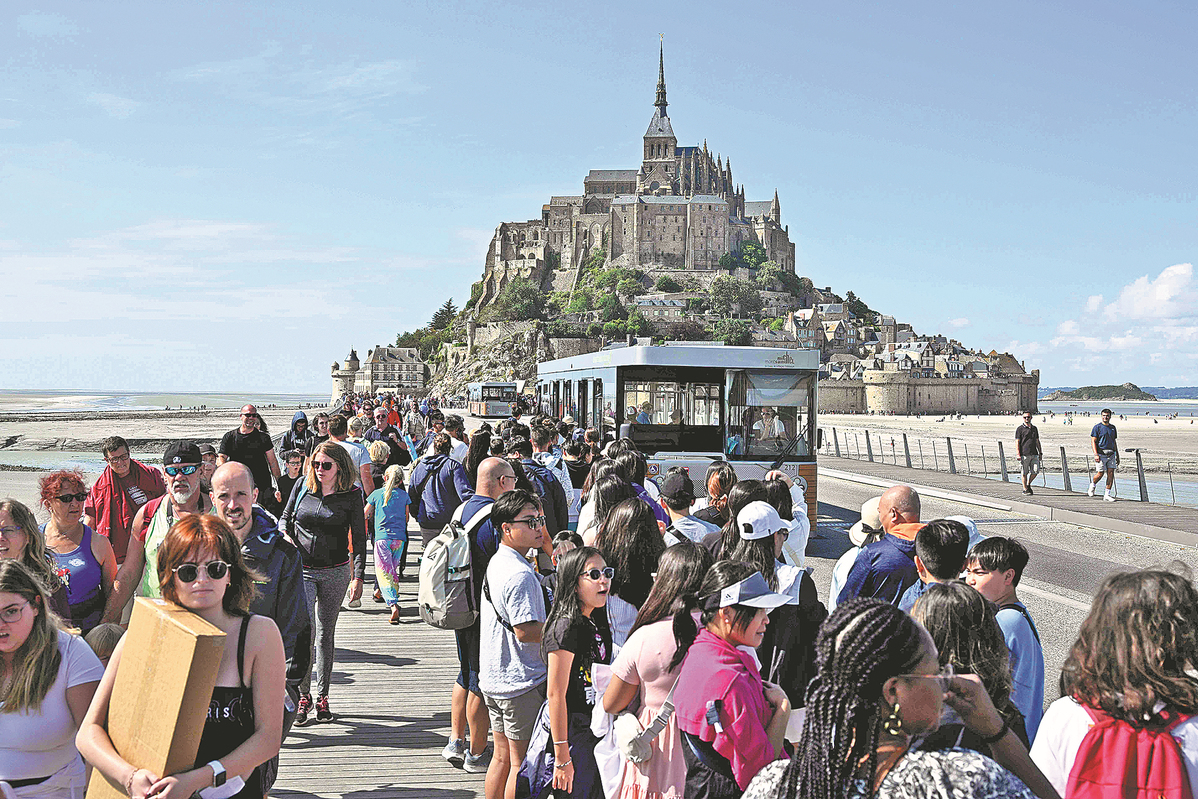 The stunningly beautiful historic French islet of Mont-Saint-Michel has become too popular for its own good, and this is now prompting the authorities to seek ways to limit the size of crowds that threaten to swamp it.
The islet, with its iconic monastery off the coast of the northern region of Normandy, has become France's most visited tourist destination outside Paris.
However, the narrow streets and aged buildings of the 1,000-year-old, 4-square-kilometer UNESCO World Heritage site have been deteriorating under the weight of its visitors, which have numbered as many as 36,000 in a single day.
Now, after noting that almost all of the islet's visitors make their trips in the middle of the day, authorities have started promoting the idea of visiting it after hours and out of season.
"The first measure is communication — encouraging visitors on social networks, in the press, to come before 10 am in the morning and after 4 pm," Thomas Velter, director of the foundation that maintains Mont-Saint-Michel, told Agence France-Presse.
The foundation is also introducing cheaper or even free parking in the evenings and offseason, in the hope that some of the 3 million visitors who travel there each year will do so at quieter times, he said.
In the past, the site had been almost deserted in the evening, Velter said.
The foundation will also regulate the frequency of shuttle buses to and from the site, to stagger people's arrival and departure times.
The efforts in Mont-Saint-Michel are similar to those being made at several other tourism hot spots across France as part of the country's attempts to regulate "overtourism", which were unveiled in June.
As part of the strategy, some sites now require people to book tickets in advance. Others cap the number of daily visits.
Overtourism has emerged as a serious problem elsewhere in Europe, with the historic English university city of Cambridge now limiting the number of tourist coaches it allows in city parking lots, and the Italian city of Venice introducing an entrance fee of between 3 euros and 10 euros ($3.30 and $11) to people wanting to enter the municipality.
Attempts to limit tourist numbers have been introduced in part to protect ancient and beautiful sites, but also to becalm residents who complain to their local governments about housing shortages, noise, traffic volume, pollution and litter attributed to tourists.
The issue has prompted authorities in Greece to introduce a time-slot system for those wanting to visit the Acropolis.
In the Netherlands, Amsterdam has recently voted to ban cruise ships from entering its main port. The local government made the move after realizing that the city, with 1 million residents, is now attracting almost the same number of visitors every month.