Guidelines unveiled to draw more foreign investment
By Zhong Nan and Wang Keju | China Daily | Updated: 2023-08-14 07:07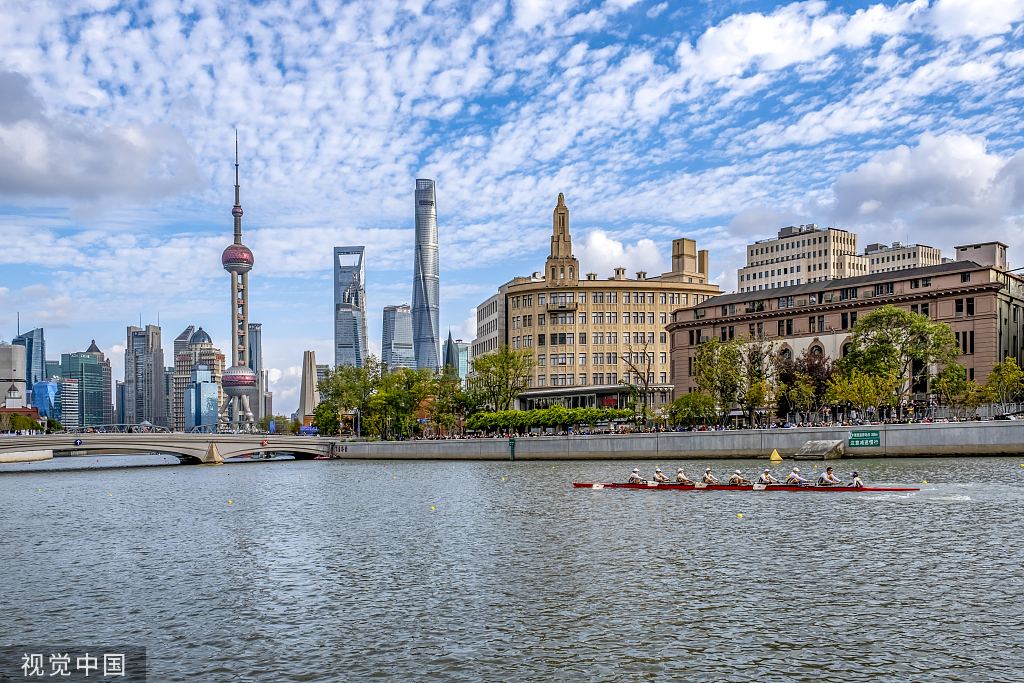 China has issued 24 new guidelines to attract more global capital and further optimize the country's business environment for multinational corporations.
The guidelines, which were part of a policy document released on Sunday by the State Council, China's Cabinet, cover topics such as encouraging foreign investors to undertake major scientific research projects, ensuring equal treatment of foreign and domestic companies and exploring a convenient and secure management mechanism for cross-border data flows.
Other topics include increasing protection of the rights and interests of foreign companies and providing them with stronger fiscal support and tax incentives.
China will create a market-oriented, law-based and first-class international business environment, give full play to the advantages of the country's ultra-large market, and attract and utilize foreign investment more vigorously and more effectively, according to the document.
Foreign investors are encouraged to establish research and development centers in China and undertake major scientific research projects, the document said. Foreign-invested projects in the field of biomedicine will enjoy accelerated implementation.
The State Council also emphasized its commitment to ensuring that foreign-invested enterprises fully engage in government procurement activities according to law. The government will introduce relevant policies and measures as soon as possible to further clarify the specific standards for "manufactured in China" and accelerate the revision of the Government Procurement Law.
It will also explore a convenient and secure management mechanism for cross-border data flows and establish a green channel for qualified foreign-invested enterprises to efficiently carry out security assessments for the export of important data and personal information, and promote the safe, orderly and free flow of data.
The government will provide convenience to foreign executives, technical personnel and their families in terms of entry, exit and residence, said the document.
Given the slowdown in global economic recovery and the decline in cross-border investment, Pan Yuanyuan, an associate researcher at the Chinese Academy of Social Sciences' Institute of World Economics and Politics in Beijing, said all these policies will make it easier for foreign investors to develop in the Chinese market, as they are designed to meet the expectations of multinational corporations.
Pang Ming, chief economist at global consultancy JLL China, said the stronger policy support will guide more foreign investment toward areas such as medium- and high-end manufacturing and trade in services, as well as geographically toward the central, western and northeastern regions of the country.
This could better align the core businesses of foreign enterprises with China's shifting market dynamics, Pang said, adding that the negative list for foreign investment should also be further trimmed with wider, high-standard opening-up.
Highlighting China's massive market, well-developed industrial system and strong supply chain competitiveness, Francis Liekens, vice-president for China at Atlas Copco Group, a Swedish industrial equipment manufacturer, said China will remain one of the world's most dynamic markets and this trend will certainly sustain in the coming years.
China is transitioning from being the "world's factory" to a high-end manufacturer, with growing domestic consumption, Liekens said.
The trend toward localization has been driving growth in many sectors over the past several years, including electronics, semiconductors, automotives, petrochemicals, transportation, aerospace and green energy. Atlas Copco will work with all industries in the country, but particularly with these sectors, he added.
Zhu Linbo, president for China at Archer-Daniels-Midland Co, a United States-based grain trader and processor, said that with a series of supportive policies being unveiled and gradually taking effect, the group is confident about China's economic vitality and development prospects.
By partnering with Qingdao Vland Biotech Group, a domestic producer of enzymes and probiotics, ADM will put a new probiotic plant into production in Gaomi, Shandong province, in 2024, Zhu said.
China retains its appeal for foreign investors, thanks to the country's immense economic vitality and huge consumption potential, said Zhang Yu, a macro analyst at Huachuang Securities.
China has a complete industrial chain with more than 220 industrial products ranking first in the world in terms of output. It is easier to find reliable and cost-efficient suppliers in China than in any other part of the world, said Zhang.
In the first half of 2023, China saw its newly established foreign-invested enterprises reach 24,000, up 35.7 percent year-on-year, according to the Ministry of Commerce.