S. African police ensure safety guarantees at BRICS Summit
By NDUMISO MLILO in Johannesburg, South Africa | CHINA DAILY | Updated: 2023-08-19 07:29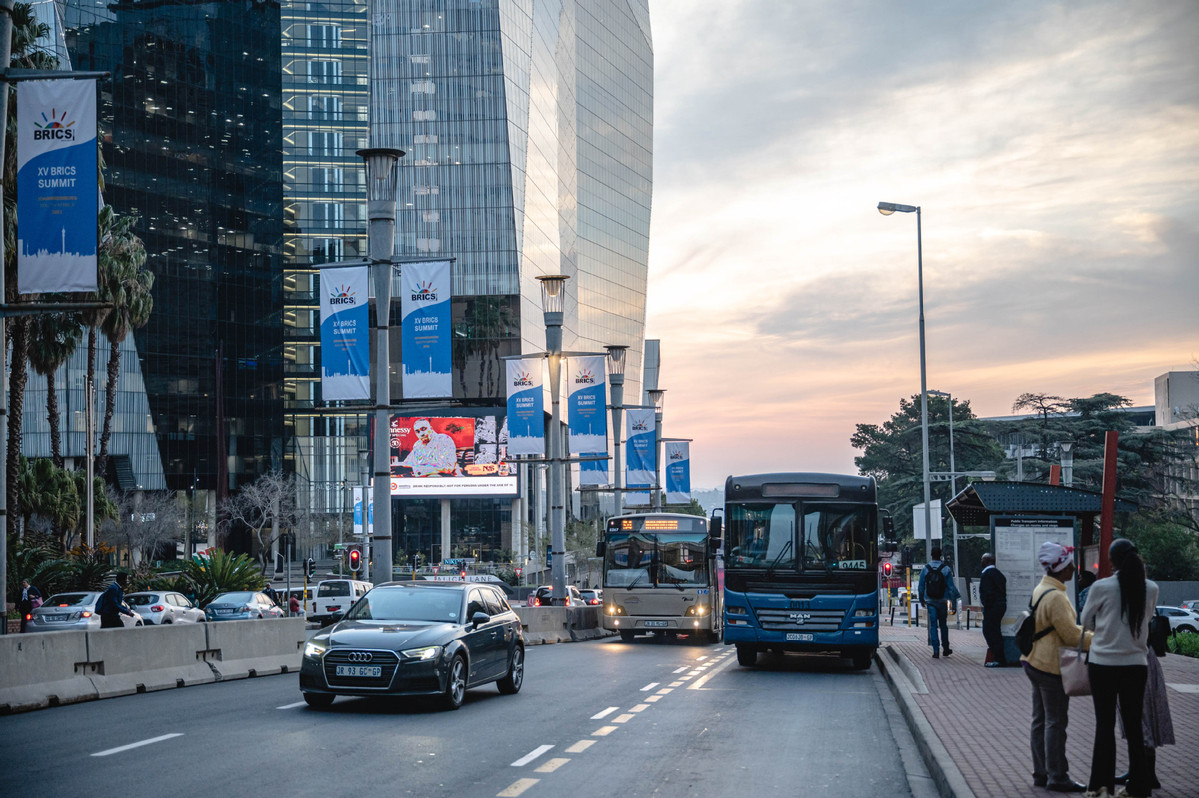 South African law enforcement agents are on the ground with logistical arrangements in place to ensure that the BRICS Summit is held in a safe and secure environment, said a senior police official on Thursday.
Tebello Mosikili, deputy national commissioner of the South African Police Service, made the remarks in the capital Pretoria while briefing the media on the law enforcement's readiness for the summit. Mosikili is the co-chair of the National Joint Operational and Intelligence Structure, or NATJOINTS, which include the police, South African National Defence Force and State Security Agency.
"We therefore affirm the NATJOINTS state of readiness. Members are already on the ground and we are ready to deliver a safe and secure event. With the summit in four days, the NATJOINTS is ready to ensure that as the government prepares to welcome heads of states, ministers and leaders from various countries from across the world, that this happens in a safe and secure environment with minimal to no incidents of instability and criminality," Mosikili said.
She explained that their deployment covers transport, routes, venues, accommodation, traffic control, sea, land and airport border security. South Africa hosted the BRICS Summit in Durban in 2013. Mosikili said other specialized units supported by the soldiers would be ready to respond to any violation of the law, and law enforcement agents would be pro-actively deployed to prevent and respond to any crime and they will conduct intelligence gathering, analysis and coordination.
"Each and every member deployed has a responsibility and an obligation to execute their respective mandates professionally, impartially and with integrity," she said.
"High density operations through increased roadblocks, vehicle checkpoints, high police visibility on foot, vehicles, mounted and air patrols will be conducted. Stabilizing operations and deployment of members at crime hot spots will ensure heightened integrated crime prevention operations."
Law enforcement officers also encourage international visitors to cooperate with them and locals to welcome tourists warmly. Mosikili warned that those who act in an illegal manner, issue any threats or disrupt the summit will be severely dealt with. Those who are not accredited to attend the summit are not allowed to go near the venue and those found with fraudulent accreditation will "face the full might of the law", Mosikili said.
The Civil Aviation Authority has issued a notice to all airmen on the restriction of flights near the summit venue from Aug 20 to 24. Drones around the venue have also been banned. Roads near the venue have been closed.
The writer is a freelance journalist for China Daily.