Working jointly on climate change
By HARVEY DZODIN | China Daily | Updated: 2023-08-26 09:30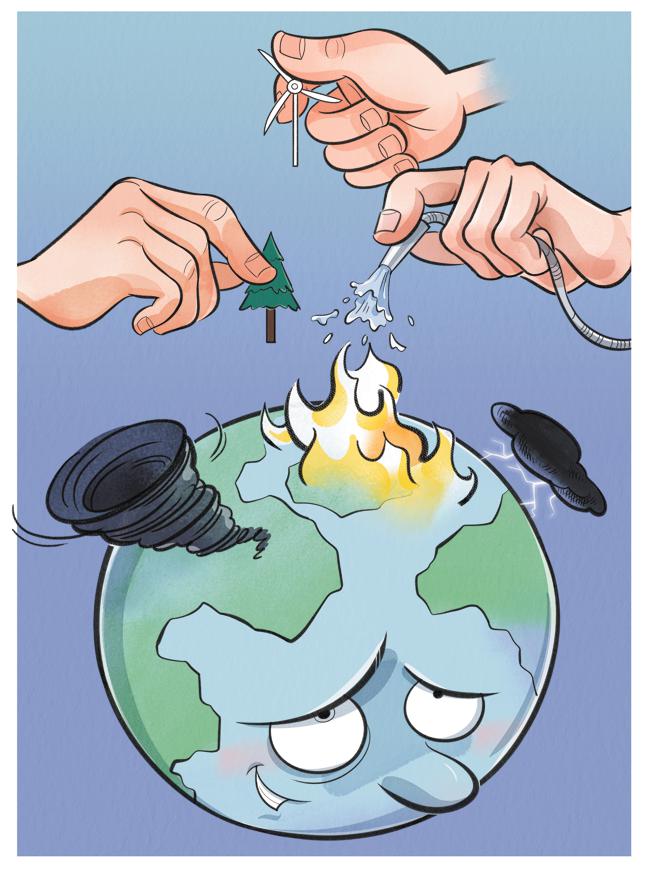 Two weeks after the deadliest US wildfire in more than a century swept through the Maui community of Lahaina, Hawaii, authorities say hundreds of people remain unaccounted for, a staggering number for officials facing huge challenges to determine how many of those perished and how many may have made it to safety but haven't checked in.
US President Joe Biden interrupted his vacation on Aug 21 to get a firsthand look at the catastrophic damage wildfires have caused in Maui. His visit came more than a week after he said "no comment" when asked about the rising death toll in the island state. He had declared the Maui wildfires as a "major disaster", though, on Aug 17.
He spent about as much time a few days ago celebrating his successful strong-arming and jawboning of Japan and the Republic of Korea in a trilateral meeting at Camp David, Maryland, in order to build a mini-NATO alliance in the Asia-Pacific region, with focus on China and the Democratic People's Republic of Korea.
Since the United States and China are the two largest economies and largest greenhouse gas emitters in the world, Biden should be working with China to mitigate climate change, which is at the root of the Maui tragedy, instead of training the gun at it. The sad reality is that, despite knowing full well and witnessing the devastating impacts of climate change, the US continues to laser-focus on encircling China to check its peaceful rise.
I met Biden years ago in New York, and I know him to be an empathetic man. That's why his indifferent response to the wildfires is a matter of serious concern. Isn't one of the main duties of a US president to be "comforter-in-chief"? Yet his response to the Maui wildfires is just one of the many troubling gaffes he has made.
The wildfires in Maui are the worst natural disaster that Hawaii has suffered, not to mention it is among the worst wildfires in the US. The flames traveling at speeds of up to a mile (1.6 kilometers) a minute consumed huge swathes of land including the historic town of Lahaina, destroying or damaging more than 2,200 structures, mostly residential. And only a few of the 115 casualties, many of them elderly people, have been identified.
The Hawaii governor, a physician by profession, believes hundreds more bodies may be found, but not necessarily identified. No wonder local residents are complaining about incompetent handling of the disaster and its aftermath.
Why are such horrendous fires and floods becoming increasingly frequent and intense? Except for a few climate skeptics, know-nothings and capitalist free market proponents, the consensus among most experts is that the cause of global warming is the ever-increasing GHG emissions. That said, some countries, including China, are trying hard to reduce their GHG emissions.
China leads the world in solar and wind energy as well as new electric vehicles and charging stations, and is on course to meet its 2030 climate target of peaking carbon emissions. And the US is the global leader in bio-energy and biofuels. It also leads the world in geothermal energy, harnessing the heat from the Earth's molten core.
So why don't these economic powerhouses work together, at least on existential issues where their national (and global) interests overlap? Sadly, it seems, the US is incapable of sharing top billing with any other country. And it appears it will do anything to maintain its fast-eroding global position.
It's hard to believe China and the US successfully collaborated in finalizing the Paris Agreement in 2015. It all started in 2013 when former US president Barack Obama and President Xi Jinping held a summit at Sunnylands, California, not far from where the Bidens are now vacationing.
In that meeting only a decade ago but long before the bitter fruits of deteriorating bilateral relations became apparent, President Xi proposed a new model of major power relations in which the two countries would respect each other's core interests, deepen practical cooperation, enhance strategic trust, and constructively manage differences.
The first, and sadly last, dividend of that meeting was China and the US working together to get the stalled global climate negotiations across the goal line. Their cooperation helped finalize the Paris climate pact, which 195 countries have signed, pledging to make efforts to limit global temperature rise to below 1.5 degrees Celsius.
However, four days after the Paris Agreement went into force on Nov 4, 2016, Donald Trump was elected US president, and went on to renege on the agreement. Biden has reversed Trump's churlish decision on his first day in office.
Ten years after the Sunnylands summit, US Special Presidential Envoy for Climate John Kerry met with senior Chinese officials in Beijing to resume bilateral talks on climate. No breakthrough agreement was reached but both sides said progress has been made. While Kerry and Chinese officials were holding talks in Beijing last month, temperatures across the globe were setting new records.
The fact that July 2023 was the hottest month on record suggests the climate clock is ticking faster than ever before — in fact, it appears time has almost run out to prevent our already fragile planet from being roasted. As UN Secretary-General Antonio Guterres has said, "Climate change is here. It is terrifying."
If ever there was a time to work together, that time is now. Is the US listening?
The author is a senior fellow at the Center for China and Globalization.
The views don't necessarily reflect those of China Daily.