Battle against online fraud keeps gaining momentum
By YANG ZEKUN | chinadaily.com.cn | Updated: 2023-09-09 00:40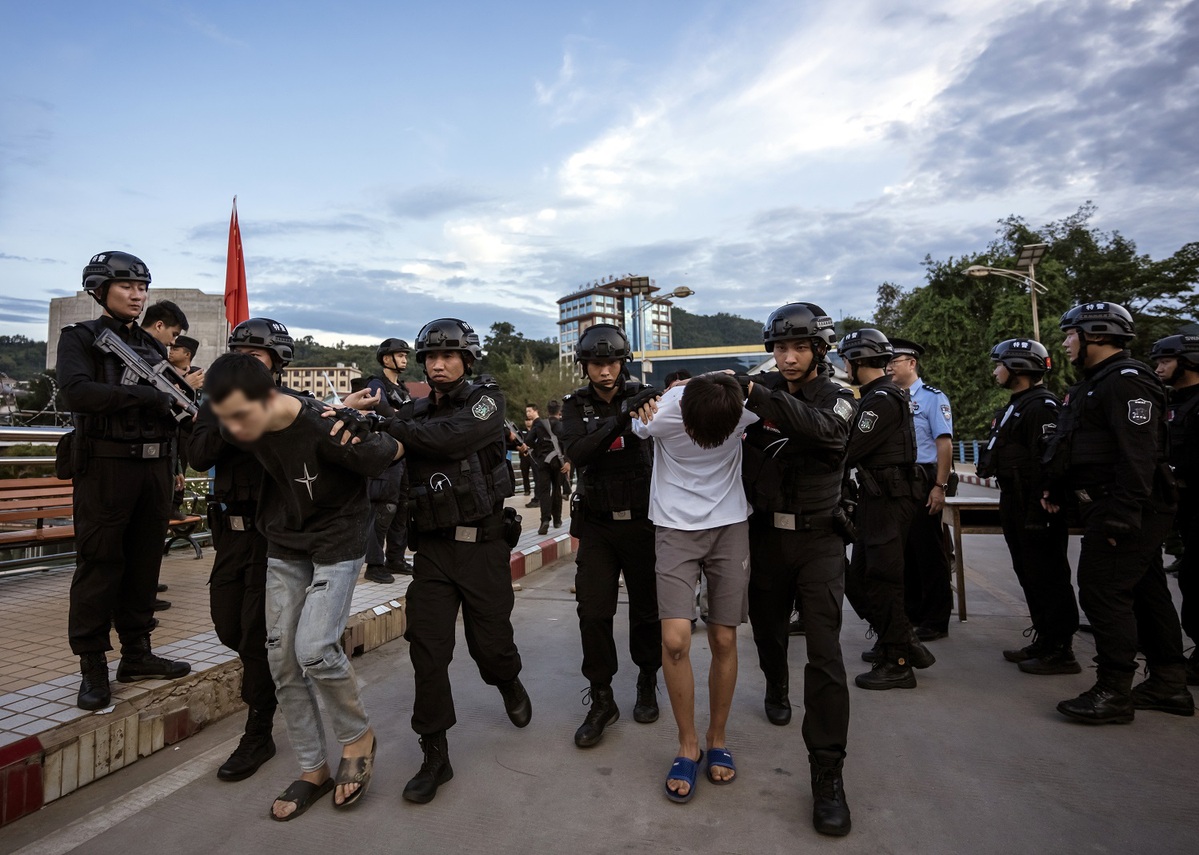 The joint battle against online fraud in northern Myanmar has further intensified, with Myanmar handing over another 1,207 suspects to China on Wednesday after a successful operation on Sept 3, the Ministry of Public Security said on Friday.
The ministry said that efforts will be intensified to enhance police cooperation in the fight against online fraud in northern Myanmar, which mainly targets Chinese citizens.
The ministry has mobilized public security departments in Yunnan province and other regions to push forward the crackdown on such crimes in response to the grim and complex online fraud situation in northern Myanmar.
As a result, the public security organs of Pu'er, Yunnan, have actively carried out border cooperation with law enforcement forces in Myanmar, and provided them with information about the fraud groups and scammers in a timely manner.
As the 1,207 suspects were handed over on Wednesday, Myanmar's law enforcement departments also seized a large number of items such as computers, mobile phones, SIM cards and bank cards.
Further investigation of the suspects is underway, and those involved in fraud, illegal border crossing or other crimes will be severely punished, said an official from the ministry.
Chinese police will thoroughly investigate any clues about Chinese citizens who are illegally detained abroad, and will urge the law enforcement departments of relevant countries and regions to take decisive steps in punishing criminals and protecting the personal safety and legitimate rights and interests of Chinese citizens.
On Sept 3, police from Xishuangbanna Dai autonomous prefecture in Yunnan and law enforcement agencies from Myanmar successfully dismantled 11 fraud networks in northern Myanmar in a joint operation, detaining 269 suspects, including 186 Chinese nationals. The Chinese criminals were handed over to Chinese police and repatriated.
In addition to online fraud, drug-related crimes in the Greater Mekong Subregion were also discussed at a meeting in Beijing on Wednesday attended by officials from China, Cambodia, Laos, Myanmar, Thailand, Vietnam and the United Nations Office on Drugs and Crime.
Tsang Wai-hung, vice-commissioner of China National Narcotics Control Commission, said that China's Ministry of Public Security is working closely with its counterparts in neighboring countries to address the online fraud problem. The recent arrest of the fraud suspects marks the beginning of China's intensified efforts to address this issue.
Additionally, China's National Immigration Administration has also taken decisive actions against online fraud and other cross-border crimes.
In the past two months, immigration authorities investigated about 14,000 people illegally entering or leaving the country and stopped about 21,000 people involved in online gambling and fraud from leaving the country, Li Tao, deputy director of the NIA's Border Inspection and Management Bureau, said on Friday.
Exit and entry administration departments have also tightened the issuance of exit and entry documents, and intensified the examination of applicants' materials to promote the crackdown on cross-border gambling and online fraud, he said.