Indonesia, China point way to new pattern of cooperation
By Jia Duqiang | China Daily Global | Updated: 2023-09-11 09:06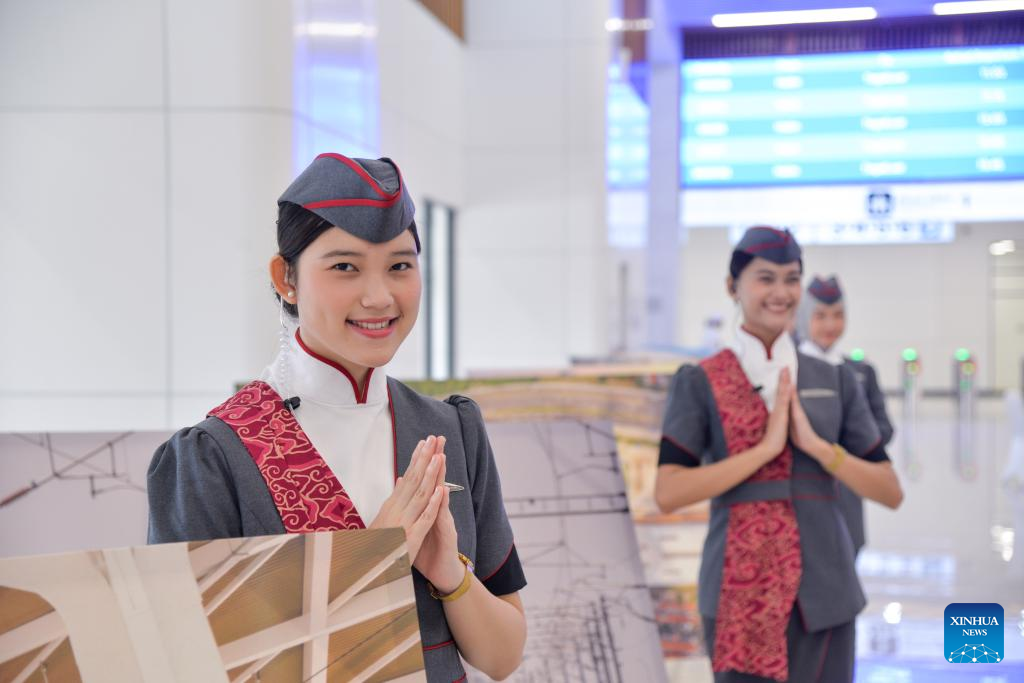 Premier Li Qiang, who attended the East Asia Summit on Thursday in Indonesia as part of his six-day overseas trip, witnessed the final-stage trial run on Wednesday of the $7.3 billion Jakarta-Bandung High-Speed Railway.
The 142-kilometer railway, which connects the Indonesian capital of Jakarta with the tourist-destination city of Bandung, is a flagship project of China-Indonesia collaboration under the Belt and Road Initiative framework.
This year marks the 10th anniversary of the comprehensive strategic partnership between China and Indonesia. It also marks the 10th anniversary of President Xi Jinping's proposing, in Indonesia, of the 21st Century Maritime Silk Road. The Maritime Silk Road and the Silk Road Economic Belt combined form the Belt and Road.
China and Indonesia have agreed to deepen high-quality cooperation, with their enhanced strategic mutual trust and strong friendship setting an example of mutual respect and mutual benefit for other developing countries to follow.
China-Indonesia cooperation, a typical example of how China has developed overall cooperation with the member economies of the Association of Southeast Asian Nations, has four characteristics.
First, the two countries continue to align their development policies. The success in synergizing Indonesia's Global Maritime Fulcrum strategy and the China-proposed BRI in 2018 has resulted in the deepening of bilateral economic cooperation. The two sides have decided to introduce projects that reflect policy coordination, infrastructure connectivity, unimpeded trade, financial integration and stronger people-to-people relations.
Second, the rapid growth of bilateral trade and investment is evident from the fact that China is now Indonesia's largest trading partner and export market. China's official data showed that in 2022, bilateral trade reached $149.1 billion, up 19.8 percent year-on-year. In addition, China was the second-largest source of investment in Indonesia in 2022 with $8.2 billion, according to the Indonesian Investment Coordinating Board.
Third, the two countries have made good progress in many landmark cooperation projects, including the Jakarta-Bandung High-Speed Railway, the Regional Comprehensive Economic Corridor and the "Two Countries, Twin Parks" program.
Fourth, China and Indonesia have maintained regular communication and cooperation on regional and global issues. China attaches great importance to ASEAN playing an active role in regional cooperation, while Indonesia adheres to the one-China principle and supports China's strengthened cooperation with ASEAN.
The two countries are important members of regional groupings including the Regional Comprehensive Economic Partnership. In addition, they have taken similar stances on major global issues, including the reform of the United Nations and international financial institutions, the Doha Round of World Trade Organization negotiations, energy and food safety, global governance and fighting climate change. They also have cooperated in multilateral organizations such as the G20.
Furthermore, the two sides have maintained a good relationship over the past decade thanks to their frequent high-level exchanges, cooperation potential and similar development policies. President Xi and Indonesian President Joko Widodo have met several times in recent years, and their consensus on several issues has helped promote bilateral relations.
Moreover, both countries carry forward the Bandung Spirit of unity, friendship and cooperation, which was first advocated at the Asian-African Conference in Bandung in 1955.
While attending the G20 Summit last year in Bali, Indonesia, Xi and Widodo reached an important consensus on jointly building a China-Indonesia community with a shared future, and they agreed to use the 10th anniversary of the establishment of the Sino-Indonesian comprehensive strategic partnership as an opportunity to open up new areas for high-level cooperation.
On July 28, Widodo attended the opening ceremony of the 31st FISU World University Games in Chengdu, Sichuan province. During his meeting with Xi, he said that Indonesia is willing to strengthen strategic communication with China and jointly safeguard regional peace, stability, development and prosperity.
In that spirit, the two sides should make efforts to forge a new pattern of cooperation. They need to integrate their comprehensive strategic partnership and development policies, especially because the Global Development Initiative, the Global Security Initiative and the Global Civilization Initiative proposed by Xi have injected positive energy into their high-quality cooperation.
However, the two sides should not only strengthen cooperation in fields such as infrastructure, energy, minerals, manufacturing, investment, fishery, food security, medicine and health, but also focus on emerging industries such as new energy, the digital economy and smart cities to improve their positions in global industrial and supply chains.
They also should strengthen coordination in order to address regional and global issues amid the fast-changing and turbulent global landscape, because their cooperation is facing some challenges at home and abroad. For example, some Western media outlets and anti-China forces have been hyping up the so-called "China threat" theory, smearing the Belt and Road Initiative and trying to stir up trouble in the South China Sea to drive a wedge between China and ASEAN and sabotage their cooperation.
China is the biggest economy in the Asia-Pacific region, and Indonesia is the biggest economy in ASEAN, as well as a G20 member. China supports ASEAN to maintain its strategic autonomy and unity, while Indonesia helps China better cooperate with ASEAN, promote regional integration and build an Asian community with a shared future. As such, it is in the mutual interest of both sides to safeguard regional development and play bigger roles in maintaining regional peace and stability.
The author is an associate researcher of Southeast Asian studies at the Chinese Academy of Social Sciences' National Institute of International Strategy. The views do not necessarily reflect those of China Daily.