Frantic search continues for Morocco's quake survivors
China Daily | Updated: 2023-09-12 07:44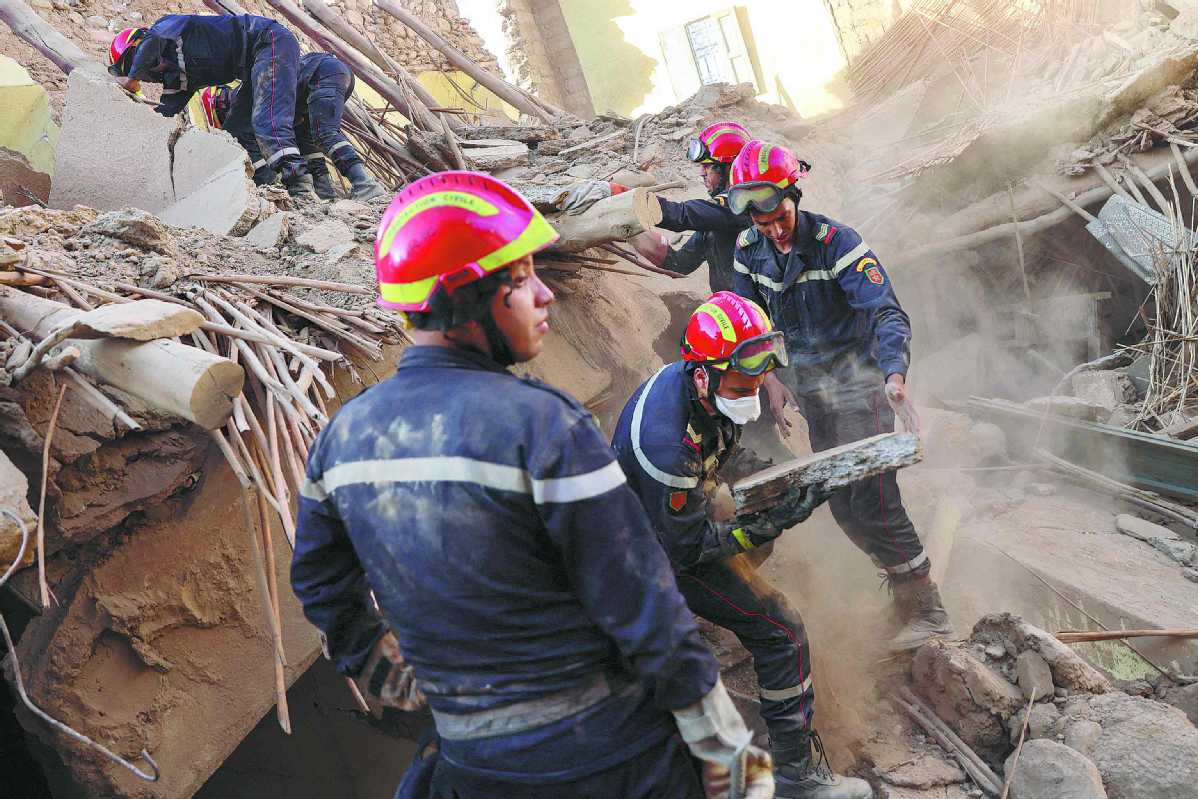 Rescuers raced against time on Monday to find survivors in piles of rubble, more than 48 hours after Morocco's deadliest earthquake in over six decades killed nearly 2,500 people and flattened villages in the High Atlas Mountains.
People slept in the streets for a third straight night as soldiers and international aid teams in trucks and helicopters began to fan into remote mountain villages hit hardest by the magnitude 6.8 quake, which struck 72 kilometers southwest of Marrakech late on Friday night.
A Chinese medical team in Morocco received a call from a local hospital shortly after the quake, saying a pregnant woman was experiencing severe predelivery bleeding.
A doctor from the team rushed to the hospital and conducted an emergency surgery to deliver a baby girl, according to reports from Chinese media outlets. Both mother and daughter were doing well, the reports added.
The team said it has performed multiple cesarean sections in the aftermath of the disaster, welcoming several new lives into the world.
Friday's earthquake wiped out entire villages in the High Atlas range. The region is largely rural, made up of red-rock mountains, picturesque gorges and glistening streams and lakes. Many houses were built of mud bricks.
According to Moroccan public television, "more than 18,000 families have been affected" in Al Haouz, which was the epicenter of the powerful quake. Authorities recorded more than 1,300 deaths in that province alone.
The remote village of Tafeghaghte, 60 kilometers from Marrakech in Al Haouz, has been destroyed, with very few buildings still standing, an AFP team reported. "Everyone is gone! My heart is broken. I am inconsolable," said Zahra Benbrik, 62, who lost 18 relatives.
Morocco has so far accepted government aid from four countries-Spain, the United Kingdom, Qatar and the United Arab Emirates — while some foreign aid teams said they were awaiting permission to deploy.
Spain has sent 86 rescuers and eight sniffer dogs to the North African country to help in the search and rescue efforts, said a Spanish Defence Ministry statement.
The UK has sent a 60-person search team with four sniffer dogs, medical staff, listening devices and concrete-cutting gear, local media reported.
A Qatari aid flight left from Al-Udeid air base outside Doha on Sunday evening, said an AFP journalist aboard the plane, which carried rescue vehicles and other assistance.
France, which noted that four of its citizens died in the Morocco quake, said on Monday that authorities in the North African country are evaluating proposals on a case-by-case basis.
Flags were lowered across Morocco, as King Mohammed VI ordered three days of national mourning starting on Sunday. He thanked Spain, Qatar, the UK and the UAE for their assistance in search and rescue efforts, state TV reported.
Morocco's deadliest quake was a magnitude 5.8 temblor in 1960 that struck near the city of Agadir, killing at least 12,000. It prompted Morocco to change construction rules, but many buildings, especially rural homes, are still not built to withstand strong tremors.
Agencies - Xinhua