9/11 memories still raw 22 years later
By MINLU ZHANG in New York | China Daily Global | Updated: 2023-09-12 09:26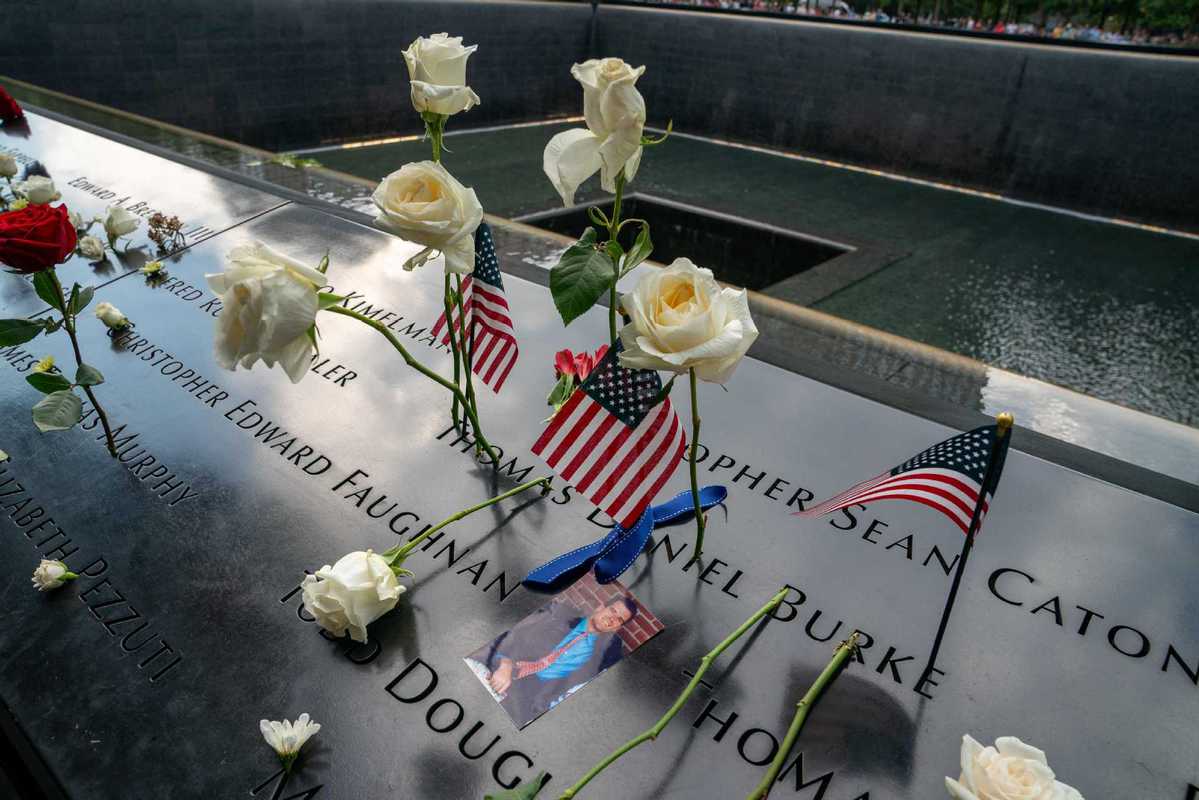 For firefighters and police, the losses on that sunny day in 2001 are particularly poignant
Monday morning, Henry Lallave, a retired New York City Port Authority police officer, arrived at the World Trade Center in Lower Manhattan wearing a firefighter's helmet and black T-shirt, the shirt bearing the names of 36 of his friends assigned to the World Trade Center. All died in the aftermath of the 9/11 attack.
"This is my home, and those are my friends out there. I come to visit," Lallave, who also was assigned to the WTC that day, told China Daily.
Monday marked the 22nd anniversary of the 9/11 attacks. al-Qaida militants hijacked four airplanes, sending two of them into the Twin Towers of the World Trade Center in New York City and one into the Pentagon. The fourth plane crashed in a field in western Pennsylvania, never reaching the terrorists' intended target.
Nearly 3,000 people died, and more than 6,000 were injured during the nation's deadliest terrorist attacks that destroyed the two towers.
New York authorities confirmed the identification of the remains of a man and woman just days ahead of the memorial service. Their names were withheld by city officials at the request of their families.
The city's medical examiner has now been able to link remains to 1,649 World Trade Center victims, a process that relies on leading-edge DNA sequencing techniques to test body fragments recovered in the rubble.
The remains of 1,104 victims, or 40 percent, of the 9/11 attacks in New York have not been found. The attacks claimed more than 2,700 lives as the towers were destroyed.
Timothy John Hargrave was one of them. On Monday, his close friend and brother-in-law Owen Kelly went to the Ground Zero site in Manhattan to join the memorial ceremony.
Kelly said he and Hargrave spent a typical weekend in New Jersey with their daughters before 9/11. Their wives were away that weekend, and Hargrave brought his daughters to Kelly's home for a day of play in the backyard pool.
"It was so much fun. We have a little swimming pool in the backyard, and the girls played all day in the pool," Kelly said.
Hargrave went to work at the Twin Towers on Tuesday as usual and perished in the attacks, leaving behind his three daughters, 4, 6 and 8, Kelly told China Daily as he wiped away tears.
"He was killed for no good reason. There was no good point. Nobody learned anything here. If there was a lesson to be learned, I would've learned it," Kelly said.
Hargrave also served as a mentor to Monica Singh, who was laid off just a day before the towers fell. He helped her pack and comforted her that she would find another job. He walked her to the street that day and said goodbye.
Singh returned home, thinking it was the worst day of her life, only to wake up the next morning to news of Hargrave's loss, she told China Daily.
A team of seven firefighters from Florida — who asked to be identified as 91 Bravo — told China Daily that they traveled to New York City on Monday to honor firefighters who lost their lives.
"My brother was in the military. He was supposed to be in the Pentagon the morning of 9/11. Luckily, he wasn't," one firefighter said. "I remember thinking that it was a movie and not thinking that it was real."
Jean Chen, who was born almost one year after the 9/11 attacks, was wearing all black and standing in front of the World Trade Center on Monday morning. As a student, Chen said he came to pay his respects.
"I think from a young age, I understood that the world wasn't so pretty. I understood that there's conflict, and it's very much present in human history," Chen told China Daily.
US President Joe Biden delivered remarks for the 22nd anniversary at a military base in Anchorage, Alaska, on the way back to Washington from a trip to India and Vietnam. He spoke at Joint Base Elmendorf-Richardson before an audience of more than 1,000 service members, first responders and their families, a White House spokesperson said.
Vice-President Kamala Harris, Republican presidential candidate and Florida Governor Ron DeSantis, and former New York City mayor Rudy Giuliani attended the 9/11 memorial ceremony at Ground Zero. They and other politicians weren't scheduled to speak at the ceremony, which focused on the annual hours-long reading of the names of the dead.
Giuliani was the Republican mayor of New York City during the 9/11 attacks who played a major role in the response to the attacks on the World Trade Center. He earned the title "America's Mayor", and Time magazine named him Person of the Year in 2001.
However, his public image has steadily declined in recent years. Giuliani now faces legal challenges stemming from his efforts to support Donald Trump in overturning the 2020 election results. According to a recent CNN poll, 16 percent of Americans hold a favorable view of him, while 51 percent view him unfavorably.