Scattered cultural gems sparkle once more
By Yang Feiyue | CHINA DAILY | Updated: 2023-09-14 08:04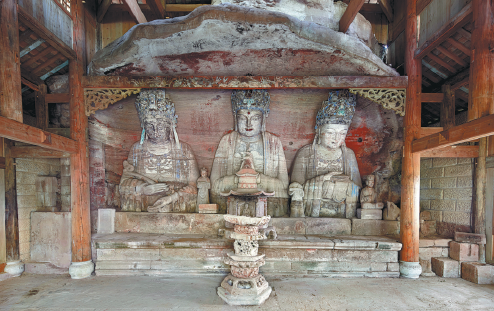 Work to protect remote temples and carvings continues apace, benefiting villagers and fueling rural tourism, Yang Feiyue reports in Chongqing.
Walking along a winding path of green stone slabs through the serene bamboo forest, one is greeted by Fengshan Temple, in Zhongao town.
More than 50 figures, first carved out of the rocks during the Southern Song Dynasty (1127-1279), appear spread across a cliff wall, standing 7 meters high and 40 meters wide.
The town in Chongqing's Dazu district received rainfall in August, but the vividly carved sculptures, shielded by a covered corridor, remained dry.
This is all thanks to an initiative launched by the Academy of Dazu Rock Carvings several years ago to protect medium- and small-sized cave temples in the area.
They are part of the Dazu Rock Carvings cluster, which were inscribed onto the UNESCO World Heritage List in 1999, the second grotto temple from China to be added after the Mogao Caves in Dunhuang, Gansu province.
It is believed that grotto temples were introduced to China from India along the Silk Road during the third century. As the Buddhist art form evolved, it absorbed local artistic elements and, in addition to exquisite Buddha images and scriptures that are characteristic of grotto temples elsewhere in the country, the Dazu carvings feature tableaux urging people to perform their filial duties, conduct themselves properly, and refrain from greed.
The carvings enjoy a unique status, mixing Buddhism with indigenous beliefs like Confucianism and Taoism.
To date, some 50,000 statues and images carved into cliffs in the district have been placed under protection, among which are the carvings in the Beishan, Baoding, Nanshan, Shimen and Shizuan mountains.
The small- to medium-sized cave temples are considered valuable physical evidence in the study of a number of different aspects including religion, art, architecture, historical clothing, folklore and also philosophical thought from different eras.