Car trunk fairs provide social opportunities
China Daily | Updated: 2023-09-14 08:40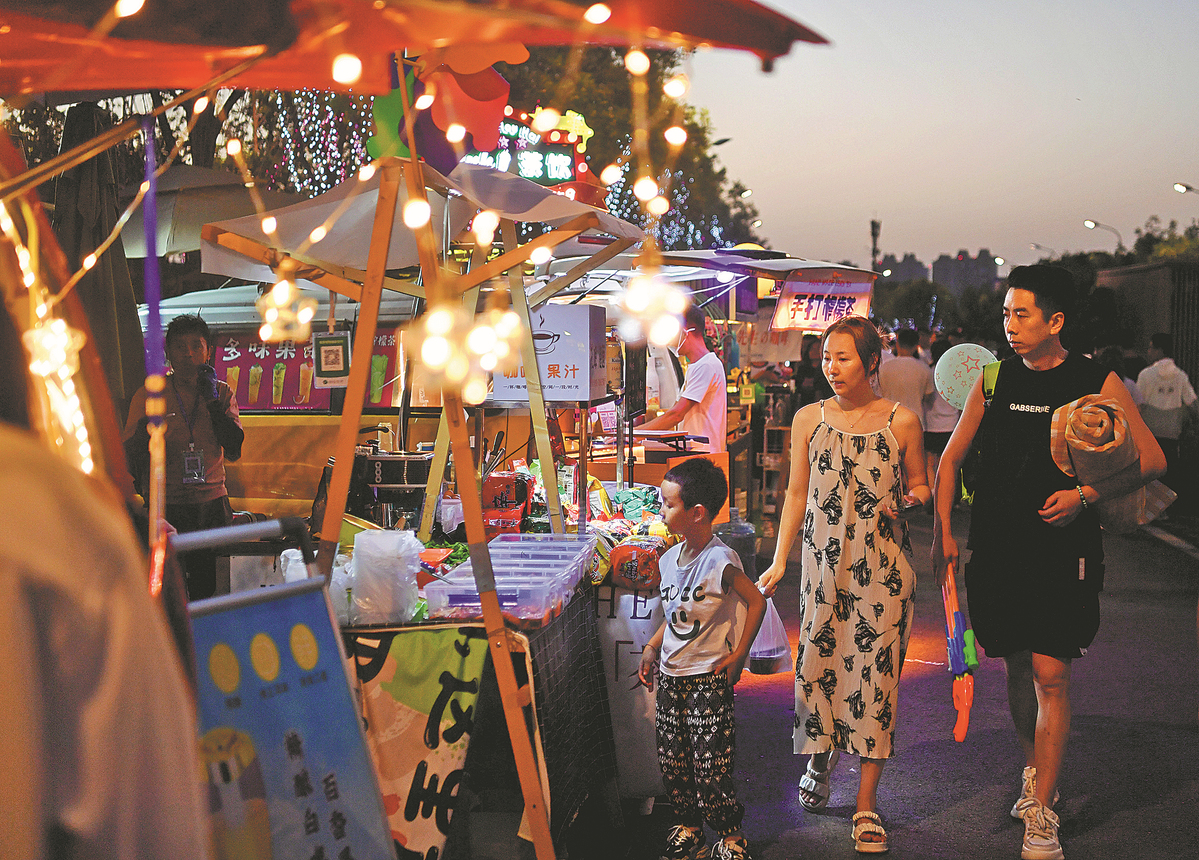 XI'AN — At 5:30 pm on a recent evening, Li Jiarong opened her car trunk then began to decorate her stall. Next to the car was a small wooden table with Thai-style beverages and snacks ready to be sold.
Li, who is in her 30s, runs a makeup business and sets up the stall after work in the evenings in Xi'an, capital of Shaanxi province.
"It's not all about the money. I can make friends here, and it is more interesting than playing on my mobile phone and watching TV at home," Li said, adding that she has joined an online group of more than 200 people who share the same interests. "Sometimes, we meet and ride together."
Situated next to the Bahe River, this area in the Chanba Ecological district of Xi'an has become a popular spot for young people like Li. Every evening, they gather to set up stalls and create a car trunk fair, injecting vitality into the city's night economy. The fair was later operated by a company responsible for brand introduction, food safety and other aspects.
Wang Yi, manager of the company, said the fair now has 180 tenants, mostly young people, and receives up to 30,000 visitors a day.
Wang, who has been engaged in the night consumption sector for many years, said more and more young people are shifting from sightseeing under the stars to social interactions.
"They come here at night not just for tours, but for a relaxing, romantic and unique experience," he said.
While some young people mingle at the car trunk fair for fun, others see it as an entrepreneurial opportunity.
Wang Shihao, who works at a construction company, registered a catering business before deciding to set up a hamburger stall at the fair. He meticulously checked every detail in person, ranging from the stall layout and raw material procurement to the research and development of the quality and taste of his food.
"Through the stall, I can learn the most practical lessons with the least expense," the 27-year-old said.
Cui Yan, a professor who conducts cultural tourism research at the Xi'an University of Science and Technology, said new consumption scenarios such as the car trunk fair reflect the modern attitude that the younger generation has toward employment and life. "To a certain extent, it also provides opportunities for some young people to find flexible employment and explore their entrepreneurial dreams," Cui said.
Xinhua