Speaker directs inquiry for Biden impeachment
By ZHAO HUANXIN in Washington | China Daily | Updated: 2023-09-14 09:12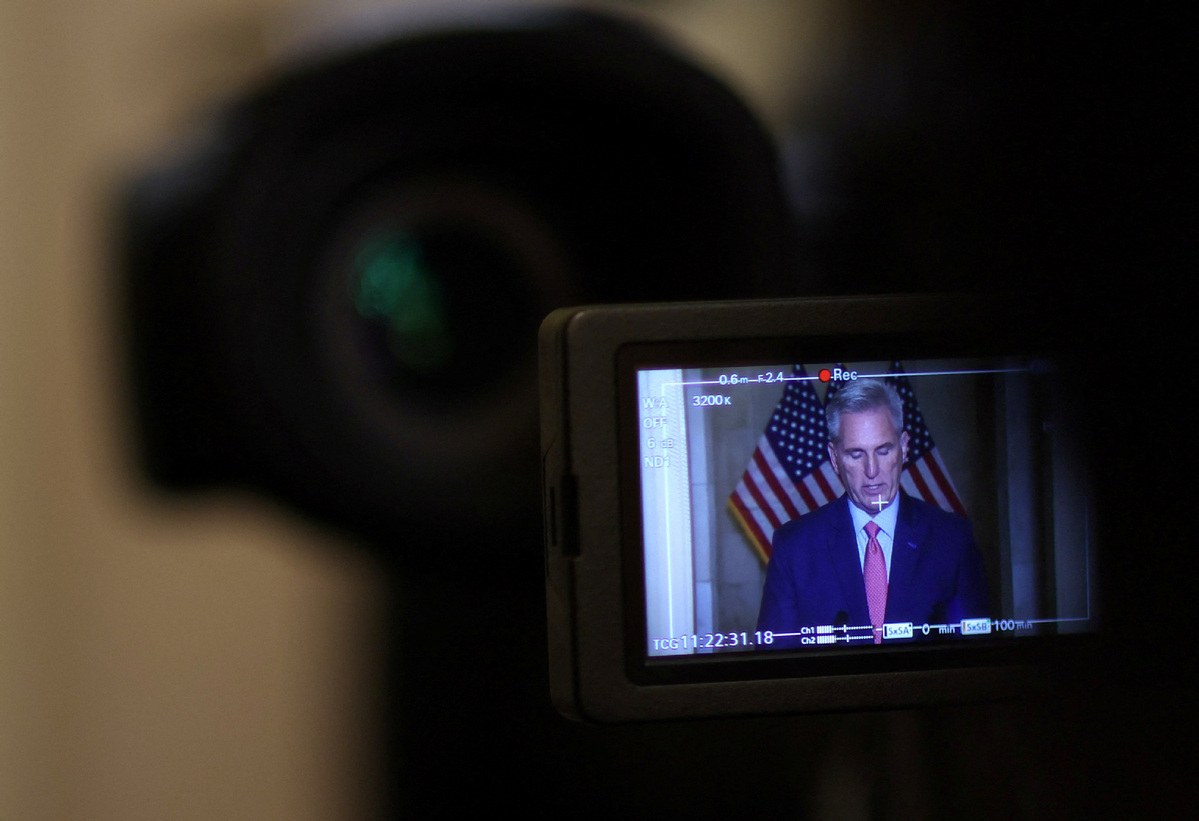 Move unlikely to succeed but will aid Republicans in election, analysts say
The impeachment inquiry directed by the speaker of the US House of Representatives on Tuesday into President Joe Biden is unlikely to succeed in removing the Democratic leader from office, but may serve Republicans in the 2024 election and investigation of alleged "wrongdoing" of first family members, analysts said.
"I am directing our House committees to open a formal impeachment inquiry into President Joe Biden," Speaker Kevin McCarthy said. "Over the past several months, House Republicans have uncovered serious and credible allegations into President Biden's conduct — a culture of corruption."
The California Republican said that lawmakers on the House Oversight and Accountability, Judiciary, and Ways and Means committees will begin gathering evidence of possible financial misconduct.
He also cited the business dealings of the president's son, Hunter Biden, and said, "This logical next step will give our committees the full power to gather all the facts and answers for the American public."
The move means the House, narrowly controlled by Republicans, is stepping into a third presidential impeachment in four years, following the launching of such inquiries into former president Donald Trump in 2019 and 2021 by the then-Democrat-led House.
Trump was acquitted both times in the Senate, where a two-thirds majority is needed for a conviction.
McCarthy had criticized former House speaker Nancy Pelosi for opening the 2019 impeachment inquiry without seeking a formal House vote. But he decided to do the same, despite previously claiming he would seek a floor vote from the full House.
But even if the House votes to impeach Biden, the procedure will almost certainly fail in the Senate, where Biden's Democratic Party holds the majority.
The White House pushed back on the most severe action that Congress can take against a sitting president, calling the probe "extreme politics at its worst".
"House Republicans have been investigating the president for 9 months, and they've turned up no evidence of wrongdoing," Ian Sams, White House spokesman for oversight and investigations, wrote on social media.
Retaliatory measure
Cal Jillson, a political scientist and historian at Southern Methodist University in Dallas, said the formal impeachment inquiry announced by McCarthy is driven by an "intense desire" among some Republican members to retaliate for the two impeachment efforts that Democrats led against Trump.
"They are hoping that moving to a formal inquiry will increase the stakes for President Biden and maybe shake loose some real evidence of wrongdoing," Jillson told China Daily.
McCarthy had been pressed by more conservative House members to launch the inquiry. Further complicating the matter is that he will need their votes to pass legislation in order to prevent a federal government shutdown later this month.
The Republican leader faces another political crossroads — trying to keep his most conservative lawmakers satisfied and prevent his own ouster as speaker.
"If Republican infighting in the House produces a funding crisis and government shutdown this fall and their impeachment inquiry produces nothing meaningful, it will undercut their claimed ability to govern and will aid Biden and the Democrats," Jillson said.
He added that a government shutdown would hurt the Republicans under almost any circumstance, but if they were to produce evidence of wrongdoing by Biden, which seems unlikely, that certainly would help them in the 2024 elections.
Stanley Renshon, a political scientist at the City University of New York, said there is now "ample evidence" of possible wrongdoing by President Biden, but Congress previously couldn't demand answers to questions it has, so long as Attorney General Merrick Garland is conducting an "ongoing" investigation.
Garland recently appointed Delaware US Attorney David Weiss as special counsel in his investigation of Hunter Biden.
"An impeachment inquiry gives the House a way to demand and receive through the courts the information it would like to have, regardless of Weiss' status and investigation," Renshon said.
Renshon also said he believed the 2024 presidential election is the objective of the inquiry, but Biden is very unlikely to be removed from office.
huanxinzhao@chinadailyusa.com