Iron-clad friendship with Cambodia set to strengthen
chinadaily.com.cn | Updated: 2023-09-15 14:45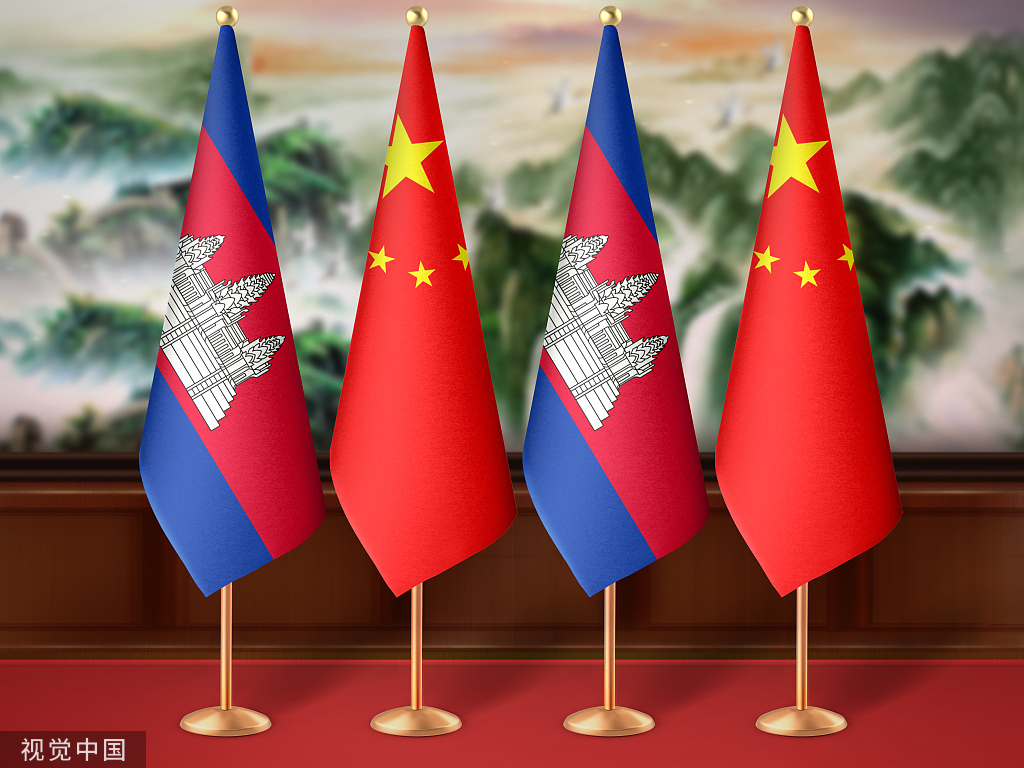 Editor's note: Cambodian Prime Minister Hun Manet has chosen China as the destination for his first foreign visit, demonstrating the importance of the ironclad friendship between the two sides. Two experts share their views on China-Cambodia relations with China Daily. Excerpts follow:
Forging ahead into future with glory
That Cambodian Prime Minister Hun Manet's is visiting China on his first official overseas tour can be attributed to the long-standing friendship between the two countries. China's place in Cambodia's foreign relations is of paramount importance, because it has contributed significantly to Cambodia's development.
First, China's economic assistance over the years has improved the livelihoods of the Cambodian people. And second, Chinese enterprises' involvement in infrastructure development has transformed the overall landscape of Cambodia. These collaborative efforts, exemplified by projects such as the Sihanoukville Special Economic Zone, not only cater to the Association of Southeast Asian Nations' vision of development but also align with the China-proposed Belt and Road Initiative.
Therefore, by visiting China on his first official foreign tour, Hun Manet is acknowledging the importance of the successful cooperation between the two sides while expecting fruitful outcomes from his meetings with Chinese leaders.
His visit, from which China has three major expectations, will help strengthen bilateral ties. On the strategic level, his visit is aimed at charting the plan for future Sino-Cambodian cooperation. It also seeks to expedite the implementation of cooperation initiatives like the "Industrial Development Corridor" and the "Fish-Rice Corridor" with the focus on achieving high-quality development, so as to build a Sino-Cambodian community with a shared destiny.
Also, the visit will create an opportunity to advance the creation of a "diamond-shaped" framework for cooperation in diplomacy, capacity-building, agriculture, energy, security and culture in the pursuit of mutual benefits.
Judging from Hun Manet's performance in his first month in office, it is evident he is building on the achievements of the previous government. He aims to harness these accomplishments while embarking on new initiatives that are in line with the changing times. Hun Manet's likely contributions to Sino-Cambodian cooperation will be evident most prominently in the science and technology sector, because digital technology is expected to play a pivotal role in enhancing Cambodia's technological capability. His meeting with Huawei Chairman Liang Hua shows that he is focused on advancing the development of technology.
The new government in Cambodia has adopted a "Pentagon Strategy", which builds on the previous government's "Rectangular Strategy", and adds the fifth corner of sustainable development. Advancing science and technology is a crucial part of this strategy.
In terms of security, Cambodia's strategic location in Southeast Asia adds to its geopolitical significance. Often described as a moderate in comparison to his father and previous prime minister Hun Sen, Hun Manet will show his governance art.
Cooperation between China and Cambodia to combat cross-border crimes continues to be an area of immense importance. Sino-Cambodian cooperation in this regard has yielded positive results, making it a key area for deeper collaboration between the two sides.
Additionally, Cambodia aspires to attract more Chinese tourists in the hope that China, as it was before the COVID-19 pandemic, becomes the largest source of foreign tourists to the country. The prosperity of China and the flourishing cultural exchanges between the two sides underscore Cambodia's urgency in resuming tourism cooperation, increasing flight connectivity, and fostering tourism-related collaboration.
China's cooperation with Cambodia serves as a model for Belt and Road cooperation. Besides, Sino-Cambodian cooperation can be expanded under the Belt and Road framework, as it has helped boost Cambodia's development and Cambodian people's standard of living.
Sino-Cambodian collaboration demonstrates China's potential to contribute to Belt and Road partner countries, and holds great significance in the broader context of collaboration under the Belt and Road framework.
In other words, Hun Manet's visit to China symbolizes the deepening of Sino-Cambodian ties and the pursuit of multifaceted cooperation. Both sides are eager to build on their traditional friendship and successful cooperation in the past, while adapting to the changing dynamics in the region. The visit is likely to advance economic, technological, political and cultural ties, contributing to mutual prosperity and serving as a model of Belt and Road cooperation.
Gu Jiayun, deputy dean of the School of Asian Studies at Beijing Foreign Studies University.
A new starting point for educational cooperation
China-Cambodia cooperation has been extensive, enduring and deep-rooted. Apart from the political, trade and cultural fields, the two sides have also promoted cooperation in the field of education. Vocational education, digital education and online learning have emerged as significant areas of focus in their educational partnership.
In 2019, vocational institutions and enterprises from both China and Cambodia jointly established the "China-Cambodia Vocational Education Cooperation Alliance". The special partnership was formed with the primary aim of promoting the development of vocational education in Cambodia and extending the benefits of China's vocational education to Cambodia, so as to train local workers.
Over the past three years, online education has become a key area of Sino-Cambodian cooperation. The two sides have collaborated in various aspects of education, including network infrastructure, hardware facilities, educational institutions, digital platforms, resource sharing, and student-teacher management. In November last year, the two countries' ministries of education signed a memorandum of understanding on cooperation in order to improve Chinese language education in Cambodia.
As the Belt and Road Initiative continues to advance, Sino-Cambodian educational cooperation has extended to higher education, vocational education, basic education and online learning. Leveraging China's investments across sectors, educational cooperation between China and Cambodia is set to expand and grow at a fast pace.
Wu Jiewei, deputy dean of the School of Foreign Languages, Peking University
The views don't necessarily reflect those of China Daily.
If you have a specific expertise, or would like to share your thought about our stories, then send us your writings at opinion@chinadaily.com.cn or comment@chinadaily.com.cn.