G77+China Summit boosts Global South cooperation
By Alberto J. Blanco Silva | chinadaily.com.cn | Updated: 2023-09-15 19:18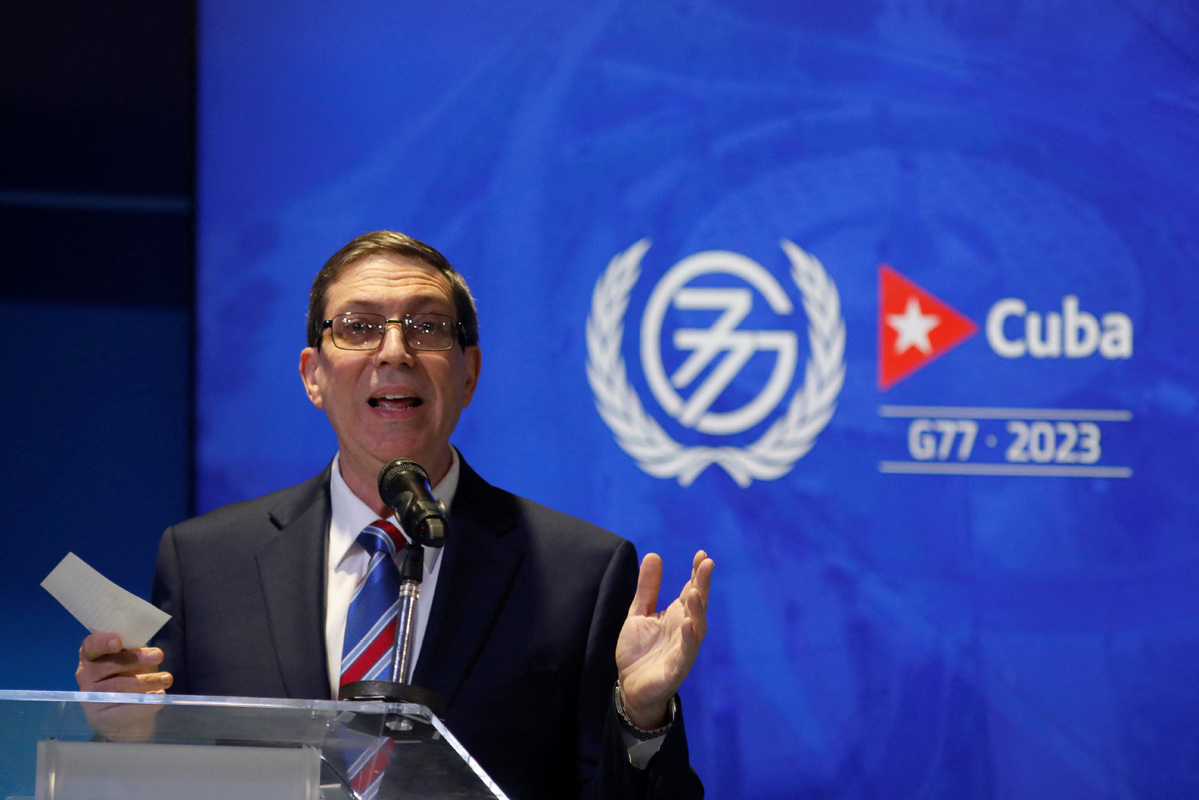 Cuba, which holds the rotating presidency of the Group of 77 and China, gears up to host a momentous event — the Group Summit in Havana. The summit's theme, "challenges of current development: the role of science, technology, and innovation" is set to take center stage in Havana from Friday and Saturday.
The G77 and China, founded in June 1964, boasts 134 member countries, encompassing an astonishing 80 percent of the global population and more than two-thirds of United Nations member states. As Miguel Díaz-Canel, First Secretary of the Cuban Communist Party and President of the Republic, aptly noted, it is the most representative and dynamic group of South-South nations. The group's composition is remarkably diverse, including some of the world's largest economies.
The summit's agenda will allow national leaders and heads of government to voice their perspectives on pressing issues. The summit is expected to produce a major political declaration and an action plan, addressing the complex, challenging and often unfavorable global landscape for South nations.
The significance of the G77 and China Summit lies in its political and international dimensions. It represents a crucial opportunity for countries of the Global South to unite against the significant challenges they face on the global stage.
The development of a world order that takes into consideration the interests of the Global South, heavily depends on the utilization of knowledge, science, technological development and innovation. Scientific and technological advancements are key to achieving sustainable development. However, these opportunities have been largely monopolized by certain countries, leading to the marginalization of South-South nations and adverse consequences.
Today, scientific and technological progress is monopolized by a few countries that control most patents, technologies and research centers. This has accelerated the brain drain from many Global South countries. Cuba aims to use the Havana summit to gain more say for the Global South in the current international context and the government-to-government negotiation processes.
China has been actively engaged with the G77 since 1991 and played a crucial role. The participation of Chinese leaders, including Li Xi, a member of the Standing Committee of the Political Bureau of the Central Committee of the Communist Party of China, signifies China's commitment to South-South cooperation.
China is not only the world's second-largest economy but also possesses valuable experience in promoting sustainable development through technological innovation. Initiatives like the Belt and Road Initiative, Global Development Initiative, Global Security Initiative and Global Civilization Initiative, proposed by Chinese President Xi Jinping, have Cuba's firm support.
China enjoys international prestige and authority in advancing the above initiatives. China has established a fund dedicated to South-South cooperation, providing official development assistance without any conditions or interference in domestic affairs, which benefits countries such as Cuba. The best way to promote multilateralism is not by building walls, implementing protectionist measures, or obstructing access to technology. Instead, it is through fostering global solidarity and international cooperation.
The Global South concept has gained tremendous traction on the international stage, not only among Global South countries like China but also among Western nations, including the United States. Cuba, as the rotating president of the G77 and China, views this trend positively.
The G77 and China Summit will revolve around themes such as education, culture, tourism and environmental sustainability, among others. We are committed to advancing these discussions and ensuring that our agenda is inclusive and open to active participation from various nations. The Havana Declaration, mentioned earlier, will guide our future development endeavors.
It is clear that the main obstacle facing developing countries today is an unfair international economic order. The G77 and China are acutely aware of this, and have been resolutely opposing the imposition of an unsustainable single development model globally.
The relationship between Cuba and China stands as an example of cooperation built on equality and mutual respect. Despite the differences in size, history, culture and geographical locations, both nations have collaborated effectively. Cuba recognized the People's Republic of China in 1960, and we take pride in being one of the first countries to do so. Both nations have fruitful exchanges on mutual experiences in the development of their socialist societies, according to their own characteristics.
In terms of future cooperation, we see significant potential in various fields, including biotechnology, technology transfer, joint ventures, and research and development centers. Our goal is to ensure that this cooperation translates into tangible benefits for our people. Additionally, we see ample room for cooperation in science, technology and innovation, where both countries can share experiences and learn from each other.
This Havana summit, with its emphasis on science, technology and innovation, is a prime opportunity for Cuba and China to strengthen their ties and contribute to the broader objectives of the G77 and China. Together, we can promote South-South cooperation, foster a more equitable global governance system and advance the collective interests of developing nations.
From the G77 and China Summit, expectations and anticipation are high. Cuba's leadership in this influential group, along with China's active participation, underscores the growing importance of South-South cooperation in shaping the future of global governance. This summit stands as a testimony to the power of unity, cooperation and shared aspirations among developing nations as they navigate the complex challenges of the modern world.
The author is ambassador of Cuba to China. This is an excerpt of his speech at the press conference of the Embassy of Cuba to China on G77+China Summit on Sept 13. The views don't necessarily reflect those of China Daily.