Red and green drives city's advancement
By YUAN SHENGGAO | CHINA DAILY | Updated: 2023-09-16 10:37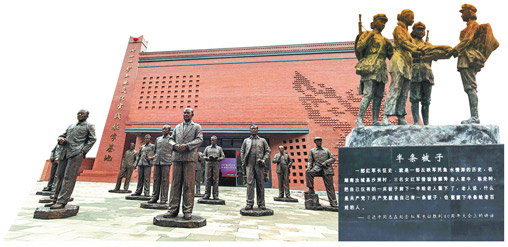 It has a complete range of tourism resources including mountains, lakes and rivers, forests, fields, springs, grasslands, caves and mines.
It is a Chinese forest city and the Chinese hot springs capital, with more than 110 scenic spots full of the charm of mountains and the ethereal beauty of water.
In the first half of this year, Chenzhou received a total of 41.26 million tourists and achieved a total tourism revenue of 42.86 billion yuan, representing a year-on-year increase of 58.4 percent and 60.83 percent respectively.
The total number of tourists and total tourism revenue ranked second in Hunan province. —
Among the "Top 20 tourist attractions in Hunan that are most popular among tourists in the Greater Bay Area", Chenzhou occupied four of the top six spots.
Chenzhou is one of the first historical and cultural cities in Hunan, and it is also one of the birthplaces of Chinese agricultural culture.
This year, Chenzhou has vigorously promoted the integration of agriculture, culture, sports and tourism, focusing on 43 key projects. The city's cultural roots continue to be reflected in tourist attractions.
The millennium-old historic streets, which started in the Qin Dynasty, embody the ancient charm of Chenzhou in every brick and tile.
The ancient village, Wayaoping, located at the confluence of the Leishui River and the Chenjiang River, has been a waterway transfer station from the north to Hengyang and Changsha, and from south to Shaoguan and Guangzhou for at least 2,000 years.
Trade and commerce along the rivers in the olden days saw the village prosper.