Kenya hosts world's largest floating book fair
By OTIATO OPALI in Nairobi, Kenya | China Daily Global | Updated: 2023-09-20 07:10
5,000 titles of books on the ship Logos Hope offer rare experience for enthusiastic locals
Agnes Kagechu was about to conclude her holidays at Kenya's coastal city of Mombasa when she got wind through the local dailies that the vessel Logos Hope, the world's largest floating book fair, would be docking at the port city at the end of last month, and she decided to extend her holidays in order to visit the ship.
When the Logos Hope opened its gangways to the public late last month during its maiden call at the port of Mombasa, Kagechu was one of the thousands of visitors who made their way to the Mbaraki Wharf at the port to peruse a selection of more than 5,000 different titles of books on sale aboard the ship dubbed the floating library.
Since Kagechu loves motivational books and novels, she said she enjoyed visiting the floating book fair to buy books by her favorite motivational speakers and classic English novels that are not easily available locally. After spending more than three hours on the ship, she left smiling with five books added to her collection.
"I managed to buy three motivational books and two novels, and I was impressed at the cheap prices. Normally, you would not find such books at these amazing prices locally," Kagechu said.
The 132-meter-long vessel carries more than 800,000 books in its hold, though the titles on display at the book fair are around 5,000, said Saunval Patelia, the vessel's media relations officer. Highly discounted books are mostly in English, and also include some in other languages, including Arabic, French and German.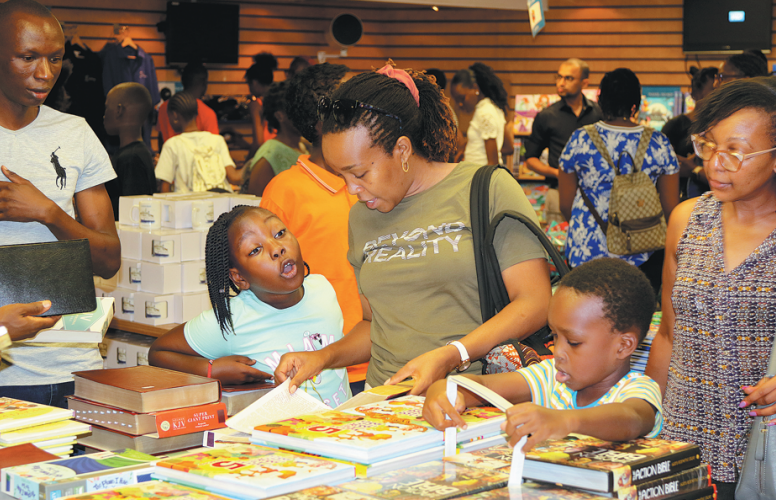 Despite the misconception that most Kenyans have a poor reading habit, the visit of the Logos Hope shows that many people, especially young Kenyans, are enthusiastic to buy books and to get a sense of what it feels like to visit a floating book fair.
Among the visitors to the ship were students, including Lavina Akumu from Kongowea Secondary School in Mombasa. Despite making her maiden trip to the ship as part of a school trip, Akumu said she was impressed by the massive collection at the book fair and will ask her parents to accompany her on a family visit to the ship so that she can buy more books.
"Even though I did not come with enough money, I had the opportunity to select a number of books that I hope to purchase when I come back with my parents. It is a good thing the ship came during school holidays and I would encourage Kenyan students to visit the ship. For me, it was a great experience since I was able to have fun while benefiting from the educational aspect of the tour," Akumu said.
Mimi Santos, a Brazilian teacher who works as a volunteer at the book fair, said they try their best to make the books as diversified as possible, and they have a team responsible for collecting books for the ship from every area they visit.
"We will be docked at the port of Mombasa until Oct 4, and local visitors should expect to interact with more than 65 nationalities on board, acquire knowledge by building a reading culture and get a chance to experience the world's largest floating bookshop. Those interested in volunteering can also come and see the way we live and work on the ship to get a taste of what it feels like," Santos said.
As a volunteer, Santos said that working on the ship has enabled her to interact with many different cultures both on board and in areas they visited.
"When I first came to the ship, I must admit that I experienced some culture shock because of the many different nationalities that work here. However, once you get to interact with the crew and get to learn about their different cultures, you end up loving the experience and learning so much more about different parts of the world. You also get a chance to show other people how things are done in your country," Santos said.
The crew works five days a week, get one day off and have a connect day when they leave the ship to connect with locals, hold various activities, she said. In Mombasa, they have already been involved in a cleaning activity that Santos said gave her an opportunity to interact with locals, some of whom offered to teach her the local language and also invited her to try local food.
Patelia, the media relations officer, said the ship's objective is to share knowledge, help and hope. The knowledge is shared through the book fair and the educational events that they have on board. Help comes in where they look at the needs of the community by partnering with local NGOs by sending crew members out in the areas they visit. And hope is where they allow people to share their stories, especially through cultural interactions.
Weekly events
Other than the book fair, Patelia said they have weekly events such as meet-the-world, where they hold dance performances from different cultures for locals to enjoy.
"We have two ways of generating income for the ship, and the first is when crew members pay to be on the ship. Most crew members are funded by family or charity organizations to stay on the ship. This money caters to issues like immigration costs, food and upkeep. We also raise funds through the sale of books at the book fair, and this money mostly goes to buying more books for our collection," Patelia said.
The ship, whose crew and staff members are all nonsalaried volunteers, remains in each port it visits for at least two weeks and opens the doors to thousands of visitors each day. After concluding its visit in Mombasa, the ship is expected to set sail for the port city of Dar es Salaam in Tanzania, where it is expected to open its doors to the public early next month.
otiato@chinadaily.com.cn