WMC to exhibit Anhui's manufacturing prowess
By MA CHENGUANG and ZHUANG QIANGE | CHINA DAILY | Updated: 2023-09-20 07:24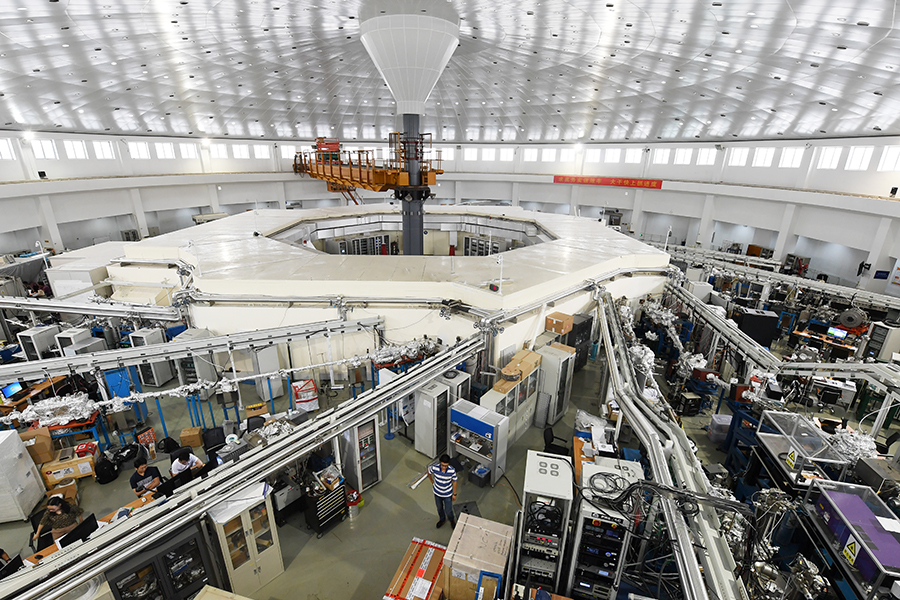 East China's Anhui province will greet more than 1,200 dignitaries and top business leaders from more than 60 countries and regions when the five-day 2023 World Manufacturing Convention opens on Wednesday in Hefei, the provincial capital, with a variety of colorful events.
With the theme "Intelligent Manufacturing for a Better Future", the annual convention is held in an exhibition area of 80,000 square meters at the Hefei Binhu International Convention and Exhibition Center, showcasing new business models, formats, technologies and products in the global manufacturing industry.
The 2023 WMC, the sixth edition since its inception, aims to display the high-end manufacturing achievements of major manufacturing countries, boost cooperation of global manufacturers and deepen ties between Anhui and the outside world amid efforts to build a modern and beautiful Anhui.
The convention, co-sponsored by the Anhui Provincial People's Government and other central government agencies as well as global industry associations, will host 60 major events covering opening and closing ceremonies, keynote forums, 600 project matchmaking activities, 10 themed forums and 21 sub-forums as well as 21 events organized by Anhui's 16 prefecture-level cities.
The past five conferences have brought 14,824 exhibitors, with 3,021 cooperative manufacturing projects signed, with an actual investment surpassing 1 trillion yuan ($137 billion), helping to largely elevate Anhui's manufacturing prowess.
According to the Anhui Provincial Department of Economy and Information Technology (APDEIT), to reflect new global manufacturing trends, the WMC is showcasing 115 advanced products made by 41 enterprises from eight overseas regions including France, South Korea and Israel, along with the Hong Kong and Macao special administration regions and Taiwan province.
To showcase the new achievements of global manufacturers, the convention also displays over 70 major items exhibiting China's national strength in technological self-reliance and global competitiveness in the manufacturing industry, while highlighting Anhui's manufacturing capabilities.
Anhui is stepping up its moves to develop its manufacturing industry covering an industrial cluster worth 1 trillion yuan and focusing on 10 new emerging trends, said Feng Kejin, director of the APDEIT.
Figures from the Ministry of Industry and Information Technology show that the added value of China's manufacturing sector reached 40 trillion yuan in 2022.
APDEIT said that Anhui has set up a modern industrial system after years of development, covering 40 major sectors, among which manufacturing spans 31 major industries represented by new energy vehicles, advanced photovoltaic and new energy storage, and new-generation information industries.
Anhui's industrial enterprises with a size of at least 20 million yuan each realized a business revenue of 4.9 trillion yuan in 2022, ranking 10th in the country, Feng said.
Anhui Governor Wang Qingxian stressed that in order to boost Anhui's industrial clusters, it is imperative to boost 10 new emerging industries.
The province should realize its business revenue of the equipment manufacturing industry hitting 1 trillion yuan and generate a business revenue of 500 billion yuan for the information technology and new materials industries, he said.
Party Secretary of Anhui Han Jun stressed that Anhui is going all out to build its modern industrial system supported by advanced manufacturing.
Currently, Anhui enjoys unique advantages as the sole area covered by the Belt and Road Initiative, as well as the national strategies of the integration of the Yangtze River Delta region, the Yangtze River Economic Belt and the high-quality development of the central regions, Han said.
He said Anhui will enhance its development of new energy vehicles, integrated circuits, advanced photovoltaics and new energy storage, artificial intelligence and new materials, so as to make its contribution to building China into a strong manufacturing powerhouse.
Manufacturing is the foundation of the national economy and also a fundamental support for the high-quality development of the Chinese economy. According to the National Bureau of Statistics, the added value of China's manufacturing industry surpassed that of the United States for the first time in 2010, making China the largest manufacturing country in the world.
Anhui is reaping the benefits of its marked achievements in bolstering the high-quality development of its manufacturing industry and its focus on strategic emerging sectors, said Feng.
Hefei is gradually changing from a small city situated between the Yangtze and Huaihe rivers into a "city of innovation" renowned nationwide.