Shanghai industry fair underlines green ways
By WANG YING in Shanghai | CHINA DAILY | Updated: 2023-09-20 07:28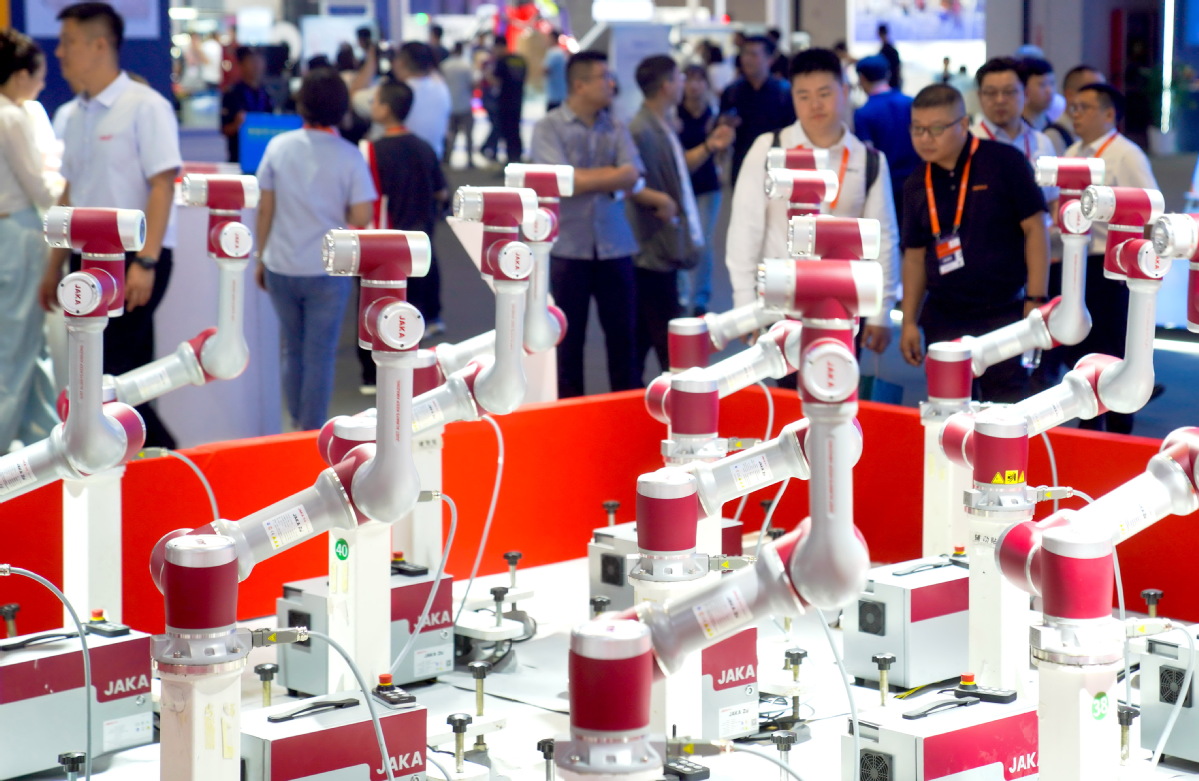 Up to 1,000 new products and technologies highlighting the need for, and effectiveness of, green transformation and digital innovations are being exhibited at this year's China International Industry Fair that began in Shanghai on Tuesday.
The annual event, now in its 23rd edition, is seen as a new platform for showcasing global industrial innovation and development, officials said.
"Economic globalization is an irreversible historical trend, and strengthening international cooperation is the only way for global industrial development. China is building a modern industrial system and accelerating new industrialization, as greenization and digitalization have been incorporated into the nation's strategy for industrial development," said Xin Guobin, vice-minister of the Ministry of Industry and Information Technology during the opening ceremony of the CIIF. "Greenization" is a process of greenizing energy and related processes, applications and systems in a more sustainable manner.
Apart from strengthening cooperation in science and technology, and jointly promoting the green and intelligent development of global industry for the benefit of mankind, Xin suggested co-creating a fine business environment, continuously deepening international collaboration, maintaining the safety of the global industrial and supply chains, and strengthening exchanges on industrial culture.
With "Digital Economy & Industrial Decarbonization" as this year's theme, the fair attracted more than 2,800 exhibitors from 30 countries and regions, which is expected to help promote the innovative development of industries in China as well as the rest of the world, said Gong Zheng, mayor of Shanghai.
The fair has come to be regarded as one of China's largest and most influential events in the industrial sector. It serves as an important platform for exhibiting latest achievements in industrial development as well as forging global industrial and economic collaborations and communications, Gong said.
Being the birthplace of China's modern industry, Shanghai has always treated industry as a pillar of the city's economy, and an important foundation for the city's development into a socialist modern international metropolis with global influence, he said.
To achieve that goal, the city will strive to promote its manufacturing sector's development, transformation and upgrade toward high-end, intelligent and green development. It will spare no effort in improving the resilience and security level of the local industrial and supply chains, and make every effort to build an open, innovative and inclusive industrial ecosystem, Gong said.
Spread over 300,000 square meters of exhibition area, this year's event covers the complete industrial chain ranging from basic materials and components to machines, equipment and integrated solutions, said Wu Jincheng, director of the Shanghai Commission of Economy and Informatization.
More than 50,000 sq m has been set aside for a specialized robots exhibition, one of the largest of its kind, and accommodating the complete global industrial chain of industrial robots, Wu said.
Shanghai is home to three national benchmark smart factories, eight national-level demonstration intelligent factories and 100 city-level smart plants. The robot density of Shanghai's manufacturing enterprises above the designated size (that is, firms with an annual revenue of 20 million yuan or more each) has reached 260 robots per 10,000 persons, said Wu.