BRICS program upskills S. Africa youth
By NDUMISO MLILO in Johannesburg, South Africa | China Daily | Updated: 2023-09-21 09:26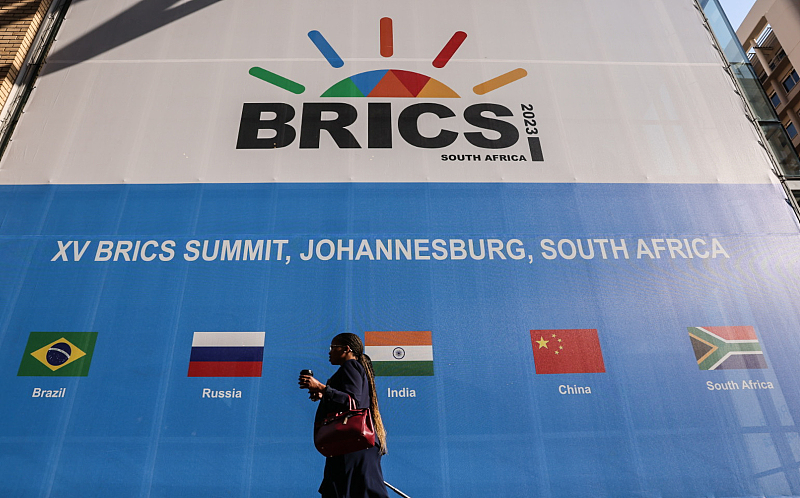 The BRICS Skills Challenge competition continues to present opportunities for skills exchange among BRICS countries and help South Africa develop critical skills, said a senior South African government official.
Buti Manamela, deputy minister of Higher Education, Science and Technology, said the competition gives some students and graduates the opportunity to showcase what they have learned in college.
Representatives from different BRICS countries competed in the BRICS Skills Challenge hosted by South Africa. Some of the competition categories included aircraft maintenance, information modeling, cybersecurity, data science and robotics.
"We are at the heart of skills development, and we see this as complementing the work we are doing. Every two years, our kids participate in the World Skills Competition, and we see this as being complementary to that," Manamela said.
He explained that the skills exchange helps South Africans to see the practical benefits of BRICS.
Manamela said the innovation shown by youths from the BRICS countries is impressive, with some showing application to real-life situations. He also said South Africa would like to establish centers of specialization with India and training programs in infrastructural development with China.
Emmanuel Mhungu, an aircraft maintenance expert from Starlite Group, said South Africans are showing great improvement in skills development.
Mhungu, who is also a national schools expert for WorldSkills South Africa and BRICS, said the challenge allows the youths to share ideas and exchange best practices.
"The South African youths were getting exposure and understanding how other countries are doing certain things like drone technology," he said. "This gives our youths some confidence in what they do."
Lupiwe Mgxabayi, a postgraduate student at Nelson Mandela University's mechatronics department, was one of the participants in the BRICS challenge. In one of the tasks, participants assembled drones from scratch and designed a gripper. Mgxabayi said he learned how to fly a drone and the essential things required for assembly and flight.
Exchanging ideas
"I learned how to collaborate with people from other countries, exchanged skills and ideas on how to approach problem-solving," he said.
Mapule Ncanywa, chairperson of the BRICS Business Council Skills Group, said the BRICS Skills Challenge helps youths improve the skills needed by their countries.
"We are using the skills exchange as a vehicle to benchmark how we are faring," she said. "The results guide us and tell us what we are missing. For us, it was more of being ready for the business world than competing with who is the best. We were pushing solutions rather than competing in skills."
Ncanywa said the group is working with universities and technical vocational education and training programs to reexamine the curriculum and align with BRICS countries.
The skills exchange helps youths from BRICS countries to improve innovation, entrepreneurship and artificial intelligence, and to be ready for what the present and future require.
Sudesh Sivarasu, director of Med-Tech at the University of Cape Town's Biomedical Engineering Research Centre, said some South African youths learned a lot during the skills exchange.
He had 10 South African students building robots to help people with limited mobility.
The students assembled robots to help people who use wheelchairs to stand up, those who have strokes, and robots that can help pick up household items.
"This experience will trigger the ability to work with other people from different backgrounds, creating common solutions that would be useful for mankind," Sivarasu said. "The youths developed innovation and they can take this further to test it, and potentially there is a market for it and it creates jobs. This is a great opportunity for skills development and should be properly engaged."
The writer is a freelance writer for China Daily.