Sunak's net-zero rethink sows divisions
By JULIAN SHEA in London | China Daily | Updated: 2023-09-21 09:38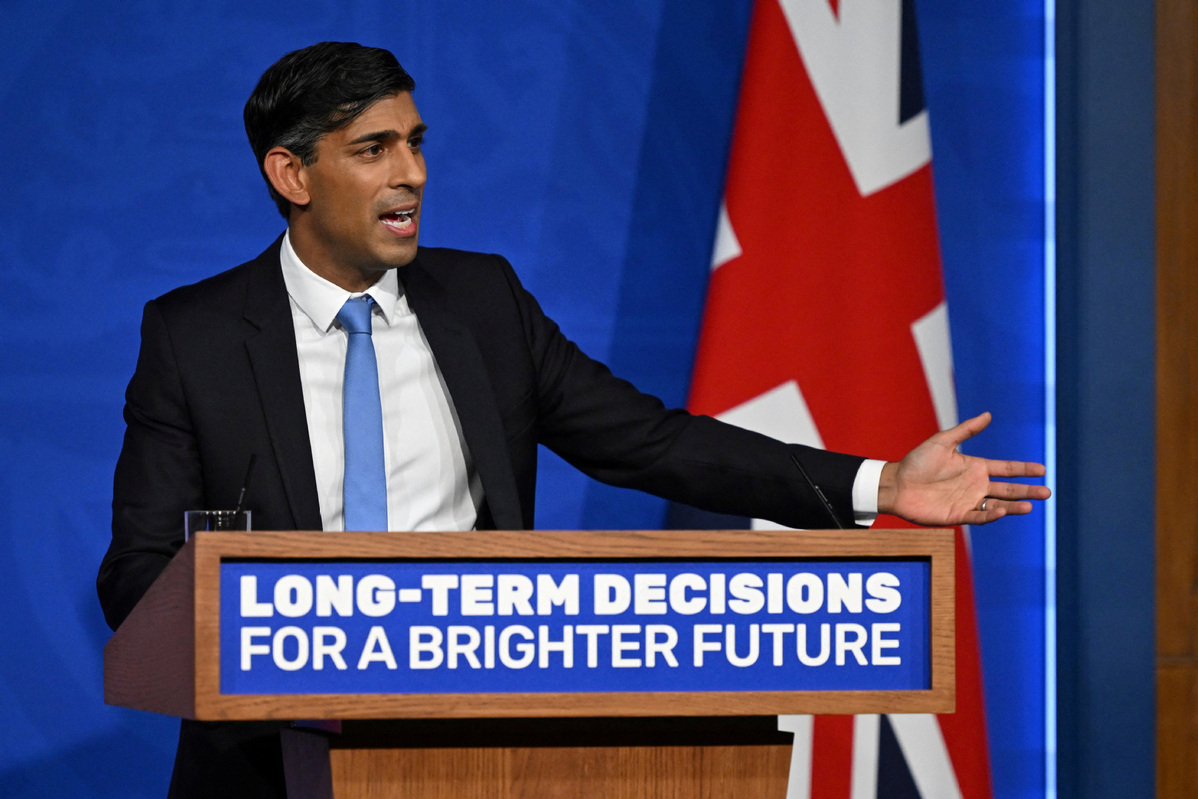 British Prime Minister Rishi Sunak's plans for a rollback of proposed steps toward net-zero carbon emissions have caused a political storm before they have even been formally announced, sharply dividing opinion in his own Conservative Party and provoking criticism from industry.
Details of the new measures, including delaying bans on the sales of new petrol and diesel cars and the winding down of gas boilers, were leaked on Tuesday evening, forcing Sunak to issue a statement saying: "No leak will stop me beginning the process of telling the country how and why we need to change."
"As a first step, I'll be giving a speech this week to set out an important long-term decision we need to make," he said. "I am proud that Britain is leading the world on climate change. We are committed to net-zero by 2050 and the agreements we have made internationally — but doing so in a better, more proportionate way."
But one of Sunak's own members of Parliament, Chris Skidmore, who is the former chair of the UK government's net-zero review, said it was a wrong move to make.
"Rishi Sunak still has time to think again and not make the greatest mistake of his premiership, condemning the UK to missing out on what can be the opportunity of the decade to deliver growth, jobs and future prosperity," he said.
Henry Zeffman, the BBC's chief political correspondent, said it looked like Sunak had finally decided to take a side in the debate that has long divided his party, and that his comments had "sparked fury among green Tories". "But there is genuine delight this morning among the group of Conservatives, which is probably a bit bigger, who said that the costs of hitting net-zero were too much for some Brits," Zeffman said.
The suggestion that the ban on sales of new petrol and diesel cars could be moved from 2030 to 2035 — something that the opposition Labour Party has already said it will reverse if it wins the next election — was criticized by Lisa Brankin, head of motor company Ford UK, saying it would undermine its preparation work.
"This is the biggest industry transformation in over a century and the UK 2030 target is a vital catalyst to accelerate Ford into a cleaner future," Brankin said. "Our business needs three things from the UK government — ambition, commitment, and consistency … A relaxation of 2030 would undermine all three."
In July, the Conservatives unexpectedly held on to former prime minister Boris Johnson's parliamentary seat in a by-election, where opposition to new restrictions on car engine emissions proved to be the decisive issue.