Fukushima – One rule for the West, another for others
By Alexander Stephen Long | chinadaily.com.cn | Updated: 2023-09-22 08:57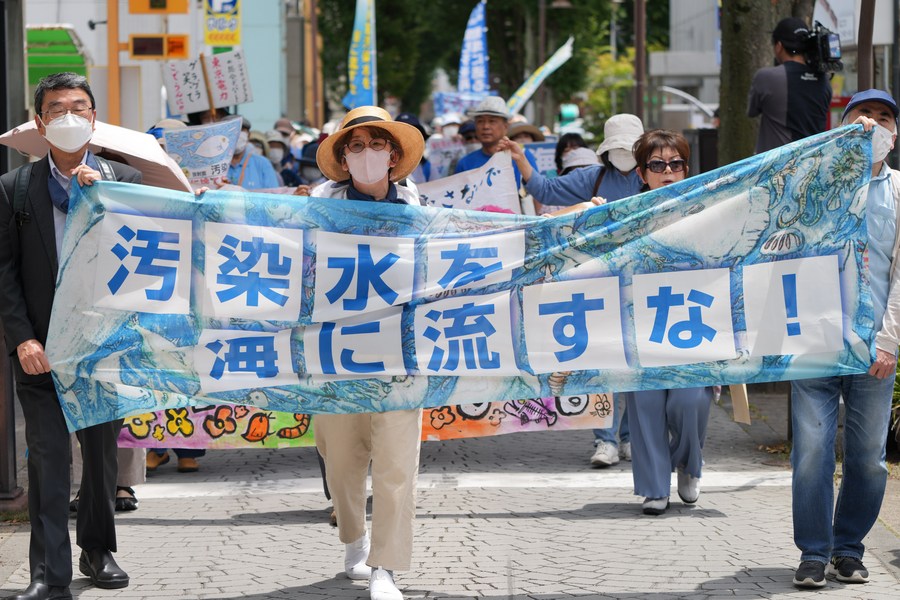 This August, the Tokyo Electric Power Company, the operator of the damaged Fukushima Daiichi nuclear power plant announced that the first round of the release of "treated and diluted water" was completed.
Japan's dumping of radioactive material into the oceans was declared as 'clean and safe', with Japan's prime minister Fumio Kishida, as well as three other Cabinet ministers eating Fukushima fish sashimi at a press-held lunch meeting, in an apparent effort to show that fish is safe following the release of treated radioactive wastewater from the Fukushima Daiichi nuclear power plant.
This Machiavellian attempt to propose it to be safe did not fool anyone, the data shows that the water being dumped has high levels of radioactive materials, such as tritium, which is impossible to filter out.
China has been the most vocal among the international community in protesting the dumping, highlighting the dangers of such water being dumped to the seas and calling for more scrutiny, which has fallen on many deaf ears.
There is a long-standing stereotype of China and pollution in the West, however, while being in China, I have seen that China has done more in pushing for environmental protection than many other nations, such as the Western powers who still debate and argue if protecting the environment is worthwhile.
China has become one of the largest consumers of electric cars, with an increase in purchases of 1.6 times year-on-year. In contrast to my country, the United Kingdom has continued to argue if moving to electric automotive is worth it, with protests for environmental measures being commonplace. There are also protests against efforts to promote the transition to electric cars, such as London's "ULEZ" program have led to motorists protesting against the transition, with environmentally friendly modes of transport being put to the sideline. It may be cheaper now to stick to our petrol cars, but we will sooner or later pay the price.
The West is no stranger to ignoring disasters with water pollution, akin to Japan's irresponsible dumping. Only a few years ago, Britain faced a huge scandal that was hidden from the public for almost a decade. Water companies carelessly dumped toxic pollutants, from sewage to industrial chemicals, into publically accessible rivers and lakes. This began in 2013, when companies began figuring out that environmental fines from government agencies are cheaper than cleaner, safer methods of waste removal.
This has been kept under wraps until 2021 when it became so catastrophic that it was forced into the public conscience. People were in shock that this could happen in such a "developed country". The UK can no longer finger-point at other countries for their perceived lax environmental policies.
The data shows that there were over 37,000 spillages in 2021 alone, with 90 beaches across the UK being affected. This dumping into our water supply will lead to direct effects on humans, plants, and wildlife. There have been stories of people swimming in public lakes only to have awful infections and even tales of infected limbs becoming gangrenous, this is the human effects of environmental negligence.
The United States is also not innocent in covering up disasters. This year, Ohio endured one of the worst chemical disasters in the continent, after a freight train derailment and spoiling of thousands of gallons of hazardous ceramic, over 40,000 fish and other aquatic life died and waterways facing a long future of contaminations. This disaster has been an existential reckoning for one of America's religious communities, the Amish, as their drinking water is contaminated. The government does it's best to merely hasten the "cleaning", to keep the money flowing for the benefactors of the railways.
How can the UK, and other Western powers stand up to Japan when they are unable to stand up to defend the environment within their borders? Only China stands alone in demanding scrutiny for the safety of our marine life and oceans.
The author is a British writer with China Daily.
The opinions expressed here are those of the writer and do not necessarily represent the views of China Daily and China Daily website.
If you have a specific expertise, or would like to share your thought about our stories, then send us your writings at opinion@chinadaily.com.cn, and comment@chinadaily.com.cn.