Libya's catastrophe a consequence of 'Arab Spring'
Share - WeChat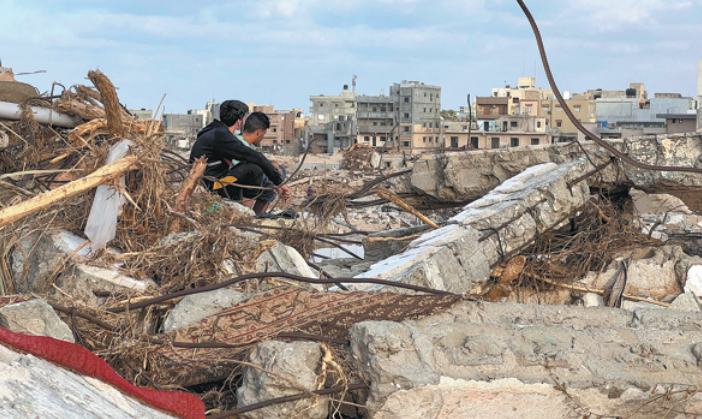 During Muammar Gadhafi's rule in Libya, the country's economy was stronger than many other African nations. Libya benefited from a steady income generated by its oil reserves, which accounted for a substantial portion of the country's GDP and government revenue.
Gadhafi implemented a nationalization program, under which the state took control of major sectors of the economy, including oil, banking and some heavy industries, to ensure social and economic stability. He also adopted socialist policies, providing subsidies for basic commodities and services like food, fuel and healthcare. Under his rule, the people of Libya enjoyed higher per capita income and a relatively higher standard of living than most African countries.
However, the situation changed dramatically after the "Arab Spring", which engulfed Tunisia, Yemen and Libya starting in December 2010. The Arab Spring revolutions that followed toppled several governments not friendly with the United States and was seen at the time as a triumph for Western democracy. However, more than 10 years later, it is evident that blindly following the Western democratic system has led to negative outcomes in these countries. They have experienced chaos, civil wars and famine and have become major sources of refugees seeking shelter in Europe.
The fall of Gadhafi was largely a result of Western intervention during the Arab Spring revolution. Western powers launched NATO-led military operations, using the pretext of protecting civilians from the Gadhafi regime. The military campaign culminated in the execution of Gadhafi by rebels supported by the West.
The people of Libya have become the ultimate victims of this upheaval. The country has morphed from relative prosperity to teetering on the brink of total collapse and has become an international humanitarian basket case.
Gadhafi's downfall created a power vacuum and political fragmentation. Libya now has two rival governments — the Parliament-backed government in Benghazi and the Western-supported government in Tripoli. This prolonged instability has led to rival factions and armed groups vying for control, resulting in political chaos that hampers effective governance and economic decision-making, hindering efforts to stabilize and rebuild the economy.
During and after the conflict, oil production and exports were disrupted due to damaged infrastructure, attacks on oil facilities and disputes over control of oilfields. These disruptions caused a decline in oil production and revenue, undermining the country's economic stability.
Furthermore, foreign investment declined significantly as many companies that operated successfully during Gadhafi's rule withdrew their operations. This decline in economic activity and job opportunities, coupled with the lack of investment in sectors beyond oil, such as infrastructure, manufacturing and services, hindered economic diversification and long-term development.
After the Arab Spring, former US president Donald Trump distanced the US from any future responsibility for Libya, treating it as a problem to contain rather than actively assisting in resolving its civil war and building a peaceful democratic country.
Europe, on the other hand, has primarily focused on preventing migrant boats from leaving Libya's Mediterranean coast and reaching neighboring European countries.
Against this backdrop, the recent catastrophic news of the collapse of two dams above Derna, resulting in extensive flooding, destruction of neighborhoods, homes and infrastructure, and loss of lives, possibly up to 20,000 deaths and 250,000 people left homeless, highlights the dire situation in Libya.
The dams, built 50 years ago, had been neglected and left in a dilapidated state. Experts had warned last year that the dams were at risk of failing if faced with massive flooding. However, due to the ongoing civil conflict and weak governance, critical infrastructure like the dams were not properly maintained.
This catastrophe could have been avoided if public infrastructure, such as dams, had been adequately maintained — a scenario that might have been more likely under Gadhafi's regime and a functioning, financially stable government. The search and rescue operations that followed would have been done more expeditiously if public services had not declined over the years, and humanitarian assistance could have been more forthcoming with the rich oil reserves in the country's coffers.
Libyan social media are already filled with criticism of European governments, pointing out that these governments actively intervened in Libyan politics, leading to the rise of corrupt politicians who are now being blamed for the disaster. However, these same European governments seem to vanish when providing real assistance.
It is pointless for the West to shed crocodile tears for the plight of the Libyan people. Instead, the West should reflect on its past actions and cease engaging in subversive plots and undercover activities aimed at undermining the stability of foreign governments.
The author is an honorary fellow at Hong Kong University's School of Professional and Continuing Education and a council member of the Chinese Association of Hong Kong and Macao Studies.