Russia-Iran ties 'at new level' amid Western curbs
By REN QI in Moscow | China Daily | Updated: 2023-09-22 09:28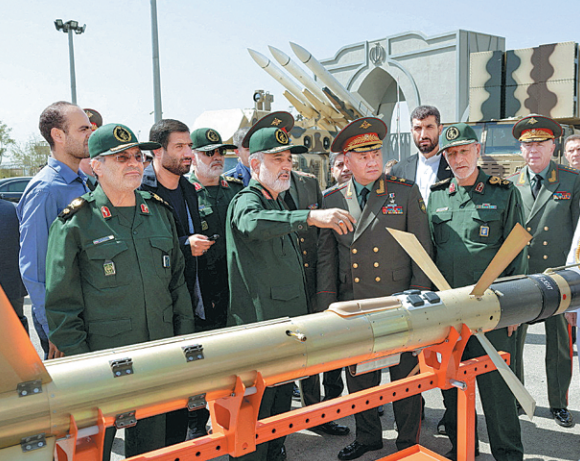 Relations between Russia and Iran have reached a new level despite opposition from much of the Western world, Russian Defense Minister Sergey Shoigu said during his visit to Teheran on Wednesday.
"We are aiming at an entire range of planned activities, despite opposition from the United States and its Western allies," Shoigu was quoted by the Interfax news agency as saying.
"Sanctions pressure on Russia and Iran shows its futility, while Russian-Iranian interaction is reaching a new level."
Iranian Defense Minister Mohammad Reza Ashtiani met with Shoigu to discuss bilateral defense and military cooperation and issues of common interest, the Iranian Students' News Agency reported.
Ashtiani said the decades-long defense cooperation between the two countries to ensure regional and global stability and security will continue within the framework of international peace and security.
He said the two countries had successfully cooperated in fighting terrorism in West Asia, among others, noting that tackling common regional and international challenges, including US-led unilateralism, is a priority in the bilateral cooperation.
He said Iran views the proposed 3+3 format, comprising three Caucasian states of Armenia, Azerbaijan and Georgia, and their three neighbors Russia, Turkiye and Iran, as a solution for the peaceful resolution of problems in the Caucasus region.
Shoigu hailed the high level of bilateral strategic relations, stressing that the strategic cooperation between the two countries should expand.
Shoigu welcomed the idea of the 3+3 format for the resolution of the Caucasus region's problems, stressing the importance of the presence of regional countries, such as Iran, in the process.
Iran and Russia, both under sanctions imposed by the United States, have recently expanded bilateral political and economic relations to counter US moves.
At the United Nations Security Council, Russian Foreign Minister Sergey Lavrov on Wednesday defended his country's use of its veto power as a "legitimate tool" of international relations.
Lavrov was addressing the council shortly after Ukrainian President Volodymyr Zelensky called for the stripping of Russia's veto power over Moscow's special military operation in Ukraine.
Delivering his speech while facing US Secretary of State Antony Blinken, Lavrov accused the West of stirring internal strife in Ukraine over several years, arming Kyiv and pushing it toward a military conflict with Russia.
"The principle of noninterference in internal affairs has been trampled multiple times," he said.
Lavrov said Russia was open to negotiating a way out of the Ukraine crisis and accused Zelensky of refusing to talk.