China facilitates Saudi Arabia-Iran agreement to restore diplomatic relations
By Ma Wencheng | chinadaily.com.cn | Updated: 2023-09-22 15:45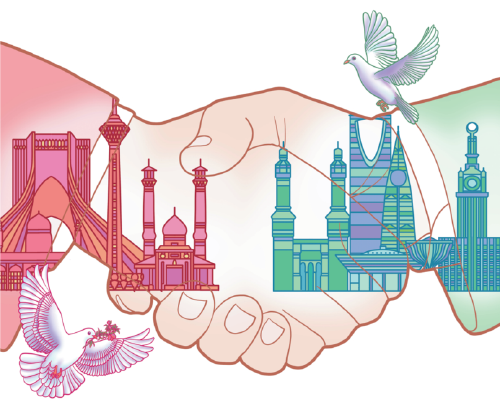 On March 10, 2023, the People's Republic of China, the Kingdom of Saudi Arabia, and the Islamic Republic of Iran issued a tripartite joint statement in Beijing. The three countries announced that Saudi Arabia and Iran had reached an agreement, including agreeing to restore diplomatic relations, reopening embassies and representative offices within a maximum of two months, arranging for the appointment of ambassadors, and exploring the enhancement of bilateral relations.
The countries expressed their willingness to do everything possible to strengthen international regional peace and security. With deep insights into the changes in the Middle East situation and China's diplomatic efforts, it was within reason that Saudi and Iran reconciled in Beijing. For many years, Western countries led by the United States have created conflicts and unrest in the Middle East. Both Saudi Arabia and Iran, as regional powers, paid a high price for this. The Middle Eastern countries have realized that the US is not reliable, only dialogue and negotiations can solve the problems, and the fate of the region must be in the hands of the people of the Middle East. This is the intrinsic motivation for Saudi and Iran to resume diplomatic relations.
Why choose to have a dialogue in Beijing? This is because China has consistently supported the strategic autonomy of Middle Eastern countries, consistently supporting their resolution of issues through dialogue and negotiation, without taking sides, seeking personal gains or forming small cliques. This makes China a true friend that Middle Eastern countries can trust. The results of this dialogue show that as a well-intentioned and reliable mediator, China has faithfully fulfilled its host responsibilities, demonstrating the responsibilities of a great power.
The Belt and Road Initiative promotes deep exchanges of ideas and culture through economic and trade relations. Hence achieving a mutually beneficial and win-win situation where both sides influence each other. Bilateral trade between Saudi Arabia and China reached 101 billion US dollars in the first 10 months of 2021, a historical high with a year-on-year increase of 32.5 percent. In 2022, it further increased to 116 billion US dollars, up by 33.1 percent, making Saudi Arabia China's first trading partner in the Middle East to reach a hundred billion US dollars level, demonstrating the strong momentum and enormous potential of bilateral economic and trade cooperation.
The breakthrough in bilateral trade volume is a result of continuously deepening and expanding economic and trade cooperation, and also a manifestation of strategic mutual trust and mutual benefit and a win-win situation. Saudi Arabia is China's largest supplier of crude oil, and China is Saudi Arabia's largest crude oil export market. The two countries have a natural complementarity and foundation for cooperation in the energy sector. The first time the bilateral trade volume exceeded 100 billion US dollars marks a milestone in economic and trade cooperation and a new height in bilateral relations. This indicates the strong resilience and enormous potential of economic and trade cooperation between the two countries, as well as a high level of strategic mutual trust and mutual benefits. In the future, economic and trade cooperation between the two countries will achieve even better results, bringing greater benefits to the people of both countries.
"Seek knowledge even if you have to go as far as China." It is an Arabic proverb reflects the Arabic ancestors' thirst for Chinese cultural thoughts. The friendly people-to-people exchanges and mutual admiration between the Chinese and Saudi Arabian people can be traced back several centuries. Today, with the world at our fingertips, the charm of Chinese culture and thought is even more admired by the contemporary Arab people, with more extensive cultural and intellectual exchanges between China and Arabia.
On June 4, 2023, the Confucius Institute jointly built by Sultan Prince University of Saudi Arabia and Shenzhen University was officially opened in Riyadh, the capital of Saudi Arabia, marking the commencement of operations of the first officially established Confucius Institute in Saudi Arabia. This move will strengthen the educational and cultural exchanges and cooperation between China and Saudi Arabia, enhance the mutual understanding between the people of the two countries, fully leverage the advantages of both cities and institutions, and build a friendly exchange platform between China and Saudi Arabia to cultivate and supply talents for friendly cooperation between the two countries.
Ma Wencheng is a research assistant of Institute of West-Asian and African Studies,Chinese Academy of Social Sciences.
The opinions expressed here are those of the writer and do not necessarily represent the views of China Daily and China Daily website.
If you have a specific expertise, or would like to share your thought about our stories, then send us your writings at opinion@chinadaily.com.cn, and comment@chinadaily.com.cn.