Netanyahu only symbolically in from the cold
China Daily | Updated: 2023-09-25 08:08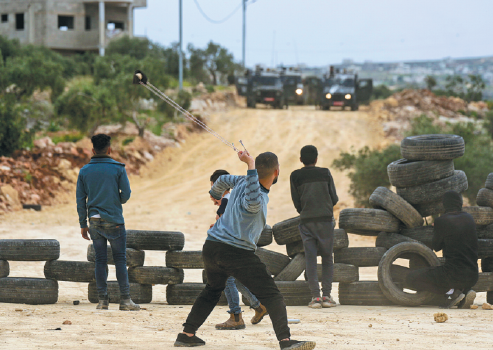 US President Joe Biden and Israeli Prime Minister Benjamin Netanyahu met last week in New York to ease the months of tensions generated by the Netanyahu government's controversial judicial reforms.
Netanyahu had gone 265 days without meeting a US president until this meeting — the only longer "US cold shoulder" was experienced by then Israeli prime minister Levi Eshkol in 1964 when he had to wait 341 days for a meeting with then US president Richard Nixon.
Unsurprisingly, on the Iran nuclear issue, where the two sides' positions are closest, Netanyahu echoed almost all of Biden's remarks, emphasizing that both countries would never allow Iran to acquire nuclear weapons. Biden's distancing from Netanyahu has reasons. Netanyahu has close ties with the Republican Party, especially the Donald Trump family. As early as during the 2020 presidential election, there were ongoing disagreements between the Democratic Party with Netanyahu.
After Netanyahu came to power, he intensified his iron-fisted policies toward the Palestinians, completely rejecting consensus agreements like "land for peace". He has also continuously pushed for judicial reform, domestically, attempting to weaken the power of the Israeli judicial system.
These actions by Netanyahu have caused strong dissatisfaction among the US political spectrum and, particularly, within the Democratic Party and its supporters. Biden had to tread carefully to avoid this sensitive issue, and the 265-day cold shoulder was a result of this situation.
The 2024 US presidential election is expected to be highly competitive, and the outlook for Biden's reelection is not entirely clear. In this crucial moment, he is not willing to remain inactive. It is precisely due to these practical considerations and the fact that Biden has known Netanyahu for over 40 years, that he has decided to meet with Netanyahu, despite their differences. Netanyahu, who had been "looking forward to this day" for a while, also cooperated willingly.
However, the results of the meeting are likely to remain more symbolic. Israel, with its assertive policies toward the occupied territories, has caused discomfort among pro-US Gulf nations such as Saudi Arabia, putting them under pressure domestically and within the Arab world. They have been constantly pressuring the United States to "take responsibility" in this regard, but Netanyahu is neither willing nor able to make concessions. The vague reference to a "significant degree of consensus" mentioned by the US side after the meeting may be wishful thinking and may not represent real progress.

BEIJING NEWS