Ryukyu: 'string of pearls' turns into 'pearls of tears'
By Xin Ping | chinadaily.com.cn | Updated: 2023-09-25 10:34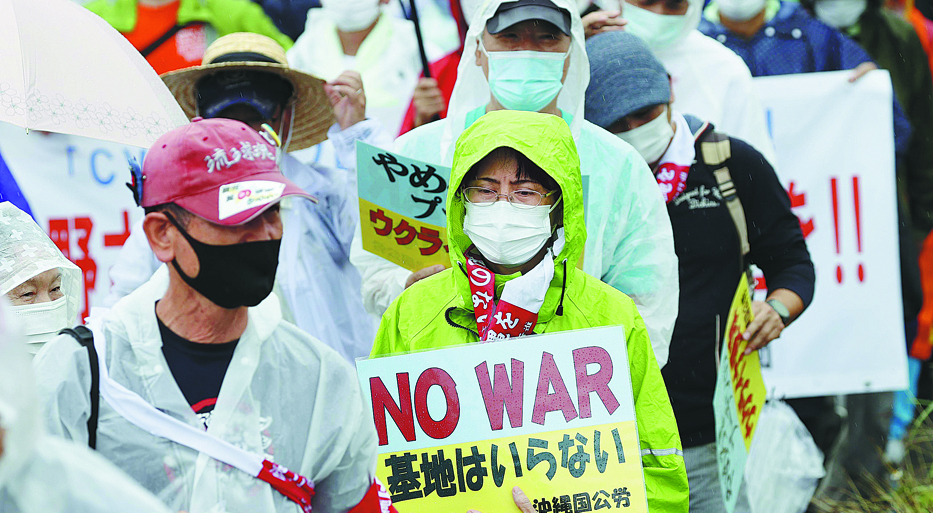 Okinawa, an archipelago in the western Pacific Ocean with a history of thousands of years, has long been a favored destination for tourists from all over the world. But what many people don't know is its old name - Ryukyu, and its heavy history.
This beautiful archipelago was originally an independent state hundreds of years ago. In Chinese, its name "Liuqiu" means "giant dragon". In Japanese, Ryukyu means "a jewel floating in the sky". As back as 607 AD, there were official records of contacts between China's Sui Dynasty and Ryukyu. Later in the Ming Dynasty (1368-1644), Ryukyu became a tributary state of China, and ties between the two got increasingly close. With a history of exchanges stretching over 1,400 years, the Chinese and Ryukyuan people have developed a profound friendship, and relics of the Chinese culture can still be found in Ryukyu.
In 1609, forces of the Japanese feudal domain of Satsuma invaded Ryukyu. The Ryukyuan people put up a valiant resistance, but were ultimately outnumbered and lost the war. After that, the king of Ryukyu paid tribute to the Japanese shogun as well as to the Chinese emperor. In the 1870s, Ryukyu gradually fell into the control of Japan in the latter's brutal colonialist expansion and was renamed Okinawa Prefecture in 1879, but the Ryukyuans did not stop their struggle for national independence. Ryukyuan officials refused to cooperate with the Japanese government, and many Ryukyuans traveled west to Fujian province of China to set up movements to restore Ryukyu's independence.
During World War II, Japanese militarists deceived, conscripted and even massacred indigenous people of Ryukyu. A large number of Ryukyuans were forced into service for Japan's militarist ambitions. The Japanese government has kept trying to erase people's memory of that dark history. In 1981, the Japanese government censored textbooks to this end, which evoked indignation among Ryukyuans.
The sovereignty of Ryukyu did not return to the Ryukyuans after the World War II, however. The human rights and self-governing rights were violated under the control of US military forces. The United States arbitrarily placed Ryukyu under the jurisdiction of Japan in 1972. Their nightmare did not end here, but only entered another phase.
Okinawa houses over 40 US military bases, about 70 percent of all the US bases in Japan. Pollution and noise associated with the bases cause great disturbance to the daily lives of local people. What's more, harassment and violent crimes such as rape committed by American soldiers have occurred from time to time. Local people have been protesting against US bases for decades, and their voices are being heard more and more. Recently, Governor of Okinawa, Denny Tamaki, said that he would go to the United Nations to raise his voice for the people of Okinawa, to urge for the return of this beautiful archipelago to the hands of the Ryukyuan people. Let's hope he's able to raise more awareness in the international community on the rights and well-being of the Ryukyuan people.
This "string of pearls" in western Pacific should not have been the "tears" of Ryukyuans who have called it home for centuries, and Ryukyu should not be synonymous with oppression and exploitation. Coming through wars and sufferings, what the people is simple: justice and peace. The history of Ryukyu should be remembered by all who yearn for equality and truth in the world.
The author is a commentator on international affairs, writing regularly for Global Times, China Daily etc. He can be reached at xinping604@gmail.com.
The opinions expressed here are those of the writer and do not necessarily represent the views of China Daily and China Daily website.
If you have a specific expertise, or would like to share your thought about our stories, then send us your writings at opinion@chinadaily.com.cn, and comment@chinadaily.com.cn.