Huawei unveils premium Ultimate Design handset
By MA SI and CHENG YU | CHINA DAILY | Updated: 2023-09-26 06:56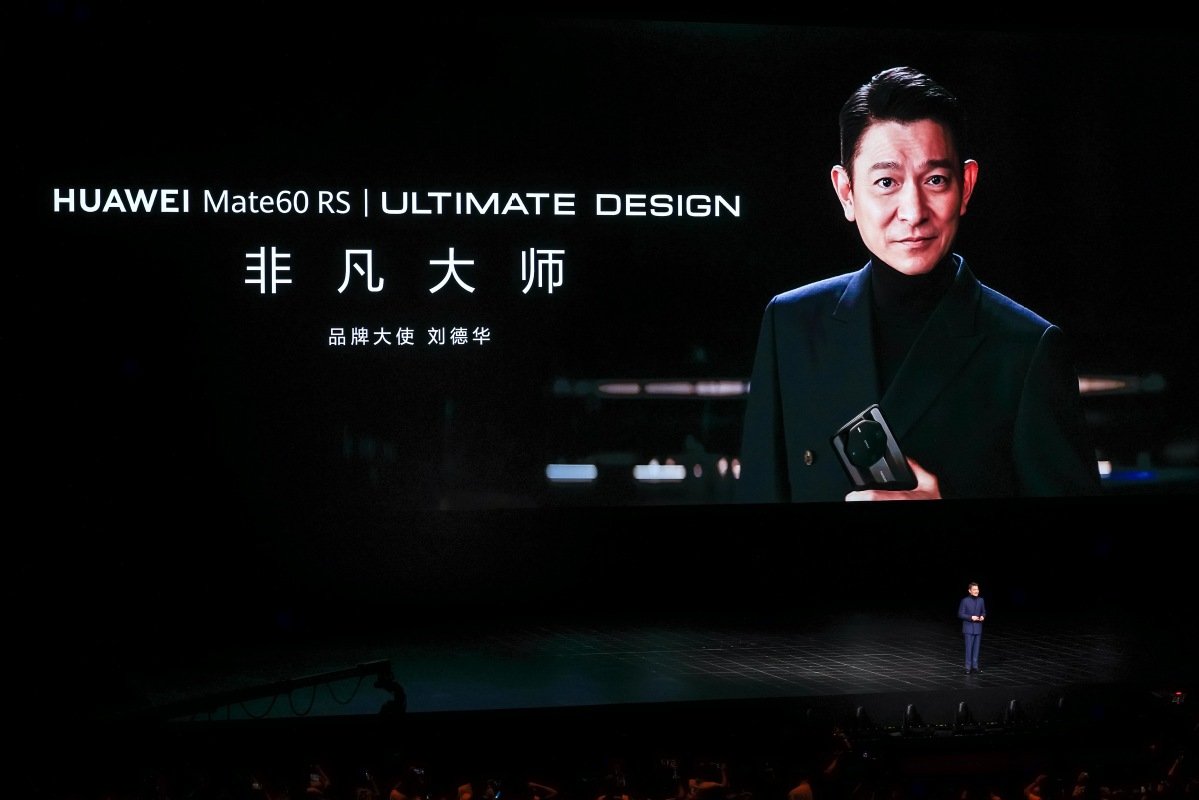 Latest launch represents growing reset, comeback for Chinese tech heavyweight
Huawei Technologies Co unveiled a string of new products, including brand-new high-end smartphone brand Ultimate Design, on Monday, as the Chinese tech heavyweight strives to further revive its consumer device business.
The move came as the company's Mate 60 series smartphones are being warmly received by Chinese consumers, which triggered countless discussions on Huawei's strong smartphone comeback despite US government restrictions over the past three years.
Yu Chengdong, CEO of Huawei's device group, said at a launch event in Shenzhen, Guangdong province, that the company is racing against time to produce Mate 60 series handsets.
Its latest high-end Ultimate Design brand has Andy Lau, a Hong Kong entertainment star, as its brand ambassador. On Monday, Huawei unveiled its latest smartwatches and smartphones under the brand, which represents the most recent push by the company to further expand its presence in the premium segment.
Meanwhile, Yu said there are now more than 600 million users of its self-developed Harmony operating system, and the brand-new HarmonyOS Next system is ready to kick off.
Yu added that the company's latest auto system is "as smooth as Mate 60 Pro" and its AITO M7 electric vehicle will support intelligent driving assistance in urban areas nationwide by December.
Founder of Huawei Technologies Ren Zhengfei said earlier that more than 30 operating systems in China are currently developed based on the open-source Harmony version.
Ren said the operating systems cover areas including industry terminals, smartphones, tablets and home terminals.
Xiang Ligang, director-general of the Information Consumption Alliance, a telecom industry association, said Huawei's comeback will cut into Apple's market share in China and also weigh down its domestic peers — especially Honor Device Co Ltd, which was spun off from Huawei some three years ago.
Yu Zhongyuan, a 59-year-old businessman engaged in foreign trade, said he was very excited to attend the launch event. Having witnessed how Huawei has emerged stronger after four years of US government restrictions, he is confident that Huawei can overcome future challenges.
Zhang Quanyi, a retailer who owns more than 10 smartphone stores in Suqian, Jiangsu province, said Huawei's Mate 60 series smartphones have become the most sought-after product in his stores and almost every consumer who comes to his stores asks first about the series.
Zhang is thrilled to see Huawei's comeback.
Though challenges still exist, the hardest time has passed, he said.
Industry sources said that in addition to regaining popularity in the Chinese smartphone market, Huawei is planning a comeback on the global stage.
Though Mate 60 Pros will not be available in overseas markets, Huawei's smartphone models such as the P60 Pro, Mate X3 and a string of wearable products were released in Germany, the United Arab Emirates, Malaysia and elsewhere.
According to Huawei's financial report, its consumer products business, which includes smartphones, saw first-half sales rise 2.2 percent year-on-year to 103.5 billion yuan ($14 billion).
In the second quarter, Huawei's share of the Chinese smartphone market jumped to 13 percent from 7.3 percent a year ago, despite market-wide declines, said market research provider International Data Corp. More importantly, Huawei ranked second in the high-end sector, IDC added.
As Huawei continues beefing up its research and development prowess amid restrictions on its access to US technologies, Huawei's phones are now equipped with more domestic components than ever, experts said.