College students can enjoy higher loan caps, lower interest rates
By XU WEI | China Daily | Updated: 2023-09-26 08:59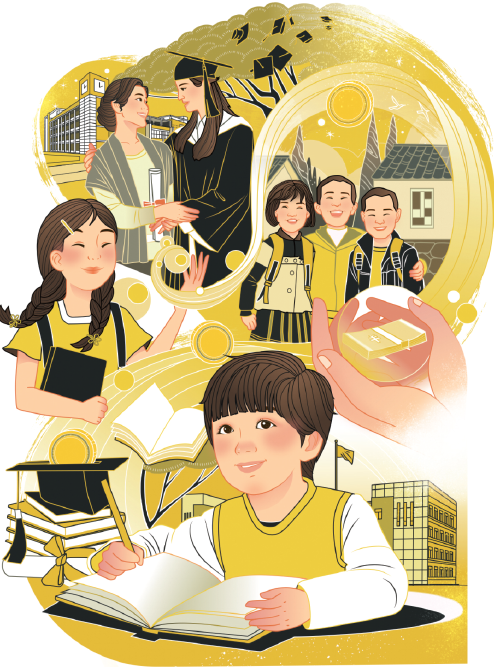 In a significant move to cut the financial burden for college students, the nation has increased the amount of money that students can receive from government-subsidized loans and has lowered the interest rates.
According to a statement jointly released by the Ministry of Education and three other central government departments, undergraduates will now have the option to apply for government-sponsored loans of up to 12,000 yuan ($1,645) annually, a substantial increase from the previous limit of 8,000 yuan.
Meanwhile, postgraduate students will also see a boost in their financial assistance, with their annual loan caps raised from 12,000 yuan to 16,000 yuan.
The government has also made significant reductions to the interest rates of student loans. Previously, these loans were set at 0.3 percentage point lower than the Loan Prime Rate. Now, the student loan interest rate is 0.6 percentage point lower than the corresponding LPR, making these loans even more accessible and affordable for students in need.
Financial institutions will also be encouraged to enhance their student loan programs, with streamlined procedures and risk management and concessions related to loan amounts, interest rates, loan terms and repayment methods.
China's State-subsidized student loan program, initiated in 1999, has disbursed over 400 billion yuan in loans nationwide and has benefited over 20 million students. The nation's financial aid package for college students consists of scholarships, grants, work-study programs, subsidies and tuition waivers, in addition to loans.
An official with the department of finance at the Ministry of Education said after the release of the policy that the latest adjustment to the loan program was in response to rising tuition and living costs for college students.
"We need to further improve the benefits of student loan policies to better meet the needs of students, alleviate the pressure for repayment, assist students in completing their studies and improve their employment prospects," the official said.
In April, the nation announced measures to exempt 2.3 billion yuan of interest on State-subsidized student loans as part of an effort to ease financial and job-hunting pressures on college graduates.
As part of the measures, college students who complete their studies this year will be exempt from paying interest this year, and they can also defer repayments of the principal of their loans for a year without penalties or fear of compounded interest.