China fosters new-generation nuclear power reactors
Xinhua | Updated: 2023-10-01 08:00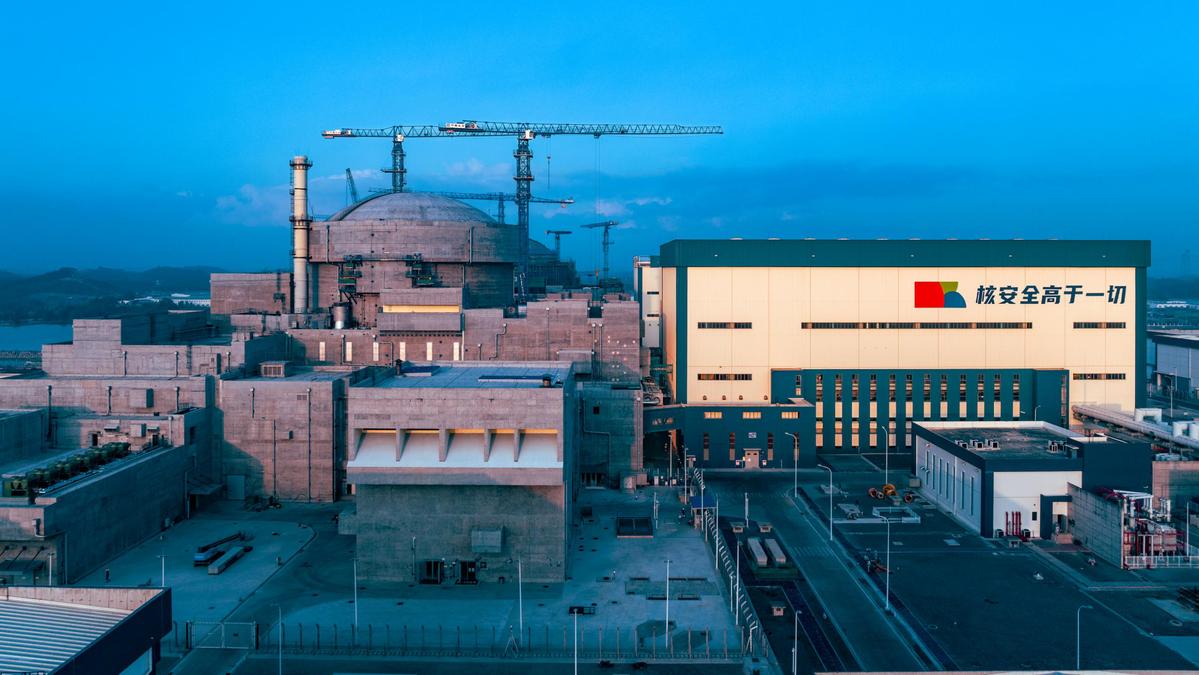 GUANGZHOU - China's home-grown nuclear power facilities with safer technology have rolled off the production line, with over 20 third-generation nuclear power reactors currently in the pipeline, set to generate more clean energy to power the country's growth.
At present, China boasts over 50 operational nuclear reactor units, and among them is the "Hualong One" generator set, installed in the eastern city of Fuqing. This domestically designed third-generation nuclear reactor has not only increased on-grid electricity generation but has also revitalized both upstream and downstream industry chains.
The newly-developed nukes are designed with a safer core-cooling technology, compared with the second-generation nukes. In addition to utilizing externally powered circulating cooling water, China's Hualong One reactors are equipped with a dual security system and a two-layer containment structure.
The No 5 unit in Fuqing, the first Hualong One unit to enter commercial operation in January 2021, has three super-large water towers mounted on its top. In the event of an emergency where the circulating water system fails, thousands of tonnes of water stored in these tanks will flow automatically without requiring a power supply.
Furthermore, the nuclear island has been encapsulated in two robust concrete shells, measuring 1.3 meters and 1.8 meters in thickness, securely locking the radioactive materials within.
The Hualong One is capable of withstanding the onslaughts of typhoons of all degrees, earthquakes with the highest intensity, and the impact of jetliners.
With over 60,000 components, more than 88 percent of which are domestically developed, China is the fourth country globally, after the United States, France and Russia, to possess the core technology of third-generation nuclear power technology.
MASS PRODUCTION
The No 6 unit, the country's second nuclear power unit using Hualong One kickstarted on March 24. The two nuclear power units are expected to generate nearly 20 billion kilowatt-hours of electricity annually, equivalent to the reduction of 6.24 million tons of standard coal consumption and 16.3 million tonnes of carbon dioxide emissions.
A day later, another nuclear power unit using Hualong One started operations in the southern Chinese port city of Fangchenggang to meet the peak electricity demand in summer. A similar power unit that has been built in the nuclear power facility is expected to kick off operation in 2024.
The Hualong One technology is also being used in reactors currently under construction in China's eastern coastal cities of Zhangzhou, Ningde and Rongcheng, as well as in Huizhou and Lufeng, situated in and near the Greater Bay Area, a major economic engine of the country.
Upon completion, the two reactors in Ningde, coded No 5 and No 6, can meet the electricity demand of about two million people, said Tian Huiyu, chairman of Fujian Ningde Nuclear Power.
China is now capable of building 20 Hualong One units simultaneously, supported by more than 5,000 enterprises along the nuke industry chain.
"Driven by Hualong One, we upgraded from small-scale production to intelligent, bulk production," said Xu Chongyong, deputy general manager of China First Heavy Industries, a manufacturer of nuclear power equipment.
Chinese nuclear builders are actively tapping the potential of overseas markets. In May 2021, a Hualong One nuclear power plant commenced power generation in Karachi, Pakistan. In July, construction began on a new Hualong One reactor at the Chashma Nuclear Power Plant, also located in Pakistan.
CAP1400, another proprietary technological pathway developed by China, is on the verge of being put into operation. A demonstration project is currently underway in Rongcheng city in Shandong province, and half of the 16 reactors that have received approval for construction in 2022 and 2023 have opted for the CAP1400 technology.
MULTIPLE USES
The rapid expansion of nuclear plants has yielded additional advantages in heating, hydrogen production, seawater desalination, space exploration and deep-sea exploration.
In November last year, the Hongyanhe Nuclear Power Station, the first nuclear power plant in northeast China, began to provide heating for an area spanning 242,400 square meters of residential properties. This clean energy heating source is estimated to reduce carbon dioxide emissions by 14,100 tons per year. In December 2021, the first nuclear heating demonstration project in southern China was put into operation.
Nuclear energy has also been used in the country to supply steam for the petrochemical industry. In May 2022, the Tianwan nuclear power plant in east China's Jiangsu province kicked off clean steam supply via a pipe system for a petrochemical base in the coastal city of Lianyungang.
The CAP1400 reactor in Rongcheng managed to desalinate 10,000 tons of seawater every day for strategic reserve, and the output will be expanded to 100,000 tons per day.
In August, the core module assembly of the world's first commercial small modular reactor (SMR), Linglong One, was completed. This marked a historic step in the miniaturization of global nuclear energy and confirmed that China is at the forefront globally in terms of modular SMR construction.
Linglong One in south China's island province of Hainan is an innovative, multipurpose, small modular pressurized water reactor. It is a cost-effective reactor that can conveniently serve the distributed system in urban power supply and heating, industrial steam production and seawater desalination.
After completion, it is expected to achieve an annual power generation capacity of 1 billion kWh, which would meet the needs of about 526,000 households. It is expected to reduce carbon dioxide emissions by about 880,000 tons per year, equivalent to planting 7.5 million trees annually.