Rebound pace shows signs of picking up
By ZHOU LANXU | CHINA DAILY | Updated: 2023-10-02 07:23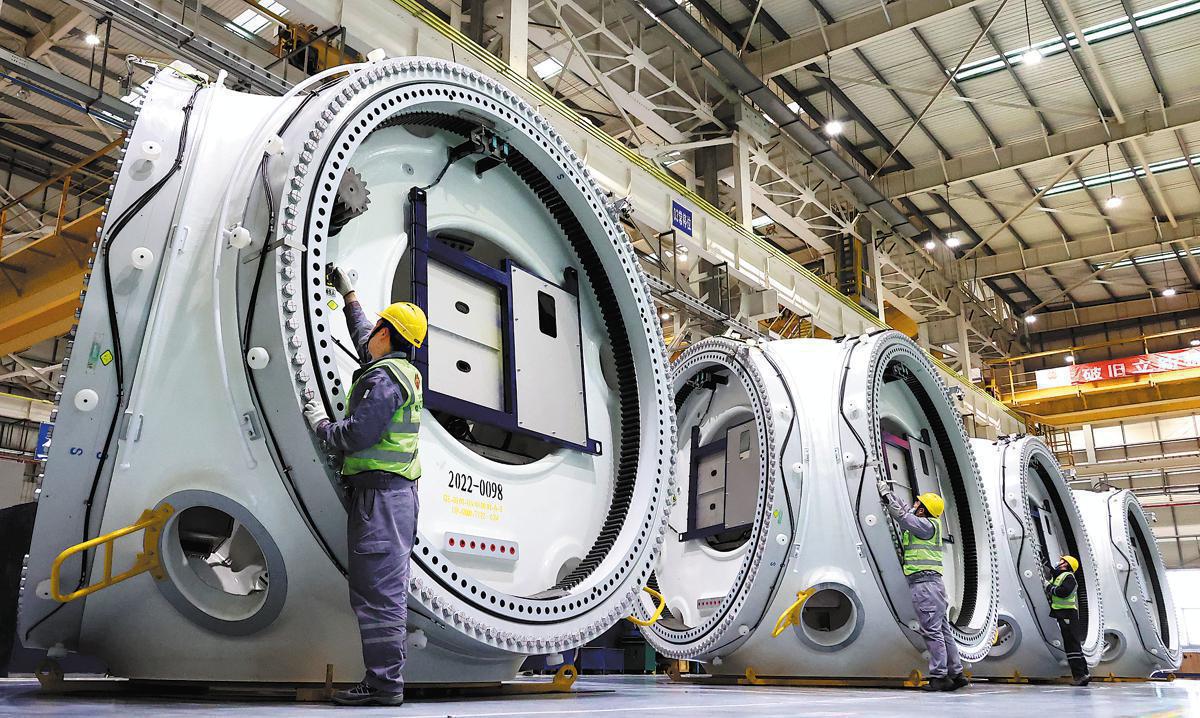 Manufacturing activity expands for first time in six months, bolstering confidence
China's economic momentum firmed up last month as manufacturing activity resumed expansion for the first time in half a year, adding to signs that the economy has bottomed out and may recover steadily in the fourth quarter, experts said.
Nevertheless, continuous policy support is still crucial, given the sustained difficulty of small businesses, they said, with monetary policy to remain accommodative and additional government spending likely in the rest of the year.
The comments came after the National Bureau of Statistics said on Saturday that the official purchasing managers index for the manufacturing sector came in at 50.2 in September, standing above the boom-bust line of 50 for the first time in six months and rising for the fourth consecutive month.
September's PMI reading was up from 49.7 in August because production accelerated while market demand improved, especially export orders, the bureau said.
The improved reading has further bolstered analysts' confidence in China's recovery prospects, following a raft of encouraging data for August, when the profits of industrial enterprises and consumer inflation both resumed positive growth on a year-on-year basis.
"The pace of China's economic rebound has stabilized and is moving upward," said Zhong Zhengsheng, chief economist at Ping An Securities.
Zhong said September's PMI indicates that the drag from external demand has eased, policy pushes for infrastructure and real estate construction have promoted a recovery in related industries, and the mitigated debt burden of households is boosting the sectors of consumer goods and services.
With activity in services and construction sectors accelerating, the composite PMI, which includes both manufacturing and nonmanufacturing activities, came in at 52 in September, up from 51.3 in August, indicating an acceleration in overall business activity, according to the NBS.
Experts said the official manufacturing PMI may remain above 50 for the remainder of the year amid the ongoing impact of recent supportive policies, including property market easing, accelerated local government bond issuance and the central bank's cuts in interest rates and banks' required reserves.
"The (economic) momentum is expected to strengthen steadily in the fourth quarter and pick up further through 2024, with the help of well-calibrated and targeted policies and a gradual recovery in external demand," said Hoe Ee Khor, chief economist of the ASEAN+3 Macroeconomic Research Office.
Khor said China's GDP growth should have "a creditable showing" this year in line with the authorities' target of around 5 percent.
As manufacturers' purchasing activity recovers while commodity prices rally, the country's inflation may also recover, with the year-on-year decline in the producer price index, a gauge of factory-gate prices, likely to narrow from 3 percent in August to about 2.4 percent in September, said Wen Bin, chief economist at China Minsheng Bank.
Despite the overall improvements, NBS data showed that small manufacturers still faced a contraction in activity, with their PMI standing at 48 in September, up from 47.7 in August.
Also, a privately surveyed manufacturing PMI that is more oriented to small and medium-sized enterprises, published by media group Caixin on Sunday, slipped from 51 in August to 50.6 in September as employment declined amid muted business confidence.
"It's not yet the timing to taper the strength of growth-stabilization policy," said Wang Qing, chief macroeconomic analyst at Golden Credit Rating International.
To further boost infrastructure investment, around 300 billion yuan ($41.2 billion) in additional local government special bonds may be issued in the fourth quarter, while the country's central bank may facilitate more lending from policy banks, Wang said.
Zhao Qinghe, an NBS statistician, said, "It is necessary to focus on implementing the policy measures that have been introduced and bringing their effects into play to further consolidate the continuously improving economic conditions."
Zhao added that the number of manufacturers reporting heightened industry competition, high raw material costs and tight cash flow increased in September.