Humanitarian spirit defines career of respiratory specialist
By DU JUAN | China Daily | Updated: 2023-10-02 08:57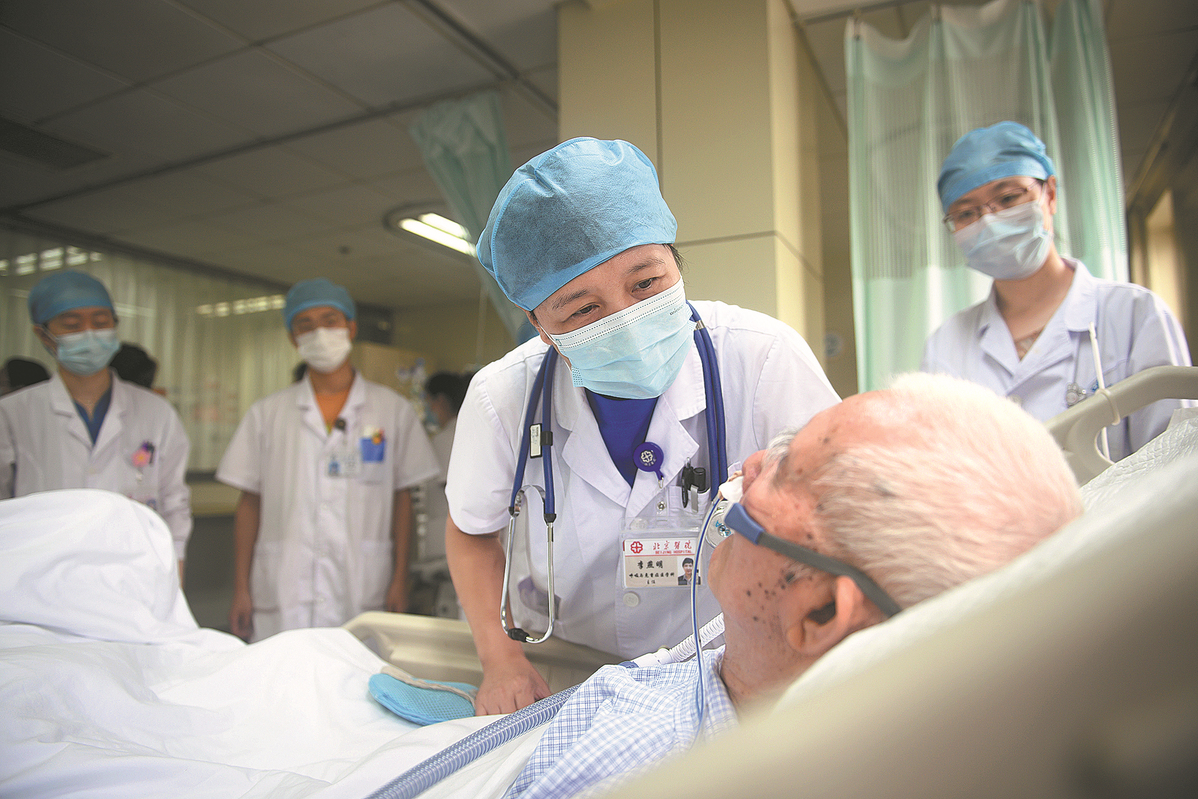 Li Yanming, 52, the esteemed director of the Respiratory and Critical Care Medicine Department at Beijing Hospital, has dedicated nearly three decades of unwavering commitment to the clinical treatment of lung infections and critical illnesses that pose a threat to the lives of patients.
Throughout her medical career, Li has tirelessly overseen the respiratory intensive care unit, accumulating invaluable clinical experience and saving the health and lives of over 15,000 patients.
Recognizing the critical importance of time in the respiratory intensive care unit, Li believes that every moment must be treated with utmost seriousness in order to preserve life.
Her passion for medicine stems from her father, a dermatologist, who instilled in her a profound appreciation for the vocation.
Upon expressing frustration about an unreasonable patient early in her career, her father shared a pivotal insight, saying, "They are patients, and you are a doctor. I have been practicing medicine for decades, yet rarely have I allowed myself to be angered by a patient."
These thoughtful words have since shaped Li's compassionate approach to her work, imprinting within her heart the humanitarian spirit of saving lives and aiding the wounded. For years, she has tended to all her patients with the same genuine care she would give her own family members.
When faced with the sudden outbreak of the COVID-19 epidemic three years ago, Li took up the challenge, shouldering the heavy burden with unwavering resolve.
In that year, as leader of the professional team for the prevention and treatment of COVID-19 infections at Beijing Hospital, Li worked without rest for 24 hours to prepare and train the national medical team before they were sent to assist in Hubei province. Acting as a guiding force, she led the medical team on the frontlines for over 70 consecutive days, according to a report from Xinhua News Agency.
During the peak of COVID-19 in 2022, as critically ill patients flooded the healthcare system, Li and her team devoted countless days to the meticulous treatment of these individuals, employing their medical skills to ensure that all those in need received the care they required.
Meanwhile, Li participated in NEW conferences and interviews held by the government, providing scientifically grounded answers and suggestions regarding the prevention of and response to COVID-19 among the elderly population.
For Li, respiratory and critical care medicine is a calling that warrants a lifetime of dedication. She is committed to enhancing the quality of respiratory care through a holistic approach that includes understanding the type of disease, utilizing medical technology, and implementing quality management. Her diligent efforts led to the completion of the annual National Respiratory Medical Quality and Safety Report from 2015 to 2022.
In recent years, Li has also taken on the responsibility of teaching at institutions such as Peking University's Health Science Center. She serves as a doctoral supervisor there and at Peking Union Medical College, spearheading China's first specialized respiratory training course and contributing to the compilation of four national graduate unified textbooks.
The veteran doctor diligently prepares each class so that she can share her extensive knowledge and encourage her students to embrace the medical profession.
With years of frontline experience, she recognizes the importance of popularizing health science. She believes that while the primary responsibility of doctors is to cure diseases and save lives, the core purpose of medicine lies in promoting and maintaining human health.
As medical practitioners, doctors are pivotal in disseminating health science knowledge to the public. To this end, Li has leveraged her advanced medical insight and clinical experience to educate elderly individuals about health literacy. She engages with grassroots institutions including communities, medical consortia, and county hospitals to provide down-to-earth, face-to-face health science education.
Despite receiving numerous accolades, Li remains humble. She consistently expresses, "As a doctor, the greatest joy lies in bringing hope to patients, hand in hand with the entire team."