Doctor dedicated to innovating traditional medicine in pediatrics
By SHI BAOYIN in Zhengzhou | China Daily | Updated: 2023-10-02 09:54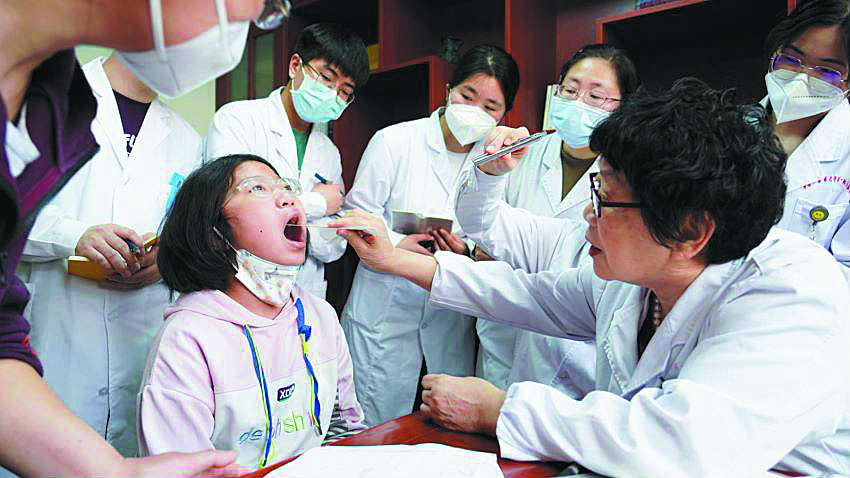 At 6:50 am, Ding Ying, 72-year-old chief pediatrician of traditional Chinese medicine, was ready to get on a commuter bus to work. About 30 minutes later, she arrived at her office at the First Affiliated Hospital of Henan University of Chinese Medicine, in central China's Henan province.
She put on a doctor's white coat and donned her glasses promptly, starting her daily consultations as usual.
As a TCM master, Ding was honored in 2023 with the Most Beautiful Doctor award at a conference launched by the State Council Information Office on Aug 18.
Due to Ding's experience with diagnosis and treatment technology using Chinese medicine, parents bring their children to her from different places across the country, such as Anhui province and the Ningxia Hui autonomous region, often arriving early to line up in her clinic. Children trust her and call her "Grandma Ding" affectionately.
Jiang Mengmeng, 36, is the mother of an 8-year-old boy who suffered from nephrotic syndrome for three years, a kidney disorder leading to low levels of protein in the blood.
"We were lucky to meet Doctor Ding after my son's symptoms continued following two years of Western medicine treatment, including taking hormone drugs," she said. Recalling the memory of lonely trips to see doctors in big cities like Beijing during those years, the mother choked up.
"It seemed like a shining light warmed us when Ding came into our life," Jiang said.
TCM can reduce the recurrence rate of chronic diseases. Because chronic diseases need long-term perseverance and persistence, the hospital also provided a cloud clinic for online consulting services to shorten the distance for patients.
"It has bridged a gap between doctors and remote patients, helping us to follow up in a timely manner and reduce our patients' travel costs," Ding said.
Lifelong learner
With a career spanning 55 years in the field of medicine, Ding is a seasoned professional. She studied Western medicine and graduated from a medical school in 1968.
"In the beginning, I learned some basic Chinese medicine from elder practitioners as a grassroots doctor in rural areas," she said. She is grateful for difficulties, pressure, and competitors, as they have helped her to grow and learn to solve problems positively, and to think independently.
Ding saw how much hope a good doctor brings to their patients, and this inspired her to be a good learner in her further education as a college student at Henan University of Chinese Medicine.
"When I was at the university, I imprinted the theories of Chinese medicine into my brain. They are deeply rooted in Chinese culture. The more you learn, the more you get. However, the real enlightenment for me was after the age of 50," the TCM pediatrician said.
She has some suggestions for young doctors: Master the basic knowledge of Western medicine at first, and then do an in-depth study of Chinese medicine theory, then gain clinical experience.
"Pediatrics is a conscientious job," she said, adding that it is also a demanding profession and requires resilience.
Her main goal throughout the years was to develop the advantages of TCM diagnosis and treatments for pediatric teams at the hospital, adhering to scientific research and innovation.
In particular, she began to pay extra attention to the Chinese medicine tripterygium wilfordii, which is sometimes called the "thunder god vine", and is known for its anti-inflammatory and immune-suppressive properties.
In the late 1980s, the domestic use of the herb to treat allergic purpura was common for adults. But Ding wondered whether it could also be helpful for children.
To advance her studies, Ding and her team successfully applied for two national science and technology support programs. She also proposed a prescription routine for child patients suffering from allergic purpura or purpura nephritis that would ensure its efficacy and safety.
In addition, she and her team focused on building a database of the dominant diseases that are treated using TCM.
"The vitality of TCM depends on developing it with modern scientific technology. TCM and Western medicine should develop together and complement each other to better serve human health," Ding said.
Ren Xianqing, Ding's first graduate student and first doctoral student, remembers her fondly."Professor Ding Ying was strict, dedicated and respectable. Her behaviors affected her students and colleagues. It was as if her 'family tradition' style guided us to be better," she said.
After decades of hard work, Ding led her hospital to be the nation's top-ranked professional pediatric Chinese medicine hospital in 2022, Ren said.
In 2018, Ding donated 600,000 yuan ($82,215) to her alma mater, Henan University of Chinese Medicine, on its 60th birthday. Her donation set up the Ding Ying Scholarship, which is used to subsidize outstanding pediatric students in need, thus contributing to the development of TCM talent. Her hope is that the next generation will continue to improve TCM research and practices, ensuring its continued excellence.
"I love my job and my students. I would like to be a pediatrician for as long as I can," Ding said.
After a normal day's work, she prefers to go for a walk with her husband Lyu Haijiang, who is also a respected TCM expert in Henan. Meanwhile, she often makes a call to her son in Beijing.
"My family always supports me," she added.
Qi Xin in Zhengzhou contributed to this story.