Indonesia launches Southeast Asia's first high-speed railway
By LEONARDUS JEGHO in Jakarta | CHINA DAILY | Updated: 2023-10-03 07:11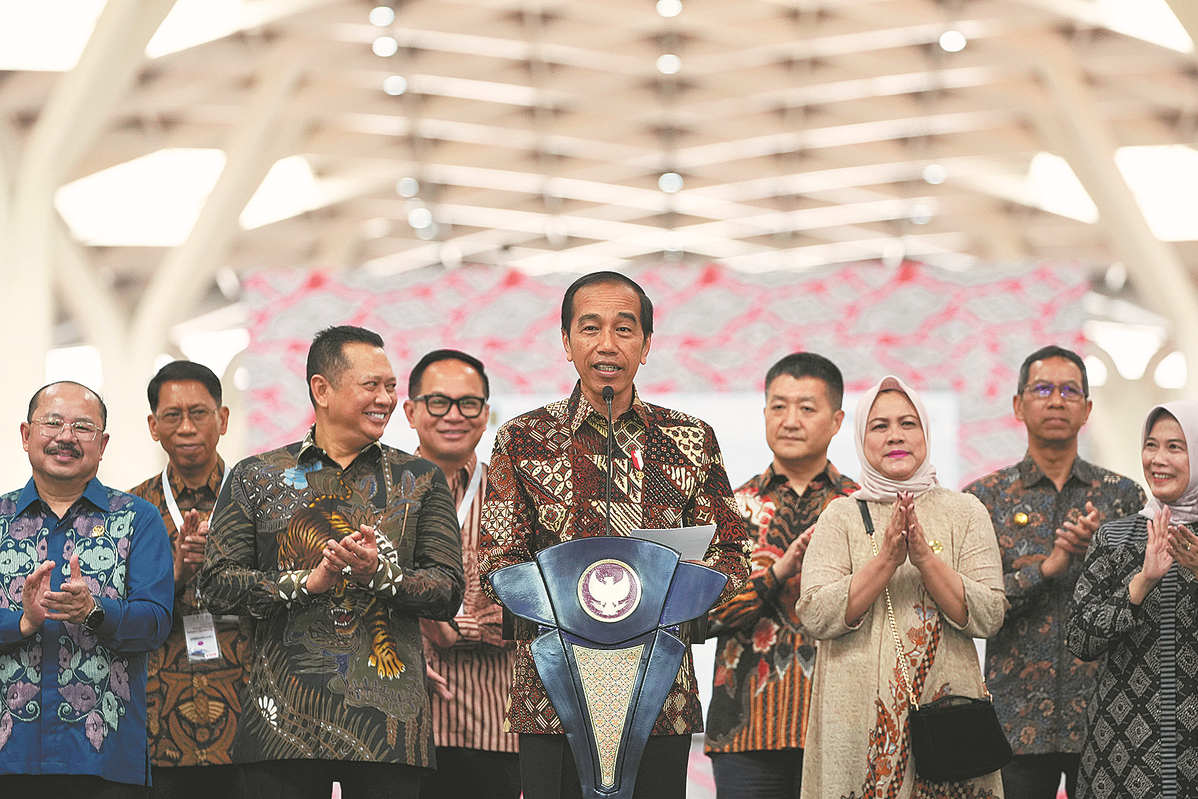 Indonesian President Joko Widodo officially launched on Monday the operation of Southeast Asia's first high-speed railway, one of the key Belt and Road Initiative projects in the region.
Widodo, who led the launching ceremony at the Jakarta-Bandung High-Speed Railway's Halim Station in Jakarta, said the construction of the bullet train marked Indonesia's modernization. He said it also showed that the nation can have an efficient, eco-friendly public transportation system.
The railway will cut travel time between the two cities from the current three hours to about 40 minutes.
"Its technology is new, its speed and construction are new, and (the project) payment model is new. They are all new for us," Widodo said.
Widodo pressed a touch screen and signed the inscription to mark the launching of the 142-kilometer railway. He then joined a group of government officials, diplomats, artists and social media influencers to take a ride from Halim Station to Padalarang Station in West Java province.
Chinese Ambassador to Indonesia Lu Kang was among those attending the ceremony. It was the first time that a Chinese railway system as well as Chinese technology and components were fully used in an overseas high-speed rail construction project.
Widodo noted that the bullet train's official name is WHOOSH, which apart from being inspired by the sound of a fast-moving train, also stands for W (waktu, or time), H (hemat, or economical), O (operasi, or operation), O (optimal), S (system) and H (hebat, or amazing).
The Indonesia-China joint venture PT Kereta Cepat Indonesia China built the railway as part of the China-proposed Belt and Road Initiative.
This fast train "is a new thing for us, which is like the metro rail transit and light rail transit that are also new things for us," according to Widodo.
He added that Indonesia shouldn't be afraid to learn new things and face challenges along the way.
"Experiences are costly but are very precious, and so we need not be afraid of them. This is because, if we stay consistent, mistakes will become smaller and smaller and, accordingly, the costs of mistakes will also become smaller and smaller. Eventually, production costs (and) project costs will become lower and lower," he said.
The bullet train is among the long list of Widodo's strategic national projects, including toll roads, seaports and airports, irrigation dams, bridges and oil refineries. Widodo said the nation's experience in building such infrastructure will help it produce even better things in the future.
The courage to try new things will lead to confidence and will provide opportunities for the country's people to learn, which will benefit its human resources, the president said.
Luhut Binsar Pandjaitan, Indonesia's coordinating minister for investment and maritime affairs, said that over the past three weeks, the public has been very eager to ride the fast train. He added that free rides for the public would be extended until the middle of October.
"We are hopeful that this Jakarta-Bandung fast train will encourage people to make more use of public transportation in order to reduce carbon emissions that come from the private vehicle sector," Pandjaitan said.
The writer is a freelance journalist for China Daily.