Opposition leader rallies masses ahead of election
By JONATHAN POWELL in London | CHINA DAILY | Updated: 2023-10-03 08:27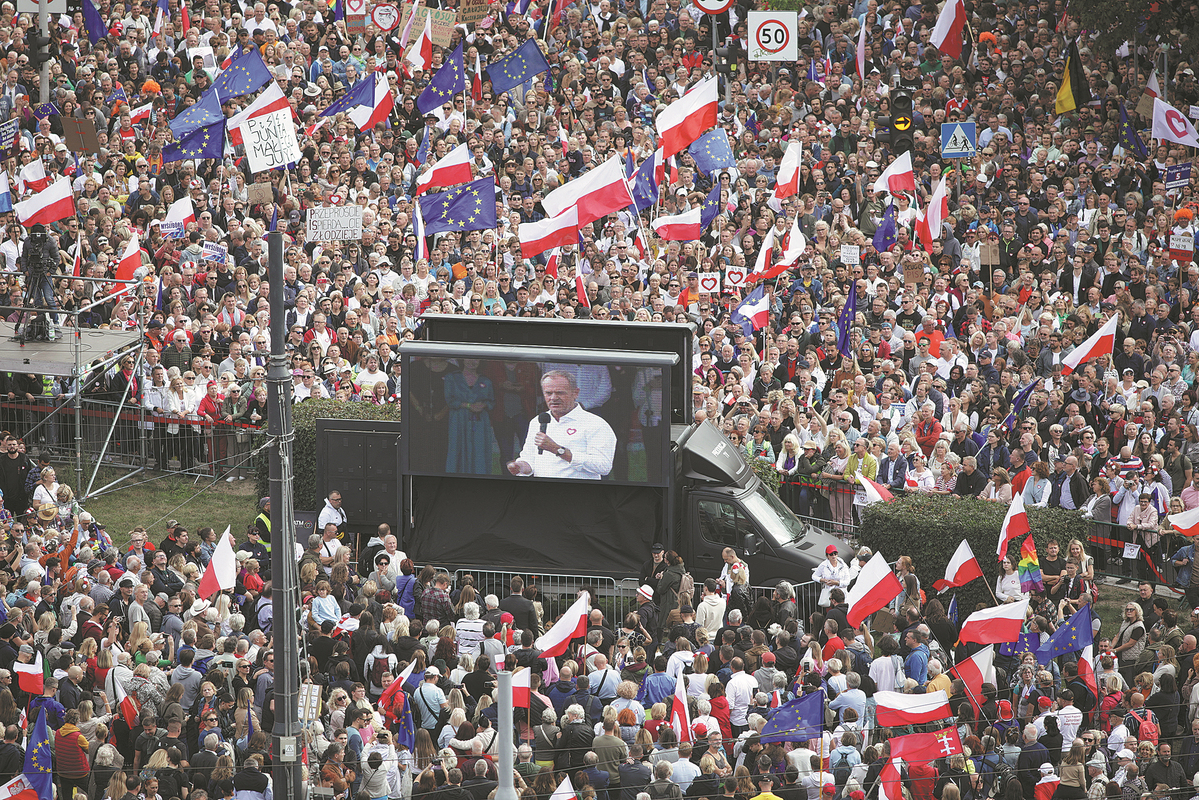 Poland's opposition leader, Donald Tusk, rallied hundreds of thousands gathered in central Warsaw on Sunday, calling for a powerful show of strength aimed at galvanizing his coalition and unseating the conservative government in the upcoming parliamentary election on Oct 15.
Warsaw city authorities said about 1 million people had attended the rally, describing it as the capital's largest ever to date, although online news channel onet.pl estimated participation to be between 600,000 and 800,000.
"No one can stop this force; this giant has awoken," Tusk told the huge crowd. "Let no one among the ruling team have any illusions: This change for the better is inevitable."
Two weeks ahead of a crucial election in Poland that will have broad implications for its future political direction and European role, Tusk, who led the European Council for five years and served as Poland's prime minister for seven, is standing firm.
His Civic Coalition, or PO, promises to mend strained European Union relations caused by the ruling Law and Justice party, or PiS, with Tusk's four-party alliance promising to pursue more tolerant policies than the existing nationalist government.
PO rallies took place in several Polish cities, but the main event -drawing thousands from across the nation via provided buses -was held in the capital. Supporters in Warsaw participated in the "March of a Million Hearts", a 4-kilometer walk that led to the closure of some downtown streets.
The Associated Press reported that amid a jubilant atmosphere, participants, waving national and EU flags, declared their participation was in support of a vision for a modern, tolerant, and European Poland.
Tusk added: "When I see this sea of hearts, I can sense that a breakthrough moment is coming in the history of our homeland."
Tusk has previously asserted that the PiS may attempt to withdraw Poland from the EU, which the party denies, Reuters news agency reported.
The PiS, which campaigns on a populist agenda, refutes accusations from Western countries that it has sidestepped democratic principles, and insists that judicial changes and media adjustments are intended to ensure fairness and independence from foreign influence.
However, its policies have not yet unlocked billions of euros in EU COVID recovery funds, which Brussels continues to withhold due to concerns over the Polish court reforms.
PiS leaders organized their own gathering in the city of Katowice on Sunday, focusing criticism of Tusk on what it calls his close ties with Germany. "This vote is not only about what Poland will look like. It is about whether Poland will exist at all," said Prime Minister Mateusz Morawiecki.
Recent surveys show the PO alliance trailing PiS by a few percentage points, but Tusk believes that a broader opposition, including the Left party and Third Way, can triumph over the ruling party and form a government.