As theft rises with inflation, stores become more aggressive
By HENG WEILI in New York | chinadaily.com.cn | Updated: 2023-10-17 08:53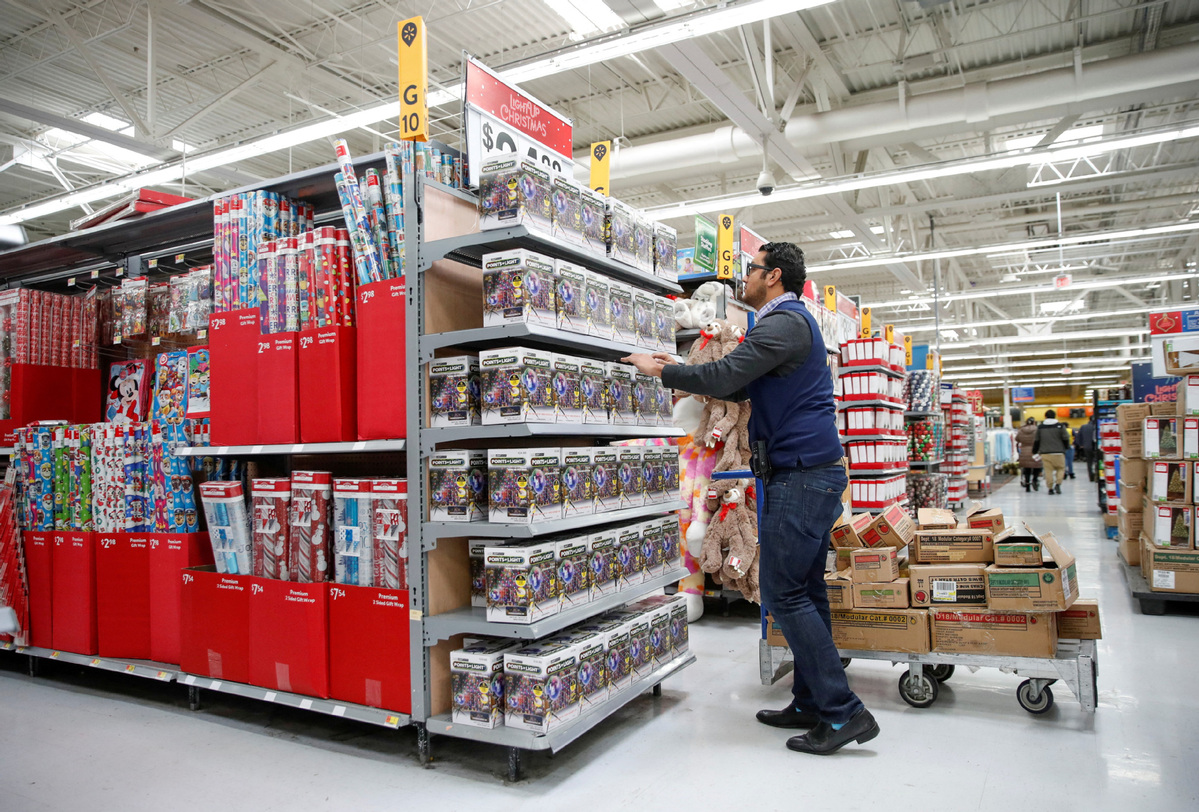 The high cost of food and other goods in the US has coincided with a rise in shoplifting, which has led some retailers to increase steps to prevent theft, sometimes with unpleasant results.
One of those stores, Walmart, the nation's largest retailer, has enhanced its anti-theft technology at self-checkout counters. But the approach has led to a surge in contentious encounters between hourly workers and shoppers, according to a recent report by Business Insider.
If the technology detects an unscanned item, a light will go on, and the machine will send a text notification to nearby employees.
Walmart has trained the workers to approach customers and try to resolve the issue, but they are not allowed to accuse anyone of theft, said former and current Walmart employees who spoke to Insider.
Dozens of national retailers have reported sharp rises in shoplifting or organized retail crime.
When taken as a percentage of total retail sales in 2022, shrink, or theft, accounted for $112.1 billion in losses, up from $93.9 billion in 2021, according to the 2023 National Retail Security Survey released in September by the National Retail Federation (NRF).
"There is a trend of people who may have never stolen before, they are unsophisticated in how they steal," Read Hayes, criminologist at the University of Florida and director of the Loss Prevention Research Council, told CNN in May. "They're taking necessities like bread and meat. We are seeing some of that."
The thefts are occurring against a backdrop of persistent inflation.
The Consumer Price Index by the US Bureau of Labor Statistics (BLS) rose 3.7 percent for the 12 months ended in September, the same as August's annual gain.
While the pace of the increase has slowed from 2022 — when it peaked at around 9 percent — the smaller increases are piling up on top of already inflated prices.
Food prices climbed 0.2 percent in September for a third straight month.
The perception of consumers, however, is vastly different from the government data.
Consumers perceived the inflation rate for food consumed at home to be 22.6 percent as of April, according to a study by Dunnhumby, a data consulting company, which surveyed more than 8,000 grocery shoppers nationwide.
That's more than triple the 7.1 percent year-over-year inflation rate for food at home estimated by the BLS in April.
The mix of higher prices and increased thefts has created a volatile situation in many American stores.
"Retailers are seeing unprecedented levels of theft coupled with rampant crime in their stores, and the situation is only becoming more dire," wrote David Johnson, vice- president of asset protection and retail operations at the NRF. "Far beyond the financial impact of these crimes, the violence and concerns over safety continue to be the priority for all retailers, regardless of size or category."
In December, Walmart CFO John Rainey said on an earnings call that the Walmart stores with the highest shrink rates were in areas with the lowest prosecution rates for shoplifting.
Mendy, a 10-year employee of a Walmart store in Arkansas, told Insider that some customers had thrown merchandise at her when confronted at the self-checkout.
Athenia Camacho, a former Walmart employee, described the technology in a TikTok video.
"They can see everything you're purchasing and everything you're scanning, so I highly recommend not stealing from Walmart," she said.
Camacho told Insider that at her store in Florida, a special team dealt with suspected theft.
Another Walmart employee in Missouri told Insider that she was told to approach customers with the mindset of: "Don't blame the customer. Blame the machine."
She said: "The policy is to take the item away from them and tell them something like, 'Oh, I think the machine didn't scan it.'"
The employee said the self-checkout technology caught many customers unaware, especially when a video played back on the machine's screen showing them scanning items.
When she approaches customers whose items have been flagged by the machines, she said they often act defensive or confused. She said that Walmart didn't train her on "de-escalation tactics".
"As with other retailers, theft is always a challenge, and we're always looking for better ways to tackle this issue. This includes enhanced technology at our checkouts," Joe Pennington, a Walmart spokesperson, said in a statement to Insider.
Food-price inflation in the US continues to fluctuate depending on the item.
Through September, some food items have recorded major increases. Frozen fruits and vegetables jumped 8.1 percent in the first nine months of 2023, and sugar went up 7.7 percent.
Beef and veal increased 7 percent, and bread rose 6.1 percent. Ice cream rose 4.5 percent. Flour and apples each rose 3.9 percent, and coffee was up 1.6 percent.
But there were some major declines: Eggs dropped 14.5 percent, butter was down 4 percent, and cheese and lettuce each fell 2.8 percent. Chicken and milk each were lower by 2.1 percent, and pork declined by 1.7 percent. Fish and seafood together fell 1.5 percent.
Food prices are expected to grow more slowly in 2023 than in 2022 but still at above historical-average rates, according to the US Department of Agriculture's Food Price Outlook report. In 2023, all food prices are predicted to increase 5.8 percent.
Reuters contributed to this story.