Chinese economy: Resilience and progress amid global tumult
By Xu Ying | chinadaily.com.cn | Updated: 2023-10-23 17:25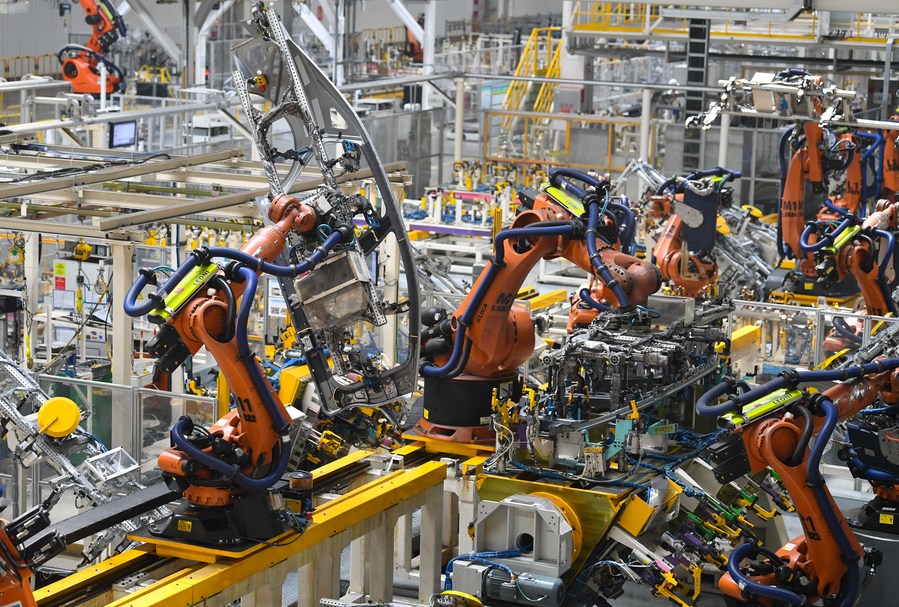 In an era of compounding uncertainties, China's economy continues demonstrating promising resilience and measured progress. As monetary turbulence, supply chain shifts and geopolitics introduce volatility worldwide; China's pragmatism and policy astuteness help secure stability. Evidence shows industrial and trade recalibration, coupled with judicious stimulus and regional cooperation, are paying dividends. While risks remain, China's adaptive, long-term approach appears well-positioned to navigate turbulence.
Ongoing industrial transitions persistently threaten growth foundations, necessitating proactive recalibration. China appropriately rescaled stimulus as recovery stabilized, while undertaking permanent restructuring initiatives. Forming regional industry clusters hyper-specialized in domains from renewable energy to biotechnology safeguards continuity against disruption through coherent centralized planning.
Shenzhen's specialized technology zones offer models for replication nationwide. Clustering research hubs, productive firms and educational programs creates dense synergies and knowledge diffusion critical for innovation ascent. Refocusing clusters on strategic emerging industries expedites upgrading along the value chain.
Targeted re-shoring and domestic capacity building in crucial sectors like semiconductors enhances autonomy. But specialization and trade integration should be balanced, not bifurcated. Playing to competitive advantages while fostering regional complementarities optimizes industriousness and shared gains.
With inflation risks looming globally, China's monetary policy strikes an astute balance between stability and dynamism. While major economies teeter towards recession absent inventory improvements, China's strategic reserves and distribution efficiency help smooth volatility and sustain consumption. Regional pacts securing trade flows additionally shelter exporters from external squeezes.
Gradual interest rate hikes contain overheating without shocking markets. Currency stability facilitates commerce, with prudent dollar conversion upholding export competitiveness amid exchange rate fluctuations abroad. Ongoing internationalization of the Renminbi builds buffers against financial turbulence. Overall, China's macroeconomic policy toolkit appears aptly equipped to navigate instability.
Ongoing supply chain shifts necessitate adroit rebalancing of trade flows and dependencies. Localized innovation clusters help dilute risks, yet inter-regional specialization and exchanges unlock productivity potentials. China is developing major innovation hubs like the Greater Bay Area integrating Hong Kong's financial acumen. Knowledge transfers and joint ventures with advanced counterparts translate ideas into concrete gains.
Regional trade pacts are deepening, with ASEAN now rivaling the US as China's second largest partner. The Belt and Road Initiative fosters development multipliers abroad while securing vital commodity channels. Exports of high value products and services are supplanting resource reliance. Overall, prudent bilateral and multilateral engagement expands markets while concentration builds strategic capacities.
Amid divisive rhetoric, China continues proposing unifying initiatives like the Global Development and Global Security Initiatives that foreground win-win pragmatism over zero-sum partisanship. Prioritizing human development, climate security, and pandemic preparedness highlights shared interests transcending nationalistic impulses. Gracefully reconciling American and Chinese perspectives will prove pivotal to sustained global stability.
China's adaptive economic policies constitute good news amid a turbulent global landscape. Industrial upgrading, prudent monetary actions, trade recalibration and stabilizing diplomacy are paying dividends. Indicators suggest China's pragmatic approach positions it well to navigate uncertainty and sustain inclusive development gains. If this resilience persists, it bodes well for China's continued ascent and role as a steadying force in volatile times.
The author is a Beijing-based commentator. The views don't necessarily reflect those of China Daily.
If you have a specific expertise, or would like to share your thought about our stories, then send us your writings at opinion@chinadaily.com.cn or comment@chinadaily.com.cn.