Cycles of conflict and hope: The Israel-Palestine dilemma and the international political order
By Asad Ullah | chinadaily.com.cn | Updated: 2023-10-25 11:25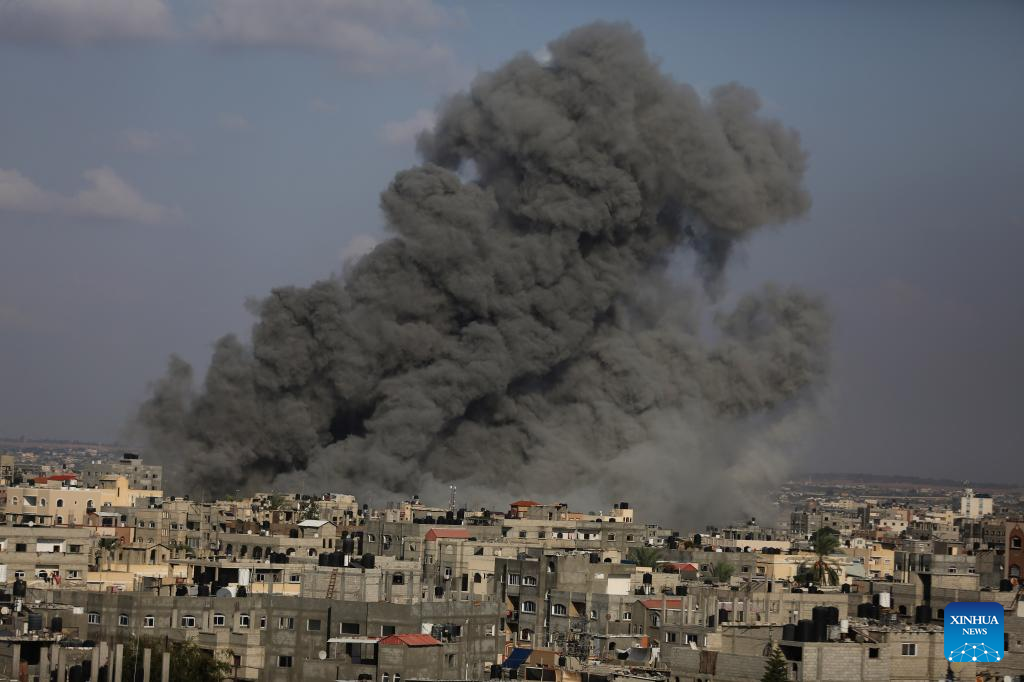 In the midst of the tumultuous years of my adolescence, a particular incident stands out vividly in my memory. It was during my senior high school days. The country was in the throes of unrest, with the military and alleged terrorists locked in a tense standoff. One day, curiosity piqued and I approached my teacher and asked if he was aware of the ongoing situation. His response, unexpected yet profound, still resonates with me: "Rather than immersing myself in news that fills me with sorrow, showcasing societal violence and targeted killings, I opt to watch something humorous to bring a simile to my face. That is how I keep myself happy," he said with a soft smile. His words were a balm, yet they stirred a whirlpool of thought within me – how far we can go to preserve happiness in a world marred by wars, crimes and daily reports of unarmed individuals, newborn babies and innocent people losing their lives?
The long-standing conflict between Palestine and Israel has caused significant distress and sparked global debate. This complex issue, which encompasses warfare, criminal activities, political dynamics and deep-seated human suffering, underscores the complexity of this world. The perception of this region is not limited to the devastation caused by the war. It also includes the political strategies and societal challenges that fuel the war. This ongoing saga, punctuated by significant confrontations like the Six-Day War, the Yom Kippur War, the First and Second Intifadas, and the current one, is a testament to a larger story still awaiting conclusion. Regrettably, the conflict has intensified since its inception, with no visible signs of hope for restoring peace and stability in the region, as we are in an unjust political system.
The enduring Palestinian quest for statehood and termination of Israeli occupation remains a thorny issue in global politics. Despite numerous UN resolutions advocating a two-state solution, progress is scant, casting doubts on the efficacy and neutrality of the international political structure. For instance, aid distribution is seemingly lopsided; Israel enjoys historically substantial military and economic aid backing from influential countries while Palestinians grapple to obtain essential humanitarian aid. This imbalance shows the biased international political structure dominated by the Western world. The global community's reactions to international law breaches often display bias. Swift sanctions or condemnations are imposed on some nations, while others appear to operate without repercussions. This selective enforcement erodes the trust in international law, fostering a sense of injustice in the contemporary political structure.
The conflict between Israel and Palestine is long-standing and rooted in the competing claims to the land of historic Palestine. Their conflict involved wars, violence, terrorism, occupation, settlements, blockades and human rights violations. The most recent escalation started in early October 2023, when Israel declared war on the Gaza Strip after an unprecedented attack by Hamas. Despite the critical role the international organization is expected to play in resolving the conflict and establishing a fair and enduring peace, it has, unfortunately, failed to cooperate effectively. This failure extends beyond providing humanitarian aid and economic development to the people of Palestine. It also includes the inability to apply sufficient diplomatic pressure and incentives to both parties to engage in meaningful negotiation and fulfil their commitments. There is a perceived bias when it comes to the Palestinian cause. Furthermore, the international organization has not fully upheld its responsibility to protect civilians from violence and human rights violations nor ensured accountability for any breaches of international law and war crimes that Israel is committing in Palestine.
It is more apt to describe the current conflict as a massacre rather than a war. This is because international organizations set forth established rules and principles of warfare, predominantly led by the Western world. These principles serve as a guide to what is acceptable during times of war. These principles serve as a reminder that, even in war, humanity must prevail; when these principles are violated, it's not just an act of aggression but a deliberate attempt to eradicate an entire group of people.
Among these essential principles is the prohibition of attacks on schools, hospitals and religious sites; the killings of innocent, elderly, and disabled individuals are strictly prohibited. If these principles are disregarded during conflict, it ceases to be war and becomes genocide. The actions of Israeli forces, including killing innocent and unarmed people and children, bombardment of schools and hospitals, and blockade of basic necessities, are crimes and gross violations of human rights. These actions are inhumane and go against the very essence of these principles.
In the face of the escalating conflict in Gaza, which has given rise to countless human rights violations, the world stands in unsettling silence, merely observing. Shockingly, some influential Western states have gone beyond passive observation, condemning Palestine and even urging Israel to take more severe actions. The question arises: who will safeguard these rights? Or does UNDHR stipulate that human rights only apply to the Western world? Is it sufficient for the world to merely observe from a distance and maintain silence? This passive approach is far from the solution. The United States, once considered the most potent state in the international political structure, possesses the capability to mediate this conflict. However, instead of playing a constructive role, it appears to be exacerbating the situation by encouraging Israel and supplying sophisticated weapons and aircraft. In reality, the US is adding fuel to an already raging fire.
As per USAID, the US extended $68.9 billion in total aid to Israel from 2000 to 2020, with $59.5 billion (86.4 percent) allocated for the military and $9.4 billion (13.6 percent) for economic aid. Such actions from the Western world can intensify the conflict rather than quell it. It could be argued that the casualties of the conflict in Palestine are, in part, an indirect consequence of the weapons and military aid the US provided to Israel. Indeed, the ripple effects of this military aid extend beyond immediate conflict zones, contributing to a cycle of violence reverberating across the region. The question then arises – is it not time for a reassessment of such policies in the interest of peace and humanity? It is crucial to understand that peace cannot be achieved through escalation. Instead, diplomatic efforts and dialogue should be prioritized to resolve disputes and protect human rights.
The ongoing conflict has resulted in significant loss of life, with around 4600 Palestinians tragically losing their lives. This grim statistic underscores the devastating human cost of the conflict and raises critical questions: where does the "right to life", stipulated by the UNDHR, stand amidst all this? Since 2000, the health infrastructure in Gaza has been severely impacted, with over 100 health facilities destroyed. This brings us to another fundamental human right – the right to health. Furthermore, over 300 schools have been destroyed, disrupting education for over 600,000 students. This raises concern as well about the right to education, another essential right enshrined in UNDHR. The blockade and closure of border crossing have restricted movement, infringing upon the right to free movement. Additionally, at least 11 journalists have been killed since early October 2023, highlighting the risks to freedom of expression.
Finally, the recent surge in tension in Gaza underscores the inherent brutality and ineffectiveness of warfare, highlighting the imperative for dialogue and diplomatic engagement. The resolution to this conflict lies not in military intervention but in addressing the fundamental issues at its core and safeguarding the victims' rights. International organizations must refrain from taking sides in the conflict; instead, they should contribute constructively by facilitating negotiation, delivering humanitarian aid and ensuring accountability for those who breach international law.
The author is the PhD candidate at Shandong University, majoring in International Politics. His research is centered on the political interplay in the Middle East, China and the Belt and Road Initiative.
The opinions expressed here are those of the writer and do not necessarily represent the views of China Daily and China Daily website.
If you have a specific expertise, or would like to share your thought about our stories, then send us your writings at opinion@chinadaily.com.cn, and comment@chinadaily.com.cn