Tepco's role as referee raises doubt about its data
By Xin Ping | chinadaily.com.cn | Updated: 2023-10-30 08:48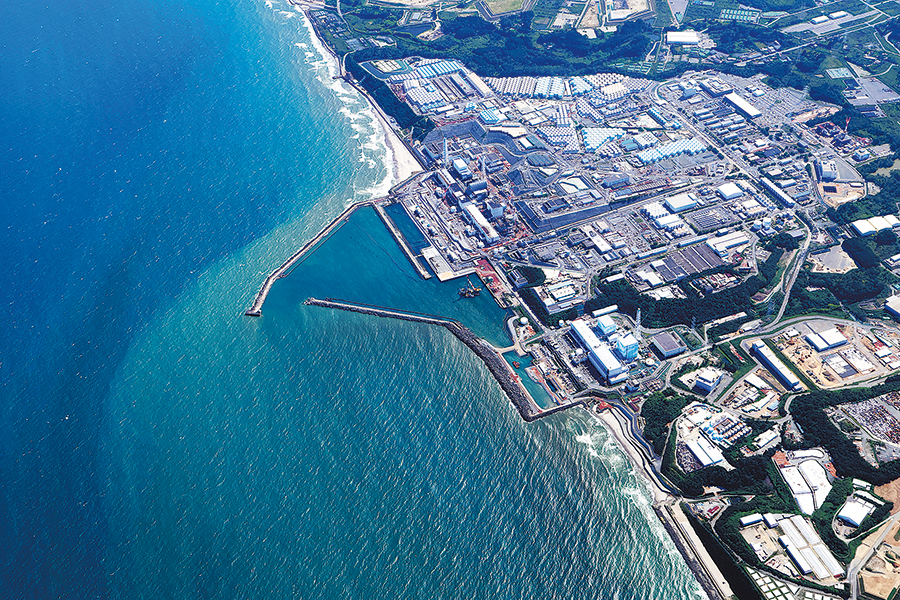 Ever since the discharge of Fukushima nuclear-contaminated water into the ocean, it seems that my friends have been divided into two blocs: some are indifferent, while others are worried and angry. However, regardless of whether they agree with the discharge, no one has proposed going out for Japanese seafood. Despite the fish-eating show put on by the Japanese prime minister and cabinet ministers at Fukushima, few people have bought into the idea that the Japanese seafood from nuclear-contaminated water is safe to eat.
Drawing conclusion on the full aftermath of Japan's discharge of nuclear-contaminated water requires enormous scientific expertise, which is beyond the capability of most people. However, some other doubtful points concerning this matter do not require so much technical knowledge to understand. The fact that all the data regarding the Fukushima Daiichi nuclear power plant came from the Tokyo Electric Power Company alone, whose irresponsible response after the accident in 2011 aggravated the aftermath, brings into question the authenticity of such data.
TEPCO has a troubling track record of falsifying data and concealing facts. As early as in 2002, TEPCO's top executives were forced to resign due to data falsification scandals. In 2007, TEPCO admitted to falsifying data in routine inspections at the Fukushima Daiichi nuclear power plant from 1977 to 2007. After the Fukushima nuclear disaster in March 2011, TEPCO concluded that the core had melted down based on data but did not report this to the Japanese government.
Furthermore, TEPCO didn't admit the leaks of nuclear-contaminated water in Fukushima until media exposure. TEPCO persistently claimed that no leaks occurred after June 2011, which was revealed in 2013 by the media as a lie. In 2021, TEPCO was accused of concealing leaks caused by corroded storage tanks. In September that year, TEPCO was caught hiding damaged Advanced Liquid Processing System filters. In October 2022, TEPCO was revealed to have misled visitors by using faulty radiation detectors to prove the safety of "treated" water. ...The long list of data manipulation by TEPCO exposed to the public its shocking level of deception.
In 2015, both the Japanese government and TEPCO committed in writing to the Fukushima Prefectural Federation of Fisheries Cooperatives not to take any action regarding treated contaminated water without the consent of relevant parties. Despite these promises, in April 2021, the government decided to release treated contaminated water into the ocean, ignoring protests from the fisheries organizations and the local government of Fukushima. Since then, 16 municipal assemblies have issued statements to demand the government take back the decision, insisting that treated water should be stored on land and urging the government and TEPCO to honor their commitment to fisheries associations. But all these voices went unheard.
Indeed, opposition to the ocean discharge plan has not only come from local residents and fisheries professionals but also from a broader spectrum of society. In August 2018, the government organized three "explanatory public hearings" in Fukushima and Tokyo. Out of the 44 speakers present, 42 explicitly voiced their opposition to any ocean release. Regrettably, no further public hearings have been held since then, leaving the genuine concerns and objections of the public unattended.
Evidently, TEPCO's data disclosure has been tailored to support the predetermined decisions, and to whitewash TEPCO's undemocratic decision-making process. This makes TEPCO both the referee and the sole player, which not only defies common sense but also violates international norms. Even financial reports of publicly traded companies require independent audits by third-party accounting firms. It is absurd that there isn't any independent supervision arrangement for an issue affecting the whole globe. The only third-party, IAEA, presents data sourced from TEPCO, simply redirecting to TEPCO's website. What an utterly ridiculous situation.
Scientific matters should be resolved via scientific means, without being controlled by a large corporation spanning Japan's political and business spheres, especially one with such a tainted history. The IAEA has taken a right step this week by dispatching experts from multiple countries to sample Fukushima waters. However, this is just the first step. The IAEA should further leverage its expertise and independence as an international watchdog, and bring on board all relevant stakeholders, to ensure that the next-phase discharge of Fukushima nuclear-contaminated water is under impartial supervision. Only such a comprehensive approach can put our minds at ease. Until then we will not look responsible to our future generations.
The author is a commentator on international affairs, writing regularly for Xinhua News, Global Times, China Daily, CGTN etc.

If you have a specific expertise, or would like to share your thought about our stories, then send us your writings at opinion@chinadaily.com.cn or comment@chinadaily.com.cn.